NRPS Breeding News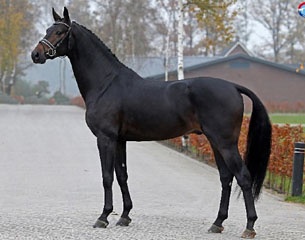 Nagano became the best scoring dressage bred stallion in the 2017 NRPS Stallion Performance Test, which concluded at the KNHS headquarters in Ermelo, The Netherlands, on 14 January 2017.  
The NRPS is the second breeding studbook in The Netherlands, which includes ponies as well as horses. They need to have a minimum percentage of 12.5% of Arabian or Anglo Arabian blood to be registered with the the breed society.
The NRPS Stallion Performance Testing is very different from the traditional testings by the major studbooks. Stallions seeking licensing with the NRPS studbook can do their performance test by staying home. In a period of four months, they will travel three times to Ermelo for an assessment.
Fifteen stallions in total participated in the 2016-2017 NRPS testing and all of them passed. Five were dressage bred horses and five were ponies.
The highest scoring stallion was Gert-Jan van Olst's 4-year old black Nagano (by Negro x Lord Leatherdale). He scored 9s for walk, trot, canter, character, general impression, his dressage test, potential and an 8 for behaviour in the stall.
The other approved stallions are Excellent (by Everdale x Donnerhall) and Fireball (by Furstenball x San Remo), which are both owned by Van Olst, as well as Jaguar (by Jazz x De Niro) and Ashwin van de Fryochaborg by Andretti x Flemmingh).
The approved ponies are:  Call Me Mr. Handsome (by Champion de Luxe), Don Davino Horse Point (by Don Carino dus Bois), Nero van de Koetsiershoeve (by Nemax), Kyoto BR (by Kierow van Klaverborch), and Osolution (by Orchard (G) Wildeman).
Photo © NRPS
Related Links
Fideniro, Crowd Favourite of the 2014 NRPS Stallion Licensing
Guidam's Willow the Second, Champion of the 2013 NRPS Stallion Licensing
Thirteen Stallions Approved at 2012 NRPS Stallion Licensing
Twenty Colts Accepted at 2011 NRPS Stallion Licensing
Twenty-Five Colts Approved at 2010 NRPS Stallion Licensing
Fifteen Stallions Approved for the NRPS Studbook
Sunliner, Champion of the 2009 NRPS Stallion Licensing
Ferrero Wins 2006 NRPS Stallion Licensing