2016 VSN Trophy Finals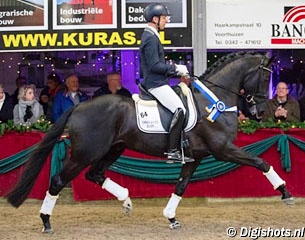 The 3-year old black Dutch warmblood Imposant W (by Wynton) became the winner of the 2016 VSN Trophy Finals which were held in Kootwijkerbroek, The Netherlands, on 28 December 2016.  The black is owned by Theo Driessen and was presented in the finals by Bart Veeze.
The VSN Trophy Finals a dressage talent spotting competition for 3-year olds with a qualification round and a finals. A group of 29 horses competed in the Finals on 29 December 2016. The judging panel this year included German couple Dr. Ulf and Eva Möller with Eva test riding the five highest scoring horses of the first round.
Imposant W (by Wynton x Krack C x Sultan) placed second after the first round with a total of 43.3 points. The horse scored 7.5 for walk, 9.3 for trot, 9.0 for canter, 8.7 for rideability and 8.8 for general impression. Eva Möller, however, liked the rideability of this horse the most in the test riding phase and gave Imposant W a score of 9.5 so the horse finished on a winning total of 52.8 points. 
The runner-up was Illusion A (by Florencio x Tolando x Metall) who scored 9.0 for walk, 8.4 for trot, 8.6 for caner, 8.8 for rideability and 8.7 for general impression (sub total 43.5). Eva Möller awarded the horse 9.0 so he placed second overall with 52.5 points. 
The top three was completed by Iris (by Lord Leatherdale x Negro x Monaco), who received 7.8 for walk, 8.8 for trot, 9.2 for canter, 8.6 for rideability and 8.7 for general impression (sub total 43.1 points). Eva Möller awarded the mare a 9.0 so Iris finished third with 52.10 points.
Photo © Digishots
2016 VSN Trophy Finals
1. Imposant (by Wynton) - 52.8
2. Illusion (by Florencio) - 52.5
3. Iris (by Lord Leatherdale) - 52.1
4. Illusionist M (by Charmeur) - 50.6
5. Inoraline W (by Johnson) - 49.9
6. Imagine (by Dream Boy) - 41.3
7. Debbehoeve's Ignado Rijk (by Dream Boy) - 41.2
8. Inferno (by Everdale) - 40.8
9. I Am Legend TC (by Dream Boy) - 40.1
10. Infinity (by Dream Boy) - 39.7
11. Ids a Bria (by Dream Boy) - 39.3
11. Infinity (by Johnson) - 39.3
11. Incredible Boy (by Bordeaux) - 39.3
14. Irabel (by Charmeur) - 38.9
15. Intense C van de Wijdewormer (by Riant) - 28.8
16. In the Mood (by Winningmood) - 38.6
17. Incredibly Heroic Charmeur (by Charmeur) - 38.5
17. Ike (by Everdale) - 38.5
19. I'm All In (by Jazz) - 38.4
20. Il Fiore (by Furst Romancier) - 37.8
21. Iker (by Charmeur) - 37.7
22. Isa Beau (by Chippendale) - 37.5
22. Ivanhoe (by Desperado) - 37.5
22. First Dance Platinum (by Furstenball) - 37.5
25. Into Ravel TC (by Ravel) - 37.4
26. Inspiration (by Charmeur) - 36.8
27. Fidelio (by Furst Romancier) - 36.7
28. Flowerpower (by Furstenball) - 36.4
29. Independent (by Lord Leatherdale) - 35.2
Related Links
Hannelinde TC Wins 2015 VSN Trophy Finals 
Glamour Wins 2015 VSN Trophy Finals
Hexagons Fusion Wins 2014 VSN Trophy Finals
Atomic Wins 2013 VSN Trophy Finals
TC Dolly Wins 2012 VSN Trophy Finals
TC Celanique Wins 2011 VSN Trophy
Chinook Wins 2010 VWF Dressage Cup for 3-year olds
Bretton Woods, Winner of the 2010 VSN Trophy Finals
Annerijke Wins 2009 VSN Trophy
Zaragoza Wins 2008 VSN Trophy
Game Boy Wins 2004 VSN Trophy