Eurodressage F.O.C.U.S.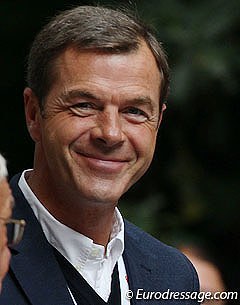 After almost 19 successful years at Hof Kasselmann and the world famous Performance Sales International (PSI) auction, German young horse specialist Dr. Ulf Möller and his wife Eva have now chosen for a new challenge working with Helgstrand Dressage. The Möllers will stay based in Germany but Ulf's core task will be to set up a sales stable for Helgstrand Dressage in the U.S.A.
"We have managed to turn Helgstrand Dressage as a recognized training center for top dressage horses in most of Europe, but there is still a huge potential in other parts of the world, including the USA. Until now we have not had the resources necessary to start a sales stable in the USA, but after having reached an agreement with Dr. Ulf Möller, we can now take Helgstrand Dressage to the next level," Andreas Helgstrand explained.
Dr. Ulf Möller wa originally a veterinarian before he dedicated his life to training and selling dressage horses. He began his career as an auction rider at the Hanoverian society in Verden and since 1998 he has been a part of Hof Kasselmann & Performance Sales International, where he worked as a sales manager. Both nationally and internationally, Möller made a name for himself. He became World Young Horse Champion with Sandro Hit back in 1999 and with Don Davidoff in 2002 and rode Amidou, Placido and Sir Donnerhall to silver and bronze medals at other World Young Horse Championships. He has won the Bundeschampionare seven times.
After approximately 18 years at Hof Kasselmann, Möller is ready for a new challenge in his life and he has been given a window of opportunity via Helgstrand Dressage.
"In Florida shows are almost taking place every day for the first 4 months of the year. Wellington is described as an equestrian Mecca where top dressage riders each time fine-tune their competition form and seek to create good results. We have many new ideas and one of them is our desire to establish a sales stable in the USA," Andreas explained. "With Ulf's years of experience and through the network that he has built up by traveling around the world, we are obviously extremely excited about the cooperation. We are so proud that Ulf has chosen to work for us and we look forward to his start at the beginning of the new year."
Möller is married to Eva Möller (née Nolden), who is also a very experienced dressage rider with many top victories during the years, among others winning the German Bundeschampionship several times including two World Championship for Young Horses (Sa Coeur).
"In addition starting up a sales stable in the USA Ulf is also going to help spot the good dressage horses around the world. We believe that Ulf is the right person to take Helgstrand Dressage to the next level," Andreas added.
Ulf and Eva will remain based in Germany.
Photo © Astrid Appels
Related Links
Dr. Ulf Möller Leaves Hof Kasselmann for Helgstrand Dressage 
Wahajama and Sandro Hit Win 1999 Bundeschampionate
Sandro Hit: Example of the Perfect Dressage Horse
Photo Report: On the Scene at the 2002 World Young Horse Championships