2016 CDI Roosendaal Indoor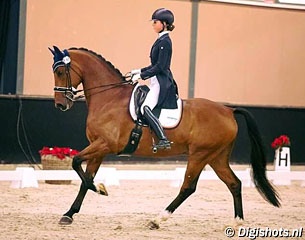 For Dutch junior riders Daphne van Peperstraten and Carlijn Vaessen the 2016 CDI Roosendaal Indoor on 1 - 4 December 2016 became a winning debutante ball. Both riders competed in their first ever international junior riders' competition and took home the trophies.
For Daphne van Peperstraten, the 2016 Dutch Pony Champion and long time team member, the transition to junior riders couldn't have been smoother. Her parents acquired  Arthur van Rooij and Marita Smits' Dutch warmblood gelding Cupido (by Johnson x Duko x Galopin) in September and only four months later, Van Peperstraten bagged a double win at her first junior international in Roosendaal.
The competition was not without its challenges as the Roosendaal indoor arena is quite cramped with lots of Christmas frills and business going on. Van Peperstraten's Cupido seemed unphased by it all and won the team championship test with 72.342% ahead of Italian Alice Campenella on the 9-year old Dutch warmblood stallion Chin Chan K (by Samba Hit II x Junior). In the individual test Daphne and Cupido scored an impressive 74.079% for the victory, well ahead of Swiss Ramona Schmid on her new ride, the 7-year old Oldenburg mare Kelly Sue (by Dimaggio x Royal Dance).
"Cupido felt super in Roosendaal. He's such an incredibly nice horse," Van Peperstraten told Eurodressage. "This was his first international show and he behaved himself exemplary. Of course you don't expect to won on your debut. It went really well in training, but you have to get used to one another and you don't really know yet how he will react to all the impressions at such a show. It is of course great that it all worked."
While the transitions from ponies to horses is often a big hurdle for kids, Van Peperstraten seems to cope with the transition very well.  "Last year I already got my first horse Evita de la Vigne so I was able to get used to a horse then. I think I more have to get used to handling them in hand," Daphne joked. "They are so big next to you all of a sudden." 
Her aim is to compete in the junior indoor competitions this winter and the Junior/Young Riders Cup in the outdoor season with both her horses. "I'll do my best to get my last A-squad score with Cupido and to qualify Evita for the squad too," she added.
The Kur to Music, however, was aced by the 18-year old Carlijn Vaessen who only has two internationals to her record. In August she competed her 6-year old Dutch warmblood Fossbury (by Ampere x Sandro Hit) at her first international in her career, the impressive World Young Horse Championships in Ermelo, where they finished 9th in the consolation finals. Roosendaal was their first junior riders' international and in the Kur to Music they claimed the victory with 73.917%, ahead of Mylene Spaak on her 12-year old Dutch bred Ziteldo (by Royal Dance) and Van Peperstraten.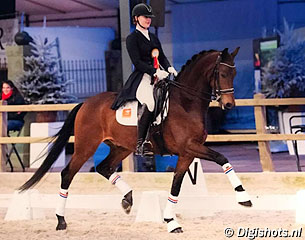 "Fossbury started off well on the first day, but half way in the test he was spooky in the corner. It was a pity because our score dropped," Vaessen told Eurodressage. "He went far better in the second text, more relaxed, and we were third. I didn't expect to win the Kur. I had never ridden one with him and we only practised this one once. We put the music not too loud and he stayed nice and relaxed. We had a super nice freestyle aside from one missed flying change."
Carlijn has been riding Fossbury since he was a 3-year old and she brought the now 6-year old up the levels herself under professional supervision.
"He is bred by the late Grand Prix judge Ad Vroom and his wife Joyce," said Vaessen. "I was training with Ad and he asked me to ride him. So I trained him up the levels myself. Now I'm training with Dennis Ausma and Theo Hanzon.
Roosendaal was Vaessen's last opportunity to compete in the junior division because of as of 2017 she will have to move to the young riders' category. 
"We'll pick up the young rider movements now, because I have to make the transition. So my next debut will depend on that," Vaessen said about her competition plans for 2017. 
Photos © Digishots
Related Links
Scores 2016 CDI Roosendaal Indoor
Daphne van Peperstraten Wins 2016 Dutch Outdoor Pony Championships
Dutch Horses Selected for the 2016 World Young Horse Championships