American Dressage News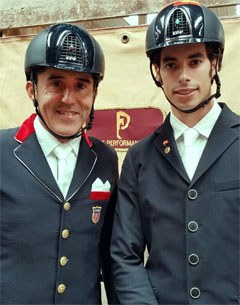 For successful dressage rider and trainer Dr. Cesar Parra, safety, comfort, and style in the saddle go hand-in-hand when it comes to selecting elite riding equipment. With an illustrious career boasting a U.S. Pan American Games Team Gold Medal and countless CDI wins, it's no surprise that Parra and his team at Piaffe Performance Farm choose to ride securely in KEP Italia helmets, which are known for their advanced technological and innovative design features.
When Parra first became familiar with KEP Italia in 2012 through a mutual friend and sponsor, his preference for high quality products and technologically advanced designs made the connection a perfect match. "Our team met Lelia Polini [founder of KEP Italia], and we instantly connected. She has a fantastic product in KEP helmets, can make custom designs, and is a great lady," Parra said. KEP Italia helmets have remained a trusted and crucial staple of Parra's equipment arsenal ever since.
KEP Italia's founder, Lelia Polini, incorporated the company in 2007 with the explicit objective of developing an elite line of riding helmets unmatched in quality of materials, incorporation of advanced features, and innovative technological design. Polini described the mindset behind the company's inception: "We aimed to design a more comfortable, safer, and more innovative helmet than those available, and we wanted it to be the best helmet to be presented on the market." Due to Polini's passionate commitment to fostering a philosophy of quality within every step of production, KEP Italia is a desirable choice for top riders.
"Of course, most importantly, they are safe and certified to the U.S. Standard. But beyond that, KEP helmets are comfortable, have a removable and washable liner so I can keep my helmets smelling good, and we have made some fun designs on them as well!" said Parra.
Among the most noteworthy features of the KEP helmet line is an advanced air circulation system, allowing air to enter an adjustable grid at the front of the helmet and exit at the back, so that the rider remains cool and comfortable, despite demanding riding and environmental conditions. The helmets also include a completely removable and washable inner technical lining system, which is adaptable individually to the head shape in length and width to provide a perfect fit for every rider.
Today, Parra and his team continue to rely on their KEP helmets to deliver the highest level of personal riding comfort and protection at all times. Parra explained the crucial role that the helmets play for all riders at Piaffe Performance: "All riders under 18 at the barn must wear helmets and all riders on young horses must. Accidents happen on horses, and they are called 'accidents' because we never know when they will happen. I was once very much a part of the old fashion dressage culture that didn't wear helmets, but I think the movement towards wearing helmets is a positive one."
To learn more about Cesar Parra and Piaffe Performance, visit www.piaffe-performance.com, or follow the official Facebook page. To find out more about KEP Italia helmets, visit www.kepitalia.it.
Text by Johnny Robb
Related Links
Parra's Fashion Designer and Don Cesar Bag Reserve Champion's Title at 2016 U.S. Young Horse Nationals 
It's Another Year in the Ribbons for Piaffe Performance at the 2016 Dressage at Devon
GK Horses Acquires Darius Rubin for Cesar Parra