FEI Dressage News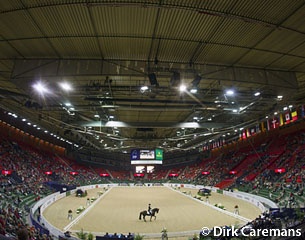 The World Cup Dressage Finals for the years 2020 and 2021 and the 2019 European Dressage Championships 2019 were among the key events allocated by the FEI Bureau in Tokyo (JPN) today.
Following the success of the 2015 Finals, the World Cup Dressage Finals will return to Las Vegas (USA) in 2020 when the Finals will be hosted at a new venue, the MGM Grand Garden Arena from 15 to 19 April.
Las Vegas has previously hosted six World Cup Finals, two in Jumping and four combined Jumping and Dressage Finals at the Thomas & Mack Center (2000, 2003, 2005, 2007, 2009, and 2015). The new venue, located in the MGM Grand Hotel on the famous Las Vegas Strip, is world renowned for hosting high-profile sporting events such as boxing and basketball, as well as live performances from global superstars like Celine Dion, Elton John and Britney Spears.
 
Gothenburg's Scandinavium Arena has been awarded the 2021 Finals. The Swedish sporting capital, which has already organised 22 FEI World Cup™ Finals including joint-Finals in 2013 and 2016, will host the World Cup Jumping and Dressage Finals 2021 from 31 March to 5 April. The 2021 double FEI World Cup™ Finals will kick-start celebrations of the City of Gothenburg's 400th birthday celebrations.
Rotterdam (NED), another city with a long-standing tradition of hosting major equestrian championships, was announced as host for the triple 2019 European Championships in Jumping, Dressage and Para-Equestrian Dressage from 19-25 August.
"We are delighted to confirm the allocation of some of our major Finals and Championships to major global cities like Las Vegas, Gothenburg and Rotterdam", FEI Secretary General Sabrina Ibáñez said today. "The organising committees for all these top events have such hands-on practical experience, and understand the process, commitment and dedication involved in organising these important fixtures on the FEI Calendar. We are very grateful to all the organisers who put in bids for these key events and are extremely happy to have the opportunity to showcase our sport in major global cities."
The allocations were made at the FEI Bureau in-person meeting in Tokyo today, prior to the FEI General Assembly (22 November). The Bureau also allocated the following FEI Championships and Finals:
 
2017 - Dressage:
FEI European Dressage Championships for Young Riders, Juniors. & Children, Roosendaal (NED), (dates to be confirmed)
FEI Balkan Dressage Championships for Seniors, Young Riders, Juniors & Children, Zagreb (CRO), 30 June – 2 July
 
2018 - Dressage:
FEI European Dressage Championship U25, Roosendaal (NED), 25-29 July
 
2019 - Multi-discipline:
FEI European Jumping, Dressage and Para-Equestrian Dressage Championships, Rotterdam (NED), 19-25 August
 
2020 - Multi-discipline
World Cup™ Jumping and FEI World Cup™ Dressage Finals – Las Vegas (USA), 15-19 April
 
2021 -Multi-discipline
World Cup™ Jumping and Dressage Finals – Gothenburg (SWE), 31 March – 5 April
 
The FEI Bureau was also informed about the Secretary General's decision to open a multi-year application process for the FEI WBFSH World Breeding Championships for Dressage and Eventing for 2019 and 2020 in order to align the bidding process with Jumping.
Related Links
Roosendaal Bids for 2017 and 2019 European Children, Junior, Young Riders Championships
Malmo, Gothenburg, Ermelo Allocated Major Dressage Championships 2015-2018