Finnish Dressage News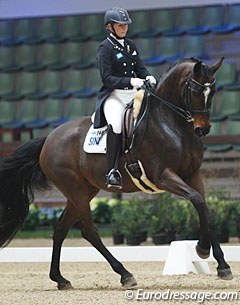 After a one-year training stint in Great Britain, Finnish Grand Prix rider Emma Kanerva has returned to Germany to set up her own independent business.
As of Wednesday 16 November 2016, Kanerva will be renting boxes at stable Klovensteen in Schenefeld, Germany, where other riders such as German-Finnish Kristina Bockmann as well as Jessica Schwiebert-Jahr and her husband Rainer are based.
The 31-year old Kanerva has been a bereiter at Hubertus Schmidt's barn in Germany for ten years, before moving to Emile Faurie's yard Heath Farm in Great Britain on 1 November 2015.
Faurie helped Emma school her younger horse, the 10-year old Hanoverian Sini Soul (by Rousseau x Del Piero) up to Grand Prix level. This task ended earlier this autumn Kanerva decided to put more effort in her own business as a rider.
"It is not so easy for a foreigner to make a career as a rider in England as it had been earlier for me in Germany. As I got a good offer from the Böckmanns I thought it is worth giving a chance. I will ride half-day for them, half-day for myself," Kanerva explained in a press release.
Emma has also been competing the highly temperamental 13-year old Hanoverian mare Solina (by Goodman x Falkland) and the 8-year old Finnish warmblood Riverbank Sanrose (by Sancisco x Lorenzo). With Solina she represented Finland at the 2015 European Championships in Aachen. The now retired 19-year old chestnut Spirit was her trusty mount at the 2010 World Equestrian Games, 2012 Olympics and 2011 and 2013 European Championships
Photo © Astrid Appels
Related Links
Eurodressage Photo Database: Emma Kanerva
Emma Kanerva Relocates to Great Britain
Emma Kanerva Injured in Car Accident
Donnelly in Training with Emma Kanerva
Reynolds, Kanerva Go to 2010 World Equestrian Games, Hartstone Out