2016 Belgian Grand Prix Championship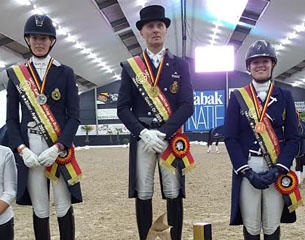 Belgian Olympic reserve rider Jeroen Devroe has won the 2016 Belgian Grand Prix Championships, which took place in a smaller, belated indoor edition of the Flanders Dressage Event at Stable Hulsterlo in Meerdonk, Belgium on 11 - 13 November 2016. The silver medal went to Olympian Jorinde Verwimp and the bronze was for former Under 25 rider Laurence Roos.
The Belgian Grand Prix Championships normally take place at the Flanders Dressage Event held annually in August. This year the Belgian Equestrian Federation ordered Grand Prix Championship to postponed and rescheduled to a separate, indoor event in November to accommodate the needs and preparation of the sole individual Belgian Olympic representative in Rio. Four years ago Belgium also sent one individual to London (Claudia Fassaert) but the Nationals were not rescheduled for her at the time.
As a resulted the November edition of the Grand Prix Championship saw only four riders competing for the National title: Jeroen Devroe on two horses (Eres DL, Aaron), Jorinde Verwimp (Tiamo), Tom Heylen (Gucci) and Under 25 rider Laurence Roos (Fil Rouge) who bumped up to the senior division for the Nationals.
Routinier Jeroen Devroe left no doubt about it that he ruled the roost in Meerdonk. Aboard the 11-year old Belgian warmblood Eres DL (by Sir Lui x Balzflug) he won all three rounds and claimed his 10th Belgian Grand Prix title in his career. He scored 70.800% in the Grand Prix, 72.784% in the Special and 76.550% in the Kur to Music.
"Eres really grew in the competition," Devroe told Eurodressage after winning his 10th Grand Prix title in his career. "The first day was faultree without a doubt, the Special was much beter and he has never been better to my feeling in the freestyle." When asked if he felt like this was a small rematch after missing out on Olympic selection, Devroe replied "yes but not on the negative sence of the word. I'm just happy with the 10th title, but I curse a little because now with moment I have the feeling on Eres DL that I couldn't find in the lead up to (the Olympics)."
The silver medal went to Jorinde Verwimp on her 15-year old KWPN gelding Tiamo (by Lester x Hemmingway) with a total of 218.343 points. The Belgian Olympic Rio representative was second in all three rounds with 70.340%, 72.353% and 75.650%.
Devroe's student Laurence Roos, who competed for Belgium at the 2016 European Under 25 Championships in July, moved to the senior division for the Nationals with her Belgian warmblood Fil Rouge (by Stedinger x Argentinus) and scored her first bronze medal at the highest level with a total of 210.680 points. She was fourth in the Grand Prix (68.100%), third in the Special (69.980%) and thirdin the Kur (72.600%).
Results - 2016 Belgian Grand Prix Championships
1. Jeroen Devroe -  Eres DL - 70.800 -  72.784 - 76.550 --- 220.134
2. Jorinde Verwimp -  Tiamo - 70.340 - 72.353 - 75.650 --- 218.343
3. Laurence Roos - Fill Rouge - 68.100 -  69.980 -  72.600 --- 210.680
4. Tom Heylen - Gucci 'H' - 63.360 - 66.569 - 68.175 --- 198.104
Jeroen Devroe - Aaron - 69.780 - 69.431 - 72.500 --- 211.711
Related Links
Five Combinations Entered for 2016 Belgian Grand Prix Championships
Meyssen, Morosini, Kielenstijn Win 2016 Belgian Youth Riders Championships
De Schepper, Verberne, Kielenstijn, Devroe Win 2015 Belgian Dressage Championships
Antonia Arl Succeeds Sister and Wins 2014 Belgian Pony Championships
Verberne, Verwimp and Vanommeslaghe Win 2014 Belgian Dressage Championships
Arl, Defalque, Verwimp, Missiaen Win 2013 Belgian Dressage Championships
Arl, Verwimp, Waelkens, Devroe Win 2012 Belgian Dressage Championships
Jeroen Devroe Prevails at 2011 Belgian Dressage Championships
Jeroen Devroe Captures Sixth Belgian Grand Prix Champion's Title
Goris, Mommen, D'Hoore and Devroe 2009 Belgian Champions
Van Olst, Mommen, Vandenberghe Win 2008 Belgian Youth Riders Championships
Stefan van Ingelgem, 2008 Belgian Dressage Champion
Van Olst, Mommen, De Souter, De Deken and Devroe, 2007 Belgian Dressage Champions
Arlette Holsters and Faible Win 1998 Belgian Dressage Championships
Meiresonne, Pauluis, Smits, 1997 Belgian Youth Riders Champions