2016 French Young Horse Championships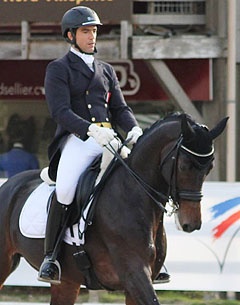 French Grand Prix rider Remy Issartel and Evita became the winners of the 2016 French Championships for 7-year olds held during the 2016 CDI Le Mans on 20 - 21 October 2016. The 7-year old Nationals were held separately from the French Young Horse Championships for 4, 5 and 6-year olds which took place in September in Saumur. Eighteen combinations contested this new Championship.
Issartel left no doubt about it and won the preliminary and finals round on Evita, a Dutch warmblood mare bred by H van de Zande and sired by Lord Leatherdale out of Tequila van Weltevreden (by Krack C). The pair scored winning marks of 70.342% and 72,800% to average 71,571% for gold and the national title. 
Based in Rosières-Aux-Salines, Issartel acquired Evita as a 2,5 year old in France from Mrs DeWitt. He saddle broke the mare and then returned her to the field for a year as she was quite small and fine. When Evita was 5, Issartel picked her back up and began competing her in September 2015. In April and May 2016 Remy's partner Evelyne Fleck showed her in easy classes, mainly to gave Evita more show mileage and exposure without pressure. In June Remy climbed back in the saddle and competed her in the lead-up to the 7-year old Championships.
"The Championships went really well for Evita and I. We were the favourites based on the results achieved this season," Issartel told Eurodressage. "Evita was a bit fresh on the first day, because her last show was in Compiegne in August, but she did a good job in the first test despite a mistake in canter which cost us 1%. Evita is truly exceptional, she's a real star. On the second day she was really with me and deserved the victory."
Issartel will now work towards Prix St Georges level and gradually introduce her to FEI level. "Nothing is planned for 2017. She'll make her debut at small tour and then we'll see. Evita will guide us, nothing is hard. One just has to listen to her," said Issartel.
The silver medal and second place finish went to Anne Sophie Serre on the grey Lusitano stallion Vistoso de Massa (by Maestro x Xaquiro CIP). The pair averaged 69,023 after placing fifth in the preliminary round (68,421%) and second in the Final round (69,625%).
The third place and bronze medal went to Cadre Noir rider Gildas Flament aboard the Hanoverian bred Al Capone (by Belissimo M x Lauries Crusador xx). The bay is owned by the National Equestrian Centre ENE/ICFE and Flament steered him to an average score of  67,845%. The pair was third in the preliminary round with 68.780% and sixth in the final round with 66,900%.
Photo: Pôle Européen du cheval-Boulerie Jump
Results - 2016 French 7-year old Championship
Preliminary Round
1. Remy Issartel - Evita -  70,342
2. Alizee Roussel - Quaterbold du Payrol - 69,447
3. Gildas Flament - Al Capone -  68,789
4. Anne Sophie Serre - Venise de Massa - 68,447
5. Anne Sophie Serre - Vistoso de Massa -   68,421
6. Jean Pascal - Jack Is Back Astola - 67,895 
7. Marc Brule - Juriana -  67,737
8. Alix van den Beghe - Domain of Champ -   67,605  
9. Julien Vincent - Escobar H -  65,763 
10. Charlotte Millier - Sir Rubin -   65,737     
11. Sarah Casanova - Johnnie Walker van de Kwaplas -  65,474
12. Alexandra Schlenck Pascal - Eros du Parme -  66,711
13. Fabienne Laurent - Don Fulcher -  63,947
14. Carlos da Silva - Herz du Lion -     63,579
15. Marie Agnes Bonassies - Sir Misty Cavok - 63,553   
16. Pauline Leclercq - Vallgazel de l'Acacia - 63,158
17. Frederique Blond Delville - Every Day a King - 61,974
18. Caroline Rioche - Scali de Saint Val - 61,868 
Finals Round
1. Remy Issartel - Evita -  72,800  
2. Anne Sophie Serre - Vistoso de Massa -   69,625
3. Marc Brule - Juriana -  67,850 
4. Carlos da Silva - Herz du Lion -    67,500  
5. Alix van den Beghe - Domain of Champ -  67,300
6. Gildas Flament - Al Capone -  66,900  
7. Julien Vincent - Escobar H -  66,550   
8. Fabienne Laurent - Don Fulcher -  66,175  
9. Pascal Jean - Jack is Back Astole -  65,150     
10. Alizee Roussel - Quaterbold du Payrol - 65,000 
11. MArie Agnes Bonassies - Sir Misty Cavok -  64,750 
12. Anne Sophie Serre - Venise de Massa - 64,350
13. Sarah Casanova - Johnnie Walker van de Kwaplas -  64,250 
14. PAuline Leclercq - Vallgazal de l'Acacia -  63,900
15. Alexandra Schlenck Pascal - Eros du Parme - 63,650  
16. Charlotte Millier - Sir Rubin -  62,950     
17. Caroline Rioche - Scali de Saint Val -  62,075  
18. Frederique Blond Deville - Every Day a King - 58,425   
Overall Ranking
1. Remy Issartel - Evita -  71,571
2. Anne Sophie Serre - Vistoso de Massa -  69,023
3. Gildas Flament - Al Capone - 67,845
4. Marc Brule - Juriana - 67,793
5. Alix van den Berghe - Domain of Champ - 67,453
6. Alizee Roussel - Quaterbold du Payrol -  67,224
7. Pascal Jean - Jack is Back Astola -  66,522
8. Anne Sophie Serre - Venise de Massa -  66,399  
9. Julien Vincent - Escobar H -  66,157 
10. Carlos da Silva - Herz du Lion -  65,539
11. Fabienne Laurent - Don Fulcher -  65,061 
12. Sarah Casanova - Johnnie Walker van de Kwaplas - 64,862
13. Alexandra Schlenck Pascal - Eros du Parme - 64,549
14. Charlotte Millier - Sir Rubin -   64,343
15. Marie Agnes Bonassies - Sir Misty Cavok -   64,151
16. Pauline Leclercq - Vallgazel de l'Acacia -  63,529 
17. Caroline Rioche - Scali de Saint Val -  61,972
18. Frederque Blond Delville - Everyday a King - 60,199 
Related Links
Valentin, Diamondgio, Barroso Win 2016 French Young Horse Championships
Orchard NL, Nobless Vaness, Dirla Win 2016 French Young Pony Championships