Dutch Dressage News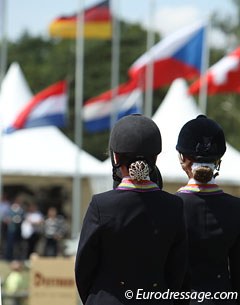 The Dutch NRPS, New Forest Pony and Welsh Pony society are hosting an interactive symposium at the KNHS headquarters in Ermelo, The Netherlands, on 22 October 2016.
The key topic of the 2016 Pony Symposium is "The Way to the Top: How to Beat the Competition (and the Germans)?"
"We, breeders and athletes, have a common goal: to win. We want the best from ourselves and our sport pony. And the nicest thing is to do it at the highest level, the European Pony Championships," the mission statement reads.
Tineke Bartels (Dutch dressage pony team trainer), Cor Loeffen (chair of the KWPN Stallion Licensing Committee for show jumping), and Jan de Boer (World Champion driving) will talk about their experiences on how to reach the top.
The symposium wants to discuss the question whether pony breeding in The Netherlands is enough focused on athleticiscm.
"Can our Dutch bred ponies do the job? are they strong enough and do they have the endurance? Are they willing to work and do they want to go through fire, across fences and through the water. Are they built for riding so they can bend well and do the lateral movements? Also the character of the pony is very important," said the symposium organisation.
More info at www.ponysymposium.nl
Related Links
2016 Global Dressage Forum - Day One: Double Lunge Work and Youth Talent Takes Centre Stage
Lucie-Anouk Baumgurtel Wins Kur Gold at 2016 European Pony Championships
History of the European Pony Championships