Dutch Dressage News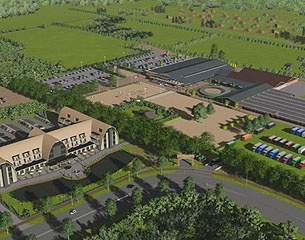 Roosendaal has officially submitted its bid to host the 2017 and 2019 European Dressage Championships for Children, Junior and Young Riders as well as for the 2018 European Under 25 Championships.
Roosendaal is the only candidate who has offered the FEI to host these 2017 Youth Riders Championships and as tentative dates 25 - 30 July 2017 have been suggested.
Roosendaal has also officially launched a bid to host the 2018 European Under 25 Championships, with as suggested dates somewhere between June and August 2018.
The allocation of both Championships will be determined during an FEI Bureau Meeting in the autumn of 2016.
Equestrian Centre "Den Goubergh" in Roosendaal is seriously expanding its facilities and building a new mega-dome equestrian centre called "World of Dreams" with new indoor and outdoor arenas, a hotel, an education centre, and hotel.
The expansion thrift of the venue is also proven by the fact that it is officially bidding for the 2019 European Children, Junior and Young Riders Championships as well, but those will only be allocated at the FEI Bureau meeting in the spring of 2017.
Related Links
Bigwood, Heijkoop, Witte-Vrees Triumph in Big Tour Classes at 2016 CDI Roosendaal
Lamprechtshausen, Kaposvar, Fontainebleau to Host 2017-2018 European Championships
2016 European Under 25 Championships Relocate to Hagen