2016 Spanish Young Horse Championships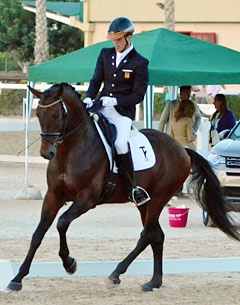 The 4-year old Columbus TR, the 5-year old Beyonce and the 6-year old Forte MG were the winners of the 2016 Spanish Young Horse Championships held in Valencia, Spain, on 23 - 25 September 2016. The Nationals also featured a division for 7-year olds, won by Eddieni, and for developing PSG horses, won by Vetusto JVI.
The 2016 Spanish Young Horse Championships were a great success with massive attendance in all five divisions.
Juan Manuel Acoste Ponce and the Hanoverian bred Columbus TR (by Conen x Lauries Crusador xx) were the undisputed champions in the 4-year old division winning both rounds with 82.600% and 88.000% to finish on a total score of 299.90 points. The results of the preliminary round had a coefficient of 1.5, while the final round had a coefficient of 2 to determine the total score. Sergio Navarro Vicente and the Oldenburg bred Roncevall (by Romanov x Donnerhall) were the silver medalists with a 77.60% and 82.00% for a 280.40 total. Jenry Brewah Granados and the Dutch warmblood Hamilton (by Don Tango x Johnson) got the bronze with 77.60% and 79.00% (274.40 pts).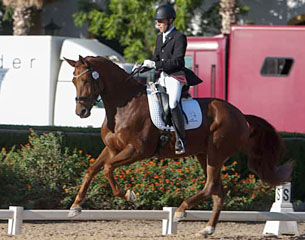 In the 5-year old division the young horses had to compete in three rounds with increasing co-efficients. Sergio Navarro Vicente and the Oldenburg mare Beyonce (by Belstaff) topped the board with two wins in the first preliminary rounds and a third place in the finals. She scored 81.600%, 88.00%and 79.600% to finish on 372.80 points. Juan Antonio Perez Pulido and the Oldenburg bred Furtwangler (by Furst Wilhelm) were the runners-up with a total of 369.70 points after scoring 78.60%, 83.40% and 83.00%. Maria Albinana Sanz and the Hanoverian Lara (by Locksley II x Rotspon) were third with 356.90 points. They scored 772.00%, 79.80% and 80.00%.
In the 6-year old division Spanish Olympian Claudia Castilla Ruiz had to battle it out against Marta Pena Montaner as the duo was on each other's heels. Castilla Ruiz and the Dutch warmblood Forte MG (by Rousseau x Pion) crossed the finish line first after scoring 81.40%, 86.20 and 78.80% for a 368.300 point total. Pena Montaner and the Oldenburg bred Sarotti OLD (by Sarkozy) were second with 363.00 points after achieving 77.40%, 86.40% and 78.00%. Juan Manuel Acosta Ponce and the PRE bred Albeitar TR (by Marinero XXXVIII x Educado X) were good for bronze with 358.60 points (78.60%, 84.00% and 77.00%).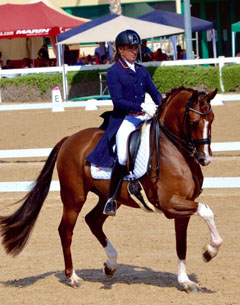 Agusti Elias and his wife Annabelle Collins' Dutch warmblood Eddieni (by Johnson x Negro) were the undisputed winners in the 7-year old division after scoring 77.981%, 77.409% and 74.977% to total 344.049 points. Juan Francisco Fernandez Munoz an the Oldenburg bred Royal World (by Royal Olymp) were far behind in second place wiht 330.086 points. This duo got 74.595%, 73.678% and 72.487%. Daniela Sanchez Sanchez and the Oldenburg Stendley Hit (by Sancisco) were the bronze medal winners with 323.552 points after scoring 71.972%, 73.531% and 70.642%.
Juan Francisco Lecina and the PRE bred 9-year old Vetusto JVI (by Urano) grabbed the gold in the Developing Prix St Georges horse division with a total of 319.446 points. The pair faced much competition from the silver medal getters, Antonio Verdejo Perez on the Oldenburg Show Time (by Sir Oldenburg), but persevered in the end. Vetusto JVI scored 68.972% in the YR preliminary test, 69.316% in the Prix St Geirges and 73.250% in the PSG level Kur to Music. Verdejo and Show Time were close with 69.333%, 68.237% and 73.050% to finish second on 317.789 points. Tomas Caudet Prats and the chestnut Oldenburg stallion Fancy Boy (by ?) landed third place with 311.202 points after scoring 68.194%, 66.605% and 71.550%.
Photos © CES Valencia - Top Iberian
Results - 2016 Spanish Young Horse Championships - Valencia
4-year olds (top 10 only)
1. Juan Manuel Acosta Ponce - Columbus TR (by Conen x Lauries Crusador xx) - 299.90
2. Sergio Navarro Vicente - Roncevall (by Romanov x Donnerhall) - 280.40
3. Henry Brewah Granados - Hamilton (by Don Tango B x Johnsonà - 274.40
4. Mariano Cano Tudela - Luna B (by Licosto x Dacaprio) - 272.50
5. Jordi Domingo Coll - Handsome C (by Don Tango) - 270.40
5. Rafael Adrian Heredia Munoz - Hermes de Encinasola (by Ozono x Laomedon) - 270.40
7. Juan Francisco Fernandez Munoz - Galactico (by ) - 266.50
8. Marc Amat Montenegro - Hugo Prins (by Zhivago) - 259.60
9. David Quilez Onrubia - Hinoko (by Candreo) - 258.50
10. Vanessa Egea Adamsen - Wikingo de Mile (by ) - 258.40
5-year olds (top 10 only)
1. Sergio Navarro Vicente - Beyonce (by Belstaff) - 372.80
2. Juan Antonio Perez Pulido - Furtwngler (by Furst Wilhelm x Dornenkonig) - 369.70
3. Maria Albinana Sanz  - Lario (by Locksley II x Rotspon) - 356.90
4. Sergio Marti Perez - Dilara (by Danone x Azur) - 349.00
5. Alberto Garcia Martin - Delirio PT (by Delinger x Espriwall) - 347.80
6. Cristobal Belmonte - Santos (by Sancisco x Levantos) - 347.80
7. Laura Michelle Shilan Douglas - Sky Walker (by Dannebrog x Worldly) - 346.00
8. Alejandro Sanchez del Barco - Quincallo de Indalo (by Esbelto VII x Bandolero LXVII) - 344.80
9. Gonzalo Castillo Arroyo - Gustaaf (by Charmeur)  - 343.70
10. Francisco Esteve Gassent - Valerio (by Vitalis x Florestan) - 343.60
6-year olds (top 10 only)

1. Claudio Castilla Ruiz - Forte MG (by Rousseau x Pion) - 368.30
2. Marta Pena Montaner - Sarotti OLD (by Sarkozy) - 363.00
3. Juan Manuel Acosta Ponce - Albeitar TR (by Marinero XXXVIII x Educado X)  - 358.60
4. Juan de Rios Ramirez Garcia - Quaterback (by Quaterback) - 357.90
5. Alba Abollo Fontela - Elvillar CS (by Espriwall x Gravenno) - 351.80
6. Alfonso Gormaz Torcal - Keita II (by Cechero x Kerol) - 342.00
7. Joseph Ribert Hunt - Fogo de Lyw (by Trovador) - 341.70
8. Maria Palacios Ortuno - Believe (by Blickpunkt) - 335.700
9. Sergio Marti Perez - Femmo (by Florencio x Pele) - 335.50
10. Tamar Zafra Raya - Omega Samba (by Scolari x Lavell) - 335.20
7-year olds (top 10 only)
1. Agusti Elias - Eddieni (by Johnson x Negro) - 344.049
2. Juan Francisco Fernandez - Royal World (by Royal Olymp) - 330.086
3. Daniela Sanchez Sanchez - Stendley Hit (by Sancisco) - 323.552
4. Samuel Delgado Mateos - Siroco (by Sergio Rossi) - 322.987
5. Laura Reija Belart - Everest (by Winningmood) - 321.928
6. Magin Mateu Lopez - Duncan IV (by Chinchoso III) - 321.094
7. Jordi Domingo Coll - Eastwood (by Wynton) - 320.502
8. Juan Antonio Jimenez - Euclides (by Riopele) - 320.151
9. Jose Miguel Egea - Elcapone (by Negro) - 318.146
10. Alfonso Gormaz Torcal - Juncal LXXXVII (by Bandolero LXVII) - 315.571
Developing PSG Horses - 8 & 9 year olds (top 10 only)
1. Juan Francisco Lecina - Vetusto JVI (by Urano) - 319.446
2. Antonio Verdejo Perez - Show Time (by Sir Oldenburg) - 317.789
3. Tomas Francisco Caudet Prats - Fancy Boy (by ) - 311.202
4. Adin Rodriguez Peinado - Spirit de Jama (by Ucalero) - 306.739
5. Jose Miguel Egea - Quintus (by Quaterback) - 304.430
6. Maria Palacios Ortuno - Goya A (by ) - 304.247
7. Juan Antonio Perez - Sir Marq (by Sandro Marq) - 303.235
8. Marta Pena Montaner - Silver Black (by Sandro Hit x Donnerhall) - 299.247
9. Angel Dorado Martinez - Don Corleone (by Riopele) - 298.376
10. Arturo Diaz Mellado - OVD Fito (by First Game) - 296.468
Related Links