FEI Dressage News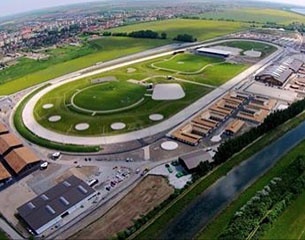 The Samorin equestrian centre in Samorin, Slovakia has thrown itself into the mix of potential candidates for hosting 2018 World Equestrian Games. Samorin joins Tryon (USA) as the two official WEG candidates so far after the withdrawal of Bromont. 
Dressage-News reported that the FEI will not re-open the bid process with only two years remaining, but FEI President Ingmar De Vos has been mandated to handle the alternative to Bromont, Canada which backed out in July after it was unable to raise money to stage the event.
On 2 August 2016 the Tryon International Equestrian Center in Mill Spring, N.C., USA officially submitted its bid with the FEI to host the 2018 World
Equestrian Game. 
Samorin in Slovakia will now be launching its effort to get hold of the organisation to stage the multi-disciplinary event. While Tryon has serious American financial backing through the connections of entrepreneur Mark Bellissimo, Samorin can rely on its connections with Frank Kemperman and the CHIO Aachen organization team to host the show and arrange finances for its version of 2018 WEG.
The World Equestrian Games stages the seven FEI endorsed equestrian disciplines of dressage, driving, endurance, eventing, jumping, reining and vaulting as well as para-dressage.
Samorin is currently staging the 2016 World Endurance Championships after they were removed from the United Arabic Emirates. The Samorin equestrian centre is owned by Slovakian business mogul Mario Hoffmann.
Related Links
Tryon Announces Bid for 2018 World Equestrian Games