2016 North American Junior/Young Riders Championships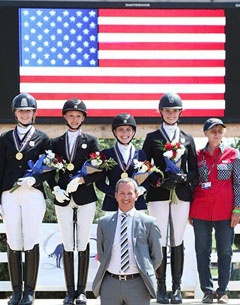 U.S. Region 3 and Jenna Upchurch on the Danish warmblood gelding Greystoke were the gold medal winners at the 2016 North American Junior Riders Championships hosted at the Colorado Horse Park in Parker, CO, U.S.A. on 28 - 31 July 2016. Upchurch and her grey gelding were the stand-out juniors of the weekend despite their fairy new partnership.
Upchurch began riding the Danish warmblood gelding Greystoke (by Rosentanz x Michelangelo) eight months ago. She took over the horse from Kate and Martin Kuhn, who acquired the grey gelding as a 4-year old from Eurodressage's Astrid Appels. Astrid discovered Greystoke as a foal on a video sent to her by his breeder, Danish Mikala Bagge. Greystoke was reared in Denmark at Niels Therkelsen and Lone Boegh Henriksen's place and later on sent to Germany to be trained by Johannes Westendarp.
Region 3 Captures Gold in Junior Team Test
Four riders hailing from Region 3 secured their place atop the winner's podium in the Junior Team Test with an averaged score of 197.298 to best the Region 4 team, who completed the competition with a final score of 194.729. A combined team of riders from Region 1 and Region 6 earned the Bronze medal, finishing the day with a score of 194.298.
The Region 3 Team, guided by Chef d'Equipe Sue Bender, featured riders Juliet Hess (17, Atlanta, Ga.) aboard Diano, Emily Hewitt (18, Atlanta, Ga.) and Whats Up De La Ferme Rose, Helena Marie Milazzo (17, Ponte Vedra Beach, Fla.) with Baccus, and Marline Syribeys (17, Atlanta, Ga.) aboard Hollywood.
"Region 3 is a very special region because we've all been close for a while. Even before we came here, we knew each other and were friendly with each other. That made us want to do well even more," said Hess, who piloted Diano to a team high score of 67.162%.
Teammates Emily Hewitt and Helena Marie Milazzo were overwhelmed with emotion when they received the final word to confirm where the foursome finished in competition, and both described the importance of the day, as one they'll always remember.
"Winning gold was a shock and I wasn't really expecting it. Everyone on the team held true to what they were supposed to do today and it was a team effort," commented Hewitt. "These ladies made this win so special," added Milazzo. "I was flooded with emotions, that's for sure. I couldn't have asked for a better team and I'm really thankful that I get to ride with these ladies."
While Syribeys did not have the day she was expecting aboard Hollywood, she triumphed on with a positive attitude and demeanor, aptly describing her experience at the competition and the benefit it holds when creating and maintaining relationships within their discipline.
"When you're able to compete in an environment that you don't feel like you're competing against each other, but that you're competing together is so much fun," she said. "It gives this horse show such a different feel than any other show."
Each of the riders commented on their individual tests, as well as the improvements they felt they had made on the first day of competition for junior dressage competitors.
"I think today was a really solid ride for me. I'm learning to ride the edge of the power with him and that is an improvement for us. It was a really special day," noted Hess. "His energy level today was a lot better than it usually is and I felt like he was much more expressive," commented Milazzo. "I think NAJYRC is such a fantastic opportunity. You can come here and prove to yourself that you can achieve certain things that you may not have originally thought. I didn't think that I would be doing something like this if you had asked me a few years ago and being able to compete in this type of environment is something so important and special."

The Region 3 Juniors won the Gold medal with a total score of 197.298. The Region 4 Juniors earned the Silver medal with a total score of 194.792. The Bronze medal was awarded to Region 1/6 Juniors with a total score of 194.298.
Upchurch and Greystoke Take Gold in  Junior Rider Individual Test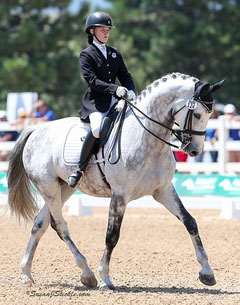 Jenna Upchurch (17, Chesterfield, Mo.) and Greystoke, a flashy dapple grey gelding, rode to a class high 70.632% in the FEI Junior Individual Test at the USDF North American Junior & Young Rider Dressage Championships. Upchurch, who stood atop the Gold medal podium for the first time this week, accepted the Gold medal with poise and grace, having bested a competitive class.

Vanessa Creech-Terauds (16, Caistor Centre, Ont.) and Fleur de Lis L were awarded with the Silver medal for their score of 70.184%, while Carlos Maldonado Lara (17, Guadalajara, Mexico) and Massimo, the only representatives in the dressage discipline from their home nation of Mexico, received the Bronze medal with a final score of 69.974%.The FEI Junior Rider Individual Test is the only class of all disciplines hosted so far this week that has seen each participating country represented on the podium.

Upchurch and Greystoke only began working together this past December and have solidified a strong relationship to this point. Upchurch defined herself as a dressage enthusiast who loves the challenge, preciseness, and accuracy of the sport.

"Winning Gold, that's something you dream about the minute you find out about these championships," she said. "It was huge for me and it's always been a dream of mine, so this is wonderful. I really like the challenge of dressage. That's why I was drawn to it."

Upchurch has bounced around the disciplines, riding in the hunter/jumpers and also competing in the Arabian pleasure world before transitioning full time to the sport of dressage. The commute for Upchurch is a long one, as she drives over two hours to her home base each week to train.

"This has been an interesting transition going from the hunter/jumpers to the Arabian circuit to open dressage. Last year I was lucky enough to lease a horse and that was a great experience," she added. "I felt like he was very balanced and correct in our test today and I'm so pleased with the result."

Vanessa Creech-Terauds aboard Fleur de Lis L narrowly missed the Gold medal as the final rider the class for the afternoon, scoring just four-tenths off the winning ride.

"I was so pleased with her today and I felt like she gave me her all in the ring. It was a great feeling to earn that score and I'm so happy to be here," said Creech-Terauds. "This competition means so much to everyone and it's an incredible experience for each of us."

Maldonado Lara was the sole representative of Mexico in dressage competition this week. He and his mount Massimo performed beautifully and will look to improve on their results Sunday in the Junior Freestyle Test on the final day of competition at NAJYRC. Maldonado Lara also noted that he would like to motivate more members of the dressage community in Mexico to travel to the competition in 2017.

"To come here and have this huge venue and all these other disciplines was fun. To have Mexico and the United States and Canada on the podium together is kind of surreal to think about," said Maldonado Lara. "My horse was very good today, and I want more riders from our country to come here and compete. I want to have a good team here for next year."
Upchurch Pilots Greystoke to Junior Freestyle Victory on Final Day of NAJYRC
Jenna Upchurch and Greystoke, representing Region 4, continued to build on their success of the week, finishing the final day of dressage competition with another Gold medal podium appearance for their ride in the Junior Freestyle. The duo received a score of 71.350% for the win. Vanessa Creech-Terauds piloted Fleur de Lis L to a Silver medal, earning a score of 70.500%, while Jackson Gillespie (17, Denver, Colo.) and Westpoint CB, riding for Region 5, secured the Bronze medal with a score of 69.500%.
Upchurch and Greystoke have impressed in each of their classes, attesting to the talent of both the horse-and-rider combination, as well as the growing potential for the duo moving forward in their career together. Upchurch and Greystoke have only been partnered since December 2015 and have already made great strides in their communication in the ring.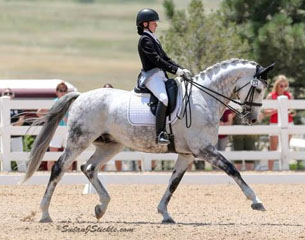 "I feel like we've improved on our connection a lot with the flow of the test and going from movement to movement, as well as how relaxed and collected he could be throughout the test," detailed Upchurch. "For our music, it's a compilation of Coldplay music including "Viva La Vida" and an assortment of scores from the "Fast and Furious" movies, which I love. I edited and cut the music myself with my trainer."
While Upchurch competed at NAJYRC in 2015, she did not qualify to move forward to the freestyle, so the experience and thrill of the atmosphere this year is something she will always remember.
"Last year when I came I didn't make the freestyle. Being able to ride it this year was just fantastic. I have music that I made, and the choreography that we created between myself and my trainer and getting this result is just fantastic," she said. "He's a fabulous horse and to be able to say that he's mine is incredible. He's an amazing animal. I have to thank so many people for the opportunity to work with him and have him. I'm really happy to be able to make my trainer Martin Kuhn proud."

Silver medalists Vanessa Creech-Terauds and Fleur de Lis L have also stood side-by-side with Upchurch and Greystoke in nearly every class this week. Creech-Terauds noted that NAJYRC is her favorite week of the year and also commented on the continued improvements of the young Hanoverian mare throughout the duration of the competition.

"Fleur was very good in all three classes and all three tests. She stayed very focused today, and was energetic with the music going. She kept with me very well and I was proud of her for that," said Creech-Terauds. "She was great all three days. This is a gorgeous facility and I have to thank the sponsors for making this show possible."

Creech-Terauds touched on the fun and lively music selection for her freestyle aboard Fleur du Lis L. She noted, "The trot music is from "Madagascar 2" and the canter is "Kung Fu Panda". We had a lot of fun making the music and in the juniors it's all about having fun and getting experience in the ring. I find that's exactly what our music reflects."

Gillespie returns to NAJYRC this year as a rider, as the Denver native narrowly missed selection to last year's team and traveled to Lexington, Ky., as a groom for Region 5. He explained, "This year getting to make the team was such an amazing experience, especially because there is nothing else like this competition for the youth community in our sport."

When describing his test and the inspiration behind his music and choreography, he spoke of other freestyles that had incorporated the scores of another famous movie franchise, "James Bond". Triple Gold medalist at NAYJRC, Nicholas Hansen, also rode to a popular movie franchise score in "Star Wars".

"My trot work music is my favorite part of the choreography because it's to "James Bond" music. He has an incredible extended trot, so when it slips into the larger band section it really goes well with his movement," explained Gillespie when discussing his musical choice. "I've seen freestyles put together with the "James Bond" music and wanted to include it in my music."
Text by USEF - Photos © Sue Stickle
Related Link
Scores: 2016 North American Junior and Young Riders Championships