2016 Bundeschampionate Qualifier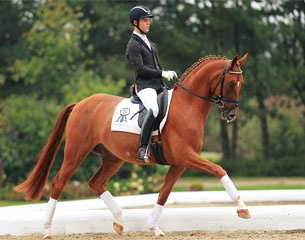 The 5-year old Hirtenglanz and the 6-year old Quick Nick became the winners of the Bundeschampionate qualification classes held during the 2016 Mecklenburg-Vorpommern Regional Championships in Redefin, Germany, on 7 - 10 July 2016. Redefin has been the host of two Bundeschampionate qualifiers, the first one taking place on 29 April - 1 May 2016.
At the July qualifier in Redefin, ten 5-year olds and fourteen 6-year olds gathered to earn a ticket to Warendorf.
In the 5-year old division  Christina Ellendt aced the class aboard the Trakehner gelding Hirtenglanz (by All Inclusive x Lord Luciano) with a total of 7.6. The liver chestnut gelding got 7.5 for walk and trot, 8 for canter, and 7.5 for submission and general impression. Ronald Luders landed second place on Sabrina Vogt's Hanoverian mare Salsa Queen (by Sancisco x Brentano II) with a score of 7.4. The black mare got 7 for trort and 7.5 for walk, canter, submission and general impression.
In the 6-year old division Eva Möller steered Elaine Yeh's Oldenburg gelding Quick Nick (by Quaterback x Abanos) to victory with a very strong 8.6 total score. The gelding earned an impressive 9 for walk and trot, 8.5 for canter, 8 for submission and 8.5 for general impression. Anja Engelbart and the French owner Hanoverian stallion Danciano (by Dancier x Rotspon) were second with 8.2. The black got 8 for walk and canter, 8.5 for trot, 8 for submission and 8.5 for general impression.
Results - 2016 Bundeschampionate Qualifier - Redefin
5-year olds
1. Hirtenglanz (by All Inclusive x Lord Luciano) - Ellendt,Christina  - 7.50    7.50    8.00    7.50    7.50 --- 7.60 
2. Salsa Queen (by Sancisco x Brentano II) - Lüders,Ronald  - 7.00    7.50    7.50    7.50    7.50 --- 7.40
3. Glücksruf II (by Dramatiker x Opernball) - Mencke,Libuse  - 8.00    7.50    7.00    7.00    7.00  ---   7.30 
4. Lilly de Funes (by Louis de Funes x L'Ombre) - Soujon,Natalie  -  7.00    8.00    6.50    7.00    7.00  ---   7.10 
4. Hot Shot (by Hot Spirit x Divino de L) - Günnel,Lena  - 7.00    7.00    7.50    7.00    7.00  ---   7.10
6. Dallas (by Desperados x Rubinstein) - Aringer,Sina  - 7.50    7.00    6.50    6.50    7.00  --- 6.90   
6. Bernay (by Boston x Lord Loxley) - Gerdes,Hermann  - 8.50    6.00    7.50    6.00    6.50  --- 6.90   
8. Fürst Lapas (by Fürstenballx Sandro Hit) - Kabbe,Annekatrin  - 7.00    6.50    6.50    6.00    6.50  ---   6.50   
Quinto (by Quaterback x Duntroon) - Ollmann,Nadine - RET/DNS/ELI   
Rio Negro  (by Riccley x Wind Dancer) - Spierling,Kati  - RET/DNS/ELI   
6-year olds
1. Quick Nick (by Quaterback / Abanos) - Möller,Eva  - 9.00    9.00    8.50    8.00    8.50  ---   8.60
2. Danciano (by Dancier / Rotspon) - Engelbart,Anja - 8.50    8.00    8.00    8.00    8.50  --- 8.20 
3. Fantastic (by Fürst Romancier / Sandro Hit) - Schütte,Christin  - 8.50    8    8    7.50    8.50  --- 8.10 
4. Fuggers Black Pearl (by Fürst Fugger / D'Olympic) - Lüders,Ronald  -  8.50    7.00    8.00    7.50    8.00   ---   7.80
4. Lando (by Londontime / Florencio) - Frahm,Steffen  - 8.00    7.50    8.00    7.50    8.00 --- 7.80
6. Sidney (by Sir Donnerhall II / Hochadel) - Kammer,Uta  - 7.50    8.00    8.00    7.00    7.50  --- 7.60   
7. Fürstenhof (by Fürst Grandios / Weltmeyer) - Senftleben,Birte  - 7.50    8.00    8.00    7.00    7.00   --- 7.50   
7. TI Feel the Beat (by Fidertanz / Ruiz Soler) - Soujon,Natalie  -  7.50    7.50    7.50    7.50    7.50  ---   7.50   
9. Walking on Sunshine (by Belissimo M / Fürst Heinrich) - Kirschnick,Nicole -  7.50    8.00    7.00    7.00    7.50  --- 7.40   
10. Dark Rouge (by Don Primus / Rubinstein) - Eggerstedt,Petra  -  7.50    7.50    7.50    7.00    7.00 --- 7.30   
11. Dr. Best (by Dr.Jackson D / Roy Black) - Kemmer,Heike  - 7.00    8.50    7.50    6.50    6.50  --- 7.20   
12. Dallas (by Don Lyberty / Monjul) - Mencke,Libuse - 7.00    7.50    7.00    6.50    7.00 ---   7.00   
13. Donatus (by Don Frederico / Weltruhm) - Witte,Wolfhard  - 8.00    6.00    7.50    6.50    6.50  ---   6.90   
14. Standing Ovation (by Starnberg / Floresta) - Blank,Anne - 6.00    5.50    6.50    6.00    6.00 --- 6.00   
Related Link
Eurodressage Coverage of the 2016 Bundeschampionate