2016 Bundeschampionate Qualifier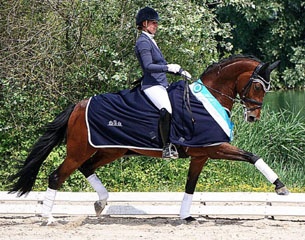 The 5-year olds Bentley and Blickfang HC and the 6-year old Chilly Jam became the winning horses at the small Bundeschampionate qualifier held during the 2016 Hagau Rider Days in Ingolstadt, Germany, on 8 - 10 July 2016. Sixteen horses in total lined up for the L and M-level dressage horse tests to earn a ticket to Warendorf.
In the 5-year old division two horses topped the board with a total score of 8.0. Professional trainer Max Wadenspanner steered Ramona Frey's Bavarian gelding Bentley (by Bonifatius x Lanciano) to victory with 8 for walk, 8.5 for trot, 7.5 for canter, 8 for submission and general impression. Christina Boos and Blickfang HC (by Belissimo M x Brentano II) already secured their entry in Warendorf by winning the Brunnthal qualifier. In Ingolstadt they went on repeat and scored 8.5 for walk and trot, 8 for canter, 7 for submission and 8 for general impression.
Aikje Fehl and Andreas Dorsten's Bavarian bred mare Chilly Jam (by Romanov x Compliment) aced the 6-year old division with 8.1. The bay  mare got 9 for trot, 8 for walk and canter, 7.5 for submission and 8 for general impression. Two horses tied in second place with 8.0: Christiane Schwärzler on Birgit Henglein's Rhinelander stallion La Costo (by Licosto x Rockwell) and Susanne Peter on Hubert Vogler's Oldenburg mare Baroness (by Belissimo M).
Results - 2016 Bundeschampionate Qualifier - Ingolstadt
5-year olds
1. Max Wadenspanner - Bentley (by Bonifatius x Lanciano - 8.0
1. Christina Boos - Blickfang HC (by Belissimo M x Brentano II) - 8.0
3. Aikje Fehl - Wish You Happiness (by Boston x Licotus) - 7.7
4. Lisa Müller - Finn (by Flanagan x Riccio) - 7.6
5. Meike Lang - Lord Blackwood (by Lord Leopold x Don Gregory) - 7.5
5. Ramona Ritzel - Baron Bellini (by Belissimo M x Landioso) - 7.5
7. Walter Wadenspanner - Diva de Luxe (by Furst Romancier x Dollmann) - 7.4
8. Kristina Sober - ZZ Top (by Zack x Rubinstein) - 6.9
8. Saskia Winter - Lotusblume (by Licotus x Lanciano) - 6.9
6-year olds
1. Aikje Fehl - Chilly Jam (by Romanov x Compliment) - 8.1.
2. Christiane Schwärzler - La Costo (by Licosto x Rockwell) - 8.0
2. Susanne Peter - Baroness (by Belissimo M) - 8.0
4. Geertje Hesse - Lady Lamira (by Lord Loxley x Goldschmidt) - 7.8
5. Meike Lang - Sorrento Snörri (by San Amour x Feinbrand) -7.5
6. Saskia Greller - Santiago de Chile (by Sir Donnerhall x Fidermark) - 6.5
Meike Lang - Fesi (by Flatrate x Riccione) - RET
Related Link
Eurodressage Coverage of the 2016 Bundeschampionate