2016 Bundeschampionate Qualifier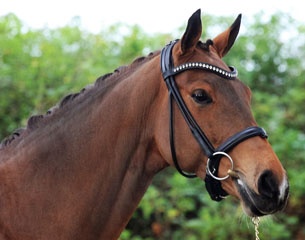 At the regional dressage show in Dinslaken-Hiesfeld, Germany, on 25 June 2016, the 5-year old Brunello and the 6-year old Dimanche moved into the winner's circle of the L and M-level dressage horse test which served as Bundeschampionate qualification class for the 2016 Finals in Warendorf the first week of September.
Lisa Lindner and Stefanie Cyrener's Westfalian gelding Brunello (by Belissimo M x Fidermark) claimed the trophy with a total score of 8.0. They were the only pair to achieve the Bundeschampionate selection criterium of 8.0 or higher. Rebekka Walter and her own Westfalian bred Vinay (by Vitalis x Warkant) tied in second place on 7.7. They had Manuela Hein and Achim Frenzen's Rhinelander mare Lady Carnaby (by Lord Carnaby x Ehrentusch) by their side in the ranking.
Martin Pfeiffer and the Oldenburg stallion Dimanche Royal (by De Niro x Sion) aced the 6-year old division with 7.8. The bay stallion, which is owned by Next Generation Dressage Horses, got 8 for walk and trot, 7.5 for canter and submission and 8 for general impression. Wendy Liebenstein and the Hanoverian gelding Fantastival (by Floriscount x Wolkentanz) were second with 7.6. The chestnut earned 8 for walk and trot, 7 for canter, 7.5 for submission and general impression.
Results - 2016 Bundeschampionate Qualifier - Dinslaken
5-year olds
1. Brunello (by Belissimo M x Fidermark) - Lindner,Lisa  - 8.0
2. Vinay (by Vitalis x Warkant) - Walter,Rebekka  - 7.7
2. Lady Carnaby (by Lord Carnaby x Ehrentusch) - Hein,Manuela  - 7.7
4. First Class (by Fürstenball x Rubioso N) - Unger,Anke  - 7.3 
5. Fairway (by Fürst Fugger x Fidermark) - Ruthenbeck,Julia  - 7.2   
6. Freixenet K (by Feedback x Lavauzelle AA) - Keus,Andre  - 7   
6. Poleggio-Boy VDH (by Poleggio x Sandro Hit) - Fernandez-Sanchez,Marco  - 7   
8. Don Diamant  (by Damsey x Florencio) - Niggemann,Leonie  -  6.1   
Lepani (by Locksley II x Fidermark) - Wilting,Ann-Kathrin  - RET/ ELI / DNS
6-year olds
1. Dimanche Royal NG  (by De Niro x Sion) - Pfeiffer,Martin  -  8.00    8.00    7.50    7.50    8.00 --- 7.80
2. Fantastival  (by Floriscount x  Wolkentanz I) - Liebenstein,Wendy  - 8.00    8.00    7.00    7.50    7.50 ---  7.60
3. Quintina   (by Quaterback x Don Schufro) - Welbers,Marina  - 7.50    7.50    7.50    7.50    7.50 --- 7.50
4. Fantastic  (by Fürst Romancier x Sandro Hit) - Schütte,Christin  - 7.50    7.50    7.50    7.00    7.50  --- 7.40 
5. Ratzeberg V  (by Ratzinger V x Stedinger) - Walendzik,Nora  -6.50    7.00    6.50    5.50    6.50  --- 6.20
Related Link
Eurodressage Coverage of the 2016 Bundeschampionate