Belgian Dressage News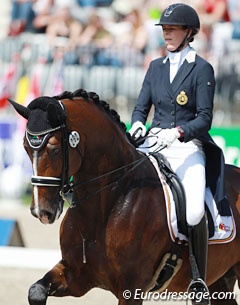 Belgium will not be announcing its Olympic individual dressage candidate until after 10 July 2016. The horses of the two-short listed combinations will be vet checked first on 4 July before the federation will make its recommendation.
Belgian Fanny Verliefden on Annarico secured an individual Olympic spot for the country for the 2016 Rio Olympic Games. Unfortunately due to an injury Verliefden's Annarico (by Lord Loxley x Havel) had to drop out of the Olympic race.
The Belgian Equestrian Federation has officially short listed two combinations for Rio: Jorinde Verwimp on the Dutch warmblood Tiamo and Jeroen Devroe on the Belgian warmblood Eres DL.
After a series of CDI's where these two were able to boost their score average, the Olympic qualification process came to an end at the CDIO Rotterdam. Both horses will now be vet-checked by the three national team veterinarians on 4 July 2016.
"Based on the results of this check the Belgian Equestrian Federation, the latest on 10 July in the evening, will present 1 horse-and-rider combination for the 2016 Olympic Games to the Belgian Olympic Committee (BOIC). No selection is official until after this date," the Belgian FN stated.
Photo © Astrid Appels
Related Links
Final Show Down for Belgian, Australian, American, British Olympic Candidates at 2016 CDIO Rotterdam
Fanny Verliefden and Annarico Drop Out of 2016 Olympic Race
Devroe and Verliefden Named as Belgian Individual Rio Olympic Candidates