2016 Olympic Games
Brazilian Grand Prix riders are feeling Olympic fever maybe more than other nations as host country of the 2016 Olympic Games in Rio de Janeiro, Brazil. Brazilian team captain Mariette Withages has disclosed the long list of team candidates which have obtained the Minimum Eligibility Score and who are in the running for Olympic team selection.
Withages confirmed that she will announce the Brazilian Olympic team on the closing date deadline of 17 July 2016 giving the riders ample time to prove themselves in the show ring and to continue to develop their horses.
The Belgian Mariete Withages is the former FEI Dressage Committee chair and retired international 5* judge. She is overseeing Brazilian team selection and has told Eurodressage that a team will be nominated based on "best results and scores by 5* judges" as well as "consistency" in the show ring.
"The selections are not a simple task because there are three strong candidates who stayed in Brazil and started at the CDI's in Sao Paulo. Admittingly there was not much competition there, but they were scored identically by a judging panel which included two 5* judges each time," Withages told Eurodressage. "There were 5 CDI's planned but the economic situation has thrown a spanner in the works and in the end there were three CDI's."
Six riders opted to compete in Europe this season in preparation of the Games and to prove form for team selectoon.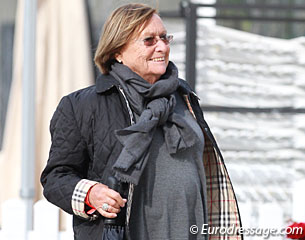 "Those six riders who chose Europe of course have many more opportunities to score, but there is also much competition. It is not about achieving a certain ranking but about getting scores. What is nice about the situation, but also hard, is that all of them score around the same percentage. This makes it extra exciting."
The Tavares family has been swapping horses consistently trying to find the highest scoring pairing in the lead-up to team nomination on 17 July 2015. The horses Vinheste, Toleirao da Broa and Aoleo have been competed by and long listed with four different riders.
The Brazilian combinations long listed by Withages are:
Brazilian based
Giovana Pass - Zingaro de Lyw
Sarah Waddel - Arco Polo Z
Leandro da Aparecido - Di Caprio
Europe based:
Renata Rabello Costa - Deja Vu
Luisa Tavares - Vinheste, Vendaval
Manuel Tavares - Aoleo, Vinheste, Xisto MAC
Thaisa Tavares - Aoleo, Toleirao da Broa
Pedro Tavares - Aoleo, Toleirao da Broa, Baluarte, Xaparro do Vouga
Joao Victor Oliva Marcari - Xama dos Pinhais, Signos dos Pinhais, Haddington
On 21 June 2016 the FEI published the final approved Rio nominated long list and Luiza Tavares has only been nominated with Vendaval, while Thaisa Tavares has only been nominated on Aoleo. One horse was dropped from the long list for Manuel (long listed only with Vinheste and Aoleo) and Pedro is officially nominated on Xaparro, Aoleo and Toleirao.
Photo © Astrid Appels
Related Links
Scores: 2016 CDI Sao Paulo - Scores: 2016 CDI Sao Paulo - Scores: 2016 CDI Sao Paulo
Mariette Withages Appointed Brazilian Team Trainer
FEI Confirms Rio Olympic Group Winners, One Top Six Slot Still Unallocated