2015-2016 KNHS Junior-Young Riders Cup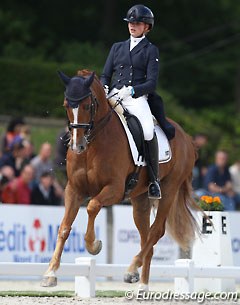 Junior rider Febe van Zwambagt and young rider Jeanine Nieuwenhuis became the winners of the  2015-2016 KNHS Junior-Young Riders Cup Finals held at equestrian centre De Peelbergen in Kronenberg, The Netherlands, on 18 June 2016. The duo were the favourites for the title as Van Zwambagt won five out of six qualifiers and Nieuwenhuis four.
At the Finals Febe van Zwambagt and her Rhinelander bred FS Las Vegas (by Lord Loxley) felt quite some competition from her fellow junior rider Lisanne Zoutendijk on Ringo Star (by Riccione). Van Zwambagt went off course in the first test and placed second with 70.05%. She recovered in the kur to music to win the class with 78.167% and claim the overall title with 148.217 points. Zoutendijk was the runner-up after scoring a winning 71.53% in the first round and placing third in the Kur with 75.833%. Esmee Donkers and her Dutch bred Chaina (by Sir Donnerhall) covered third place with 67.70% and a second place finish in the Kur with 77.417%.
"Incredible but I went the wrong way in the team test. I forgot the walk part and heard the judge ring the bell," said the 18-year old Van Zwambagt who is in her last year of junior riders. "I lost my focus and some small mistakes crept intot he test. It cost me first place, but I was able to recover in the freestyle. That was faultfree and Las Vegas went super well."
In the young riders division Jeanine Nieuwenhuis and the Dutch bred gelding TC Athene (by United) became the overall winners with 147.805 points, but she felt the heat from Jeanine Nekeman in the team test, who started in the finals with a wild card (and was only allowed to compete in one test). Nekeman won the team test, and Nieuwenhuis scored 71.18% to finish second. In the Kur to music, however, Nieuwenhuis persevered and won the class with 76.625%. Lotte Meulendijks an the 20-year old Ohio (by Indoctro) placed second overall with 70.53% and 72.542%. Zoutendijk rode her young riders' horse Watteau (by Jazz) to a third place with 69,34% and 73,708%.
"it didn't go so easilythis morning because Athene was tense at one side of the arena because there was a sound coming of shuffling chairs on the terrace," Nieuwenhuis explained. "A score of 71% sounds great of course and I shouldn't complain but he can score much higher. For the freestyle I quietly warmed up and refound the relaxation and trust. The kur went as usual and I'm super happy with it."
Results - 2016 KNHS Junior - Young Rider Cup - FINALS
Junior Riders
1 Febe van Zwambagt -  Las Vegas - 70,05 -  78,167% --- 148,217
2 Lisanne Zoutendijk - Ringo Star - 71,53% - 75,833% --- 147,363
3 Esmee Donkers - Chaina -  67,70% - 77,417% --- 145,117
4 Bo Oudhof - Colt Sollenburg -  68,11%-  72,00% --- 140,11
Young Riders:
1 Jeanine Nieuwenhuis - Athene  - 71,18% -  76,625% --- 147,805
2 Lotte Meulendijks - Ohio - 70,53% - 72,542% --- 143,072
3 Lisanne Zoutendijk - Watteau -  69,34 -  73,708 --- 143,048
4 Thalia Rockx  - Verdi de la Fazenda  - 67,81 -  73,333 --- 141,143
Related Links
Van Zwambagt and Nieuwenhuis Win 2015-2016 KNHS Junior-Young Riders Cup Finals
Zoutendijk and Meulendijks Win Fifth Leg of 2015-2016 KNHS Junior-Young Riders Cup in Almelo
Van Zwambagt and Nieuwenhuis Win Fourth Leg of 2015-2016 KNHS Junior-Young Riders Cup in Berkel-Enschot
Van Zwambagt and Groenhart Win Third Leg of KNHS Junior-Young Riders Cup in Vorden
Van Zwambagt and Nieuwenhuis Win Second Leg of KNHS Junior-Young Riders Cup in Vragender
Van Zwambagt and Nieuwenhuis Win First Leg of KNHS Junior-Young Riders Cup in Nieuw en St. Joosland