2016 World Championships for Young Dressage Horses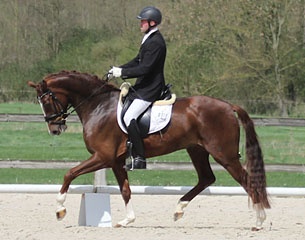 The 5-year olds Genie and Friendscout and the 6-year olds Barroso and Kalagan H became the winners of the final two Belgian selection trials for the 2016 World Championships for Young Dressage Horses in Ermelo, The Netherlands the last weekend of July. Six selection trials were held of which the final two took place in Schilde on 28 May and in Bornival on 18 June 2016. The results of the first trial in Diepenbeek have been surprisingly dropped.
Riders participating in the six selection trials were able to score points based on their final percentages. The four riders with the highest points  will be nominated for the World Championships. Remarkably the Belgian federation has decided to drop the results from the first qualifier in Diepenbeek on 2 April, citing that the competition was not eligible as a qualified due to a lack of judges!
"Because of circumstances, the competition for the 5-year olds were only judges by 1 judge. The national dressage committee has therefore decided not to count that show for World Championship selection," VLP representative Aline Kennof told Eurodressage.
At the Schilde selecion trial on 28 May 2016 Dominique Mohimont aced the 5-year old Finals test aboard the Dutch warmblood Genie (by Zhivago x Sandro Hit) with 76.667%. She edged out Dutch Tommie Visser on Rob van Puijenbroek's KWPN bred Guapo (by Jazz x Silvano) who landed second place wiht 74.542%. Dutch young rider Chiara Prijs finished third on Swedish Sophia Skobe Rosen's Dutch bred Falcon (by Apache x Donnerhall) with 73.375%. In the 6-year old division Larissa Pauluis has definitely secured her spot for Ermelo by bagging her third victory on Barroso (by Bordeaux x Saros). She scored 74.708% and narrowly edged out Julie Dossin on First Lady (by Sir Donnerhall x Johnson), who was second with 74.083%. Kevin Laevens and the BWP licensed Kozinsky van den Dries (by Quaterback x Clavecimbel) were third with 73.542%.
At the final selection trial in Bornival on 18 June 2016, Nick van Laer and the 5-year old Friendscout (by Floriscount x Don Vino) claimed the trophy with a 75.875 final score, just ahead of Mohilont on Genie. In the six-year old division Tom Heylen and the Belgian warmblood mare Kalagan H (by Universal x Wundermeyer) topped the board with 71.375%, quite ahead of the second placed pair Laevens and  Kozinsky van den Dries with 68,958%.  
Results - 2016 Belgian WCYH Selection Trial - Schilde
5-year olds
1. Mohimont Dominique - Genie  -  76,667  
2. Visser Tommie  - Guapo Begijnhoeve - 74,542
3. Prijs Chiara - Falcon - 73,375 
4. Van Laer Nick - Friendscout  - 73,208  
5. Verreet Katrien - Fortalezza Biolley - 72,708 
6. Helsen Gert  - Laura Ashley - 72,292 
7. Bervoets Denis - Lars Van Het Kristoffelhof - 72,083   
7. Vets Charlotte - Fahrenheit Biolley - 72,083  
9. Hendrikx Suraya  - Danoon - 71,792
10. Meisch Linda -  Goldennettie -  71,000
11. Franckx Tom - Just Wait - 70,958 
11. Dekeyzer Ulricke -  Leopold  -70,958  
13. Moordtgat Anke -  Dublin -  70,750  
14. Borghys Maarten - Lafite Ter Dolen - 69,750  
15. Cool Isabel - Glorious -  69,417  
16. Vandecappelle Ine -  Generaal  -  69,208   
17. Rutten Tess - Quando Z -68,167  
18. Cappon Mieke - Laquino -  68,083  
19. Adriaenssens Kirsten -  Garmeur G  -    67,667  
20. Martel Shawnee - Fürst De Niro  -  66,500  
21. Laukens Ilka -  Firedance -  65,167 
22. D'Hoore Brecht -  Wolfshoeve's Go on Top  -  64,458
6-year olds
1. Pauluis Larissa  - Barroso -  74,708  
2. Dossin Julie - First lady - 74,083 
3. Laevens Kevin -  Kozinsky Vd Dries - 73,542 
4. Verreet Katrien - Gallartica Biolley  -  71,625  
5. Heylen Tom - Kalagan "h" - 70,333 
6. Franckx Tom -  showdancer  - 69,958  
7. Borrey De Coninck Eline - Future'S Pride - 68,917
8. De Troyer Anthony -  Flow - 67,042
9. Vandecappelle Ine - Katusha Van 't Wijnhof -  66,542
10. Van Robaeys Athina - Kefraya M  - 66,333 
11. D'Hoore Brecht - Wolfshoeve's Ferdinand H - 65,667  
12. Heuring Oliver - Stedifee H Z - 65,208   
13. Swagemakers Veronique -  Sixth Sense - 64,417
14. De Vlieger Andre  -  Figo - 64,125
Verheyden Sam - Kryptonite Van De Performing Stables  - DNS
Results - 2016 Belgian WCYH Selection Trial - Bornival
5-year olds
1. Van Laer Nick -  Friendscout -  75,875   
2. Mohimont Dominique -  Genie  - 74,292
3. Verreet Katrien-  Fortalezza Biolley - 73,833
4. Hendrikx Suraya -  Danoon -72,833
5. Plumier Nathalie -  Caliente Du Plein Vent  -   68,875
6. Martel Shawnee -  Fürst De Niro  -  66,625  
7. Cappon Mieke - Laquino  -  66,000
8. Meisch Linda- Goldennettie - 61,833   
6-year olds
1. Heylen Tom - Kalagan "h"  -  71,375
2. Laevens Kevin  -  Kozinsky Vd Dries -  68,958  
3. De Vlieger Andre -   Figo -  65,958
4. Vandenbroucke Stephanie - Bridget Jones Lzg  - 65,833  
6-year olds
1. Smits-Vanderhasselt Vicky - First Class - 72,458 
2. De Brabandere Emma - El Amore van de kempenhoeve -  65,333
Related Links
Eurodressage Coverage of the 2016 World Young Horse Championships
Fortalezza Biolley, Laura Ashley, Barroso Ace 2016 Belgian WCYH Selection Trials
Lamborghini, Guapo, First Lady Win 2016 Belgian WCYH Selection Trials in Diepenbeek and Sint Truiden