2016 Spanish Dressage Championships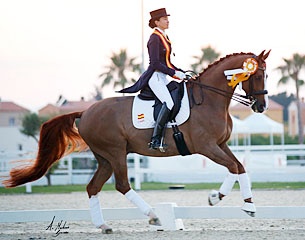 The 2016 Spanish National Championships on 2 - 5 June 2016 in Oliva Nova, at the facilities of the MET, brought about a major turnout at these National Championships included all divisions from young horse through the youth classes up to Grand Prix. Numerous new Spanish Dressage Champions were crowed at the venue which will host the 2016 European Children, Junior and Young Riders Championships in less than a month.
The Spanish National Championships proved once again that dressage is flourishing in Spain as never before. One could say Saturday evening's freestyle summarized a decade of dressage: very good horses and super riders with top trainers behind them: it really was as good as it gets! Indeed, there were a sufficient number of good combinations ready to be chosen to compete for Spain at the upcoming Olympic Games in Rio de Janeiro in August.
At the Nationals, one rider stood out once again at the head of another cycle: Beatriz Ferrer-Salat, the current European Bronze Medal holder with her horse Delgado was this year's winner with three unanimous first places and averages that speak for themselves (75.547% in the Grand Prix, 78.522% in the Special and 83.500% for her amazing Freestyle). She is an international top rider with two horses at Grand Prix level and her own way of understanding our sport. Delgado (by De Niro x Weltmeyer), her Championship horse, performed to the sound of ethnic drums, while Delgado's piaffe and passage steps precisely marked the rhythm of the music, beautifully composed by Dressage & Music, a young team from Barcelona which actually created the music for all of the three winning Freestyles on the podium. Watching their beautiful perfection and her last passage with an amazing piaffe pirouette to the final halt gave more than one spectator goose bumps.
Her second horse, Sir Radjah (by Sir Donnerhall), trained in the same way, won third place twice (in the Grand Prix and in the Special), but one can only go with one horse for the title, so Radjah stepped back "elegantly" to leave this honour to the older of the two. There is no doubt that he is growing in strength and ability. Meanwhile, Ton de Ridder has been by their side for a few years now, with training focussing on quality and thoughtful riding and long-term and long-lasting training seem to be the characteristic of the house.
Beatriz Ferrer-Salat is vegan out of conviction. She is demanding, meticulous and holds the health and wellbeing of her horses above any other consideration; she is a world reference and example for her flowing, calm and beautiful presentations in the dressage arena. "In former days, she was at a crossroads, but she believed in her criteria, stuck to them when everybody else was doubting them, she kept her head when everybody else was losing theirs and blaming it on her; she had the patience to go on and not be tired by waiting". The night of the freestyle with standing ovations from the audience was only one of her well deserved rewards for all this time. She had a beautiful ride, offering true flow, with a horse that is giving its all for her.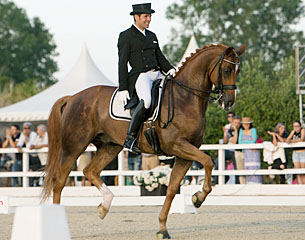 The silver and bronze medal winners are two younger riders who left behind Spain, their families and a comfortable life. Watching them at the championships, it seemed to the observer that it was worth it and they have been lucky enough to become successful, after an uncertain passage through a highly difficult learning process in a sport like dressage which requires as much technique as it does sensibility. One of them is Severo Jurado, silver medal winner with Lorenzo (by Lord Loxely) and the other is Borja Carrascosa, bronze medal winner with Wonder (by Waterford).
Severo Jurado has undergone training in three different countries. Germany was his first stop with Jan Nivelle; in The Netherlands he competed very successfully for Danish international rider Anne van Olst and; and lately he has moved up further north in his search for excellent horses and masters, to Denmark with Andreas Helgstrand, one of the world's most successful horse dealers. Severo has already proved he is highly successful with young horses (with last year's world champion Fiontini); now he seems to be on his way to his first Olympic Games. When he came down the centreline with Lorenzo to the sound of Bon Jovi's "It's my life", his friends and fans did sense that he meant it: the audience was blown away by the fresh and powerful presentation.
Both of them had moved to Germany five years ago, Borja and Severo. Borja Carrascosa is from a horse-loving family: he grew up with Lusitanos-bred horses at his home. When he moved to Hof Kasselmann, the family became his masters, his mentors, until last summer when he opened his own stable at Gut Auric together with Jan Bemelmans, Spain's former national trainer. Wonder (Waterford x Rose), the Hanoverian mare had been trained and presented by Jordi Domingo; two months ago a separation with the owner ended the career of the promising combination and now she is competing with Borja. This new pairing is showing itself to be very successful already. They are still getting to know each other in the ring; however, with only two months of training and two CDI Grand Prix's on their record they are looking very good. Borja had teary eyes when he won the medal, after debuting in his first Freestyle with Wonder, to the sound of the music once composed for his very first Grand Prix horse, Remigius, many years ago.
Behind their success there is hard work. Both of them have learned in the heart of the equestrian sports industry. Now the Spanish audience was delighted to have them back and knowing it was only for this one time caused even more excitement. Expectations were high, and yet they were able to surprise with their knowledge, with the power of their riding, their style and the characteristic manner of someone who knows what they are doing.
Our three protagonists have three different styles of riding, but each of them – Beatriz, Borja and Severo – give rise to emotions when we watch them: we were enchanted by their presentations and enjoyed their rides. It could be said that the northern riding schools are still the place to achieve your masters´ degree when it comes to dressage competitions, or at least so it could seem, based on this podium 2016 at the National Spanish Championships in Oliva Nova.
It was fascinating and not usual in the least to see how in the Grand Prix Special seven combinations scored over 70%. If we take a closer look for a moment at the amazing professionalization that has happened in Spain, we are there with numbers and quality at the top of the ranking. Beatriz Ferrer-Salat has achieved extraordinary success in the international world of dressage and now it is perhaps time to transfer this progress to others who are around her. It seems obvious that if we want to grow further and advance, the Spanish dressage sector has to move forward as one.
There were over 200 combinations, 23 officials and 200 trophies and ribbons; Spanish national television was even on the spot to report on the event, which is quite an extraordinary occurrence in Spain. The Spanish Nationals for Young Horses and the Spanish Youth Championships were both celebrated together with the nationals. It was the selection trial for this year's top events, for all three levels.
Some might remember Claudio Castilla with the Lusitano Jade MV in Kentucky at the WEG in 2010. Now he is back on the long-list with Alcaide (by Nilo x Novilheiro), another Lusitano horse. They came fourth in the overall ranking, coming close to the bronze medal holder. He had made his debut with Alcaide merely one year ago at Grand Prix level and was already achieving good results in 2015. No longer with Jan Bemelmans, he is now preparing competitions with Ton de Ridder.
A sad moment was the unfortunate withdrawal of Cristobal Belmonte and his horse Diavolo De Laubry (by Alibi de Laubry), who looked better than ever in their performances. After an eight-month break, they seemed to be back and in top shape, part of Spain's Olympic long list. However, it was all over when Cristobal suffered an injury during the two canter pirouettes in the Special, leading Diavolo to finish the test all on his own, his honest, good training shown by the horse's reaction.
Within the group scoring over 70%, there were combinations like Sergio Martin on another PSL horse, Altaneirp (by Altivo x Haxir), which came fifth in the overall ranking, showing some strong points of the Iberians. Young Juan Matute Guimón achieved outstanding results; he finished seventh with Don Diego (by Don Frederico) in the National Championships. He was also the winner of the team and individual Young Rider tests, again highly successful this year in this new category, with his medal-winning horse Dhannie.
Spanish Under 25 Championships
In the U25 he took it all, with Quantic. This weekend they are competing in Hagen at in the first U25 Championships, as is the runner up, another rider-horse combination from the Ymas stud, Pablo Molina Gómez and Tarpan, Erik Balash and Dorado 69 (x Dhanny de Nilo) are to join them at the championships.
Juan Matute senior, father and trainer of the successful Ymas riders, stated to us that, "Lots of fans and friends were disappointed when we decided to participate at the U25 Championships, they were hoping for another medal in Oliva this summer, these expectations are of course a reason for pride and satisfaction. But a medal is an ambitious goal, Juan's success last year was historic for Spain. And it is not easy to repeat it. Although Juan is second at the moment in the FEI ranking in his category with Dhannie, success is a consequence of good planning and you can never improvise. Dhannie needs another year of maturing before we can ask Juan for another medal".
Dai Colori Vistoso Wins Small Tour Criterium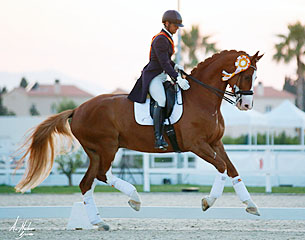 He is as good as he is colourful and his name says it all: Dai Colori Vistoso (by Danone). He and his young rider and owner Alvaro Martín de la Fuente, since they debuted years ago, haven't left the podium. The fresh and powerful couple was the unanimous winner of the Criterium at these championships, leading every test and achieving their personal best score so far with 72.632% in the Prix St.Georges.
Second in the Criterium we found Angel Dorado with A Whisper van de Baensweyer (by Priamos van de Oornenhof) a brand-new combination on their third show, at these championships with an overall score of 69.985%. Trainer and rider José Raga and Dark Jazz (by Jazz ) won the bronze medal. Arthur Álvarez Pou, the young rider from the C.A.V.A., is working his way up with his own Blue Rouet (by Balou du Rouet); together, they placed fourth overall in this class with some very fluent presentations.
Cadena, Costas, Pachon Wins Spanish Youth Championships
Young Rider Sofía Pachón became the overall winner of the category with Dacapo (by De Niro x Windspiel), followed by Antonio Laíz and Gejlholms Menotti  (by Don Romantic x Master), who obtained the second spot (68.142%). Maria Igualador with her horse Red Diamond (by Rhodes Scholar) placed third. Juan Matute and Dhannie, scoring 73.263%, did not show in the final Freestyle so they were not in the running for the general ranking.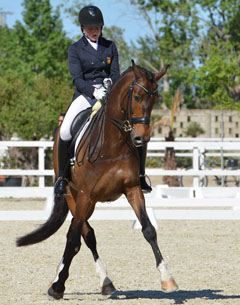 At the top every day in the Junior Nationals we found Claudia Nijhof Costas with her trainer's former Grand Prix horse Zanzibar (by Ronaldo). She has been working now for one year with Diana Ostariz, who stated, "I couldn't ride around Christmas due to an old injury and so Claudia rode Zanzibar for a couple of days; that was how we found out that they could match…. six months later and after three CDIs we are sure it works! And I am delighted! There is nothing that could make me more happy than a pupil of mine on a horse I have trained, participating in a once-in–a-lifetime-event, like the Europeans. I would be so proud of them!"
Elena Moncayola was riding Onix, a Spanish PRE crossbred, 9 years old, a son of her trainer's Grand Prix horse Hierro which her sister is showing in the Young Riders class. They have been competing internationally since 2014. Lauro Aguiló prepared and competed on some of these horses personally. The third combination on the podium was Carla de la Fuente Pablos with Fay (by Fidertanz) her Hanoverian mare. She and her cousin Alvaro Martín de la Fuente couldn't have been happier with their success.
In the pony division only two combinations contested all classes for the National title and the gold went to Lluc Fajula Cadena on the experienced Spanish team pony Picachu. He scored an average of  67.966%. The silver medal went to Ane Martín Ladron aboard Kronprinz with an average of 66.065%.
Furtwangler Stands out in Five-year old Division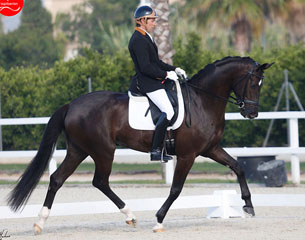 Juan Antonio Perez Pulido and the Oldenburger Furtwangler (by Fuerst Wilhelm out of Dornica) were the overall winners in the five-year-old category. They are based in Madrid at Marta Peña's yard. Marta was very happy with the show results, but Ermelo and the World Young Horse Championships top event are not on their calendar. "It is too early, Juan did a great job with this top horse but we want to give him more time.".
The reserve champion was riding another young Oldenburg horse: Juan Manuel Acosta from the Acosta stud farm climbed up into second place with Salobre TR (by Selfmade out of Wallery), trained by Isidro Maldonado. "If we do have the chance, we will present the horse in Ermelo, but we are waiting for the decision of the Spanish Federation".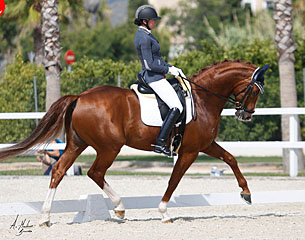 Last year's National Champion Lario slotted in third, a surprising outcome following top results in winning positions over two competition seasons. The Hanoverian is truly "made in Spain": he was bred by Yeguada Adama de Susa; his rider, María Albiñana, explained that they were ready to represent Spain at the world breeding championships for young horses. "I am very happy with Lario. These competitions are exhausting, we have had an intensive season for the younger horses, but Lario is very strong mentally and physically," said the rider, who is a lawyer. Enrique Brewah, a former pupil of Bert Rutten, trains the successful pairing.
Nuria Vila from BCN Horses, the host of BCN Dressage Tour, was also the winner of the six-year-old category, this time with the Hanoverian Brandon (by Bellisimo M out of Daisy G), again owned by Maryam Al khalifa, winning the first preliminary with an amazing 86.600%. Claudio Castilla and Kwpn Forte MG (by Rousseau out of Pulianthe) also beat the 80% barrier. Juan Francisco Fernández riding Hanoverian Fine Time (by Furst Nymphenburg) was the third winner on the podium. All three are ready to compete at Ermelo this year and are waiting for the call from the Spanish Federation.
Elegance Shines in Medium Tour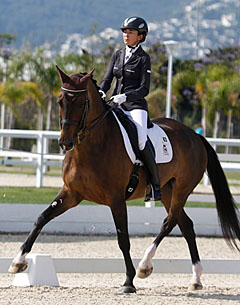 Beatriz and her runner-up, Elegance (by Negro out of Reina), were attracting attention at the Master. Could it be that he is the best amongst her horses, as some are saying? The future is not ours to see, but we saw them winning the Clásica 1 and 2, a test at medium level. This half-brother of Valegro is energetic and talented with very good gaits, leading to scores of around 70%. Another interesting pairing was Nuria Vila, Beatrice's former pupil, with Disney (by Painted Black out of Palova), a mare owned by Maryam Alkhalifa. They took overall second place.
José Antonio García Mena presented a promising Sir Schiwago (by Sir Donnerhall x Lanciano) in the Grand Prix class (overall ranked eighth), while in the seven-year-old category he stood out with Belconi (by Belissimo M x Rosi) and an average of 73.922% in the first test. Francisco Gil and the PRE Israel X were the overall winners of this class over the three days. This is another combination trained by Isidro Maldonado, the Andalusian rider and trainer of horses like Ricardo. Sarah Rengel riding Spanish PRE Mayordomo Caldero, a beautiful pairing with very correct riding scored 69.822%.
There was another top event taking place during the week in Oliva Nova, as the Para Dressage Championships were also being held. This was the seventh edition of the event, and 18 riders took part.
Text by Katharina Braren - Photos © Top Iberian / Alberto Mtz Bracer/ 1clicphoto
Related Links
Scores 2016 Spanish Dressage Championships
Carmen Naesgaard Wins 2015 Spanish Grand Prix Championships
Ferrer-Salat Takes Lead on Day One of 2015 Spanish Dressage Championships
De La Fuente, Ramirez, Laiz Wins 2015 Spanish Youth Riders Championships
Lario, Sarotti, Summernight Win 2015 Spanish Young Horse Championships