2016 World Championships for Young Dressage Horses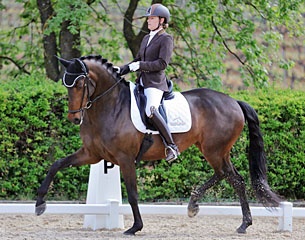 The Societé Hippique Française has announced the horse and rider combinations that will represent France at the 2016 World Championships for Young Dressage Horses in Ermelo, The Netherlands, on 29 - 31 July 2016. France is eligible to send two 5-year olds and two 6-year olds in Ermelo.
France held one official selection trial at the national show in Rosières aux SAlines on 10 - 12 June 2016. To be eligible to be considered for team nomination at Rosieres candidates had to have scored 75% or higher twice in young horse classes in France between 1 January 2016 and 10 June 2016.
At the French WCYH selection trial in Rosières aux Salines the horses had to perform two tests and achieve a minimum of 75% in both rounds to earn a qualification for Ermelo. One of the four selected horses for Ermelo, Addict de Massa, scored only 74.2 in the first round and 75.0 in the second. Based on the scores the horse received at the qualifiers at the beginning of the 2016 show season, of which the majority was over 75 points, the French Equestrian Federation decided to nominate Addict de Massa nonetheless.
This selection causes controversy in France considering that the 6-year old duo Julien Vincent and First Time d'Echallens JV (KWPN, by Damsey x Don Schufro) performed better than Serre on Addict de Massa in Rosieres, obtaining 76.8 and 75.4 there. Initially the federation stated that Vincent was not eligible for Ermelo as his horse had not achieved the 2x 75% in the French young horses classes in the lead-up to the qualifier, but the pair had scored 76.6 at Haras de Jardy and 76.4 at Laval before the Rosieres aux Salines' show.
The Societé Hippique Française (SHF), which organizes the French WCYH selection system and which is in charge of team selection, claims that the national show in Laval (4 - 5 June 2016) did not count for obtaining a qualification score as it was after the closing date for Rosieres (10 - 12 June 2016). The official SHF announcement of the selection procedure, however, did not list any clear deadlines for obtaining qualification scores nor closing dates.
The French horses selected for Ermelo are:
5-year olds
Lena Thouvenin - Diamondgio LTH, an Oldenburg stallion by Diamo Gold x Pik Noir
Julien Vincent - Girello VWM, a KWPN by Andretti x Royal Dance
The 5-year old reserve is Caroline Godin on the Hanoverian mare Querida de Hus, a Hanoverian by Quaterback.
6-year olds
Ann Sophie Serre  - Actuelle de Massa, a Lusitano by Pastor x Fuzilador OCO
Arnaud Serre - Addict de Massa, a Portuguese sport horse stallion by San Amour x Maestro JGB
Photo © Celine Bocchino
Related Links
Eurodressage Coverage of the 2016 World Young Horse Championships