2016 World Championships for Young Dressage Horses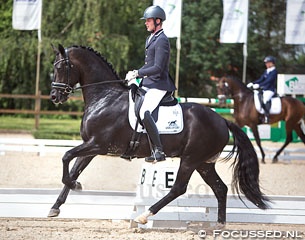 The 5-year old Galaxie, the 6-year old Ferdinand and the 7-year old Equirelle W became the winners of the third Dutch selection trial for the 2016 World Young Horse Championships in Ermelo, The Netherlands. The third selection trial in Etten-Leur on Friday 10 June 2016 was the last one before a semi-finals which will be held in Ermelo.
Dutch team rider Diederik van Silfhout won the 5-year old division aboard the KWPN licensed stallion Galaxie (by Jazz x Future). The pair scored 81.6 points and edged out Marlou de Ruyter on Gregwaard (by Florencio x Jazz), who was the KWPN Foal Champion in 2011. The pair finished second with 80.6 points.
In the 6-year old division it was a neck-to-neck race between the top two place getters. Grand Prix rider Mirelle van Kemenade-Witlox took home the trophy with the KWPN licensed stallion Ferdinand (by Vivaldi x Havidoff) after scoring 79 points. Geert-Jan Raateland and Painted RDH (by Painted Black) were second with 78.6 points.
Kyra Klinkers and the Dutch bred Equirelle W (by Florett As x Donnerhall) bagged the 7-year old division with 75.32 points, while Lynne Maas and Eastpoint (by Westpoint x Negro) were the runners-up with 70.85 points.
Photo © Focussed.nl
Results - 2016 Dutch WCYH Selection Trial - Etten-Leur
5-year olds
1. Diederik Van Silfhout - Galaxie - 81,6
2. Marlou De Ruyter - Gregwaard - 80,6
3. Jennifer Sekreve - Gamante d - 80,2
4. Dana Van Lierop - Gunner KS -80
5. Annemiek van Venrooij - Gatino - 78,6
6. Mercedes Verweij - Gizmo R - 78
7. Lotje Schoots - Grace of Rose - 77,4
8. Chiara Prijs - Falcon - 77,2
9. Maria Brouwer - Gamble h - 76
10. Joyce Van Schaick - Glendale - 74
11. Tommie Visser - Guapo Begijnhoeve - 73,4
12. Albert Nap - Global Star - 72,6
13. Nicky Snijder - Game boy - 71
14. Laura Zwart - Ashwin van de Fryochaborg - 69,6
15. Richella Nijen twilhaar - Asjemenou - 67,8
16. Fransje Van der Meer - Gajadora E.H. - 67,4
16. Denise Klap - Lobke - 67,4
18. Nicole Ekkerink - Guernsey Elvis - 67,2
19. Sandy Breel - Gina donja - 60,4
Lars Op 't Hoog - Gavi del gavi- ELI
Karlijn Van Vugt - Johanna K - DNS
Anouk Daris Postelhoefs - Garonus - DNS
Stefanie Waaijenberg - Gabbana - DNS
Jamy Ummels - Ghita fille de zita s - DNS
6-year olds
1. Mirelle Van Kemenade - Witlox - Ferdinand - 79
2. Geert-jan Raateland - Painted RDH - 78,6
3. Katie Werring - Francois - 74,4
4. Annemarie Brouwer - Dijkstra - Fifty Fifty - 73,6
5. Yessin Rahmouni - Ferrari STH - 73
5. Robin Beekink - Klimke - 73
7. Jeroen Hamelink - Figuero HDS - 70,8
8. Saskia Maertens - Fatal Attraction - 69,2
9. Floor Vos - Fine-Tuned DFV - 68,4
10. Velina Hristova - Fiorucci DS - 67,8
11. Sandy Van Boxmeer - Westerhuis - fernando - 65,8
12. Aniek Schraa - Frühlingsflocke - 62,6
13. Merel Vergouwen - Friend - 60,8
14. Emily Wiskerke - Fighter - 57,8
7-year olds
1. Kyra Klinkers - Equirelle W - 75,32
2. Lynne Maas - Eastpoint - 70,85
3. Wilma Wernsen - Estupendo - 70,78
4. Marc-peter Spahn - Djorn Van De Demro Stables - 68,99
5. Esmee Van Gijtenbeek - Enton - 65,65
Lotte Meulendijks - Welt Hill - DNS
Related Links
Eurodressage Coverage of the 2016 World Young Horse Championships
Guardian S, Cum Laude, Esperance Win Second 2016 Dutch WCYH Selection Trial in Kootwijk
Gatino, First Apple, Elysias Win First Dutch Qualifier for 2016 World Young Horse Championships