2016 CDIO Compiègne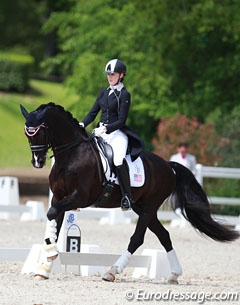 The trio of American USEF Dressage Young Rider European Tour participants gained valuable experience in their European debuts, competing in the CDI-Y and U25 competition at the 2016 CDIO Compiegne in France on 19 - 22 May 2016. The American equestrian federation has sent young riders Lauren Asher, Kerrigan Gluch and Barbara Davis to Europe to gain mileage and exposure in Europe amongst their peers.
Asher Leads U.S. Youth Train in France
Lauren Asher (San Diego, Calif.) with her own Hanoverian gelding De Noir (by De Niro) were the highest placing Americans in both the Team and Individual Tests. In Friday's Team Test, the pair scored 67.061%, placing 19th. Asher went one better in the Individual Test, placing 18th with a score of 66.228% in a test that earned high marks for the medium and collected trot and extended walk. Moving forward to the Freestyle on Sunday, Asher rode with remarkable poise under less than ideal weather conditions. The judges were impressed with the choreography and degree of difficulty, awarding the pair a score of 71.958% and placing it fourth in the class.
"I am very happy to have done respectably my first time at a European CDI," Asher told Eurodressage. "Both of my tests had big mistakes, so I wish we could have done better, but to finish 4th in the Kür at my first European CDI was definitely more than I ever could have asked for or dreamed of! De Noir was wonderful, and my trainers did a great job getting me ready."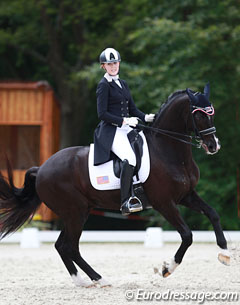 Asher was ecstatic about her show weekend in France. Currenty based with Bob Tenwolde in The Netherlands, Asher is normally trained by David Blake when home in California. U.S. Youth Team Trainer George Williams were here eyes on the ground in Compiegne.
"Compiègne was a lovely experience," she said. "There was definitely a learning curve, but I found it to be a wonderful and memorable experience and for sure one of my favourite shows to date. For me, it was great to have more than four or five other riders in my class - in the U.S., there's usually only a few other young riders at CDIs, unless you're at the North American Championships. It was so inspiring to see famous riders I have always read about and followed, like Adelinde Cornelissen or Patrik Kittel, training their horses and warming up in the arena right next to me. I loved the venue, the organisers were wonderful, and the stabling was top class, much nicer than our normal shows in the U.S. I really liked competing at a European CDI, it was a fantastic experience, so great to see the depth and high level of sport here. I am so grateful and thrilled to be training over here, it is so inspiring to see the level of sport here."
Compiegne Education Experience for Barbara Davis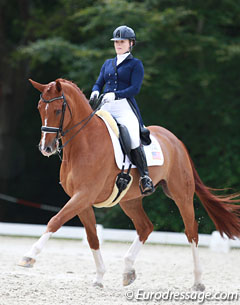 Barbara "Bebe" Davis (Wellington, Fla) and Michael Davis' Feivel Mousekewitz scored 63.816% in the Team Test, placing 24th, and earned 65.614% for 23rd place in the Individual Test.
"I was bit slower than I usually am with my corrections, which led to an occasional loss of rhythm with Feivel," said Davis. "I am very proud to represent my country and grateful for their support."
Davis also saddled her Grand Prix schoolmaster, Equestricons Carrera, but unfortunately was eliminated as the horse had bit its tongue and a drop of blood showed at the tack inspection after the test.
"I tired my very best with both of my horses. Unfortunately, my mare bit her tongue at the end of our ride. She preformed great in the ring and gave me an amazing feeling. It is something that can happen to any rider, but I could not be happier with the feeling that she gave me. I rode my best but I let my nerves get the best of me."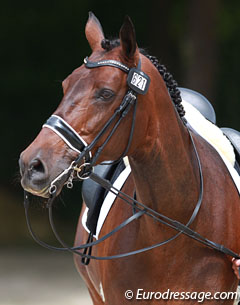 As 2015 U.S. Young Riders' Champion and 2015 North American Young Riders Kur bronze medal winner Davis is thrilled to be facing European competition for the first time. For her Euro Tour she is based at Henri Ruoste's yard in Mende, Germany, where she gets helped by the Finnish Grand Prix rider alongside her steady coach Endel Ots.
"It was really an amazing experience to go to Compiegne! I really enjoyed myself, the facility was gorgeous and it was an honor to be there with the U.S team," Davis told Eurodressage. "I could not be more grateful to the federation for allowing me to have this truly incredible learning experience. It was so educational seeing the quality of the horses and the riding here in Europe. The competition here is very fierce, one must ride their best and preform at the highest level. The quality of both horses and riders is astounding. Having the chance to compete at the Global Dressage festival has most certainly helped me prepare to compete here in Europe."
Gluch and Vaquero HGF Face New Challenges in Compiegne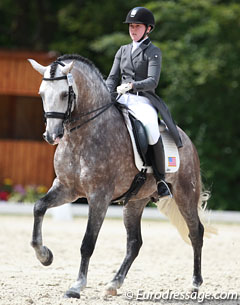 Rounding out the U.S. representatives, Kerrigan Gluch (Wellington, Fla.) and Hampton Green Farm's Vaquero HGF placed 27th in the Team Test with a score of 65.000%, and placed 31st with a 60.263% in the Individual Test.
Gluch is based in Europe at Gut Auric in Krefeld, Germany, from where former Spanish team trainer Jan Bemelmans operates.
Photos © Astrid Appels
Eurodressage's Astrid Appels is on the scene in Compiegne taking photos of as many riders as she can. Contact us if you are interested in prints or digital files for your social media use.
Related Links
Scores 2016 CDIO Compiegne
Team USA on Top Again at Rainy 2016 CDIO Compiegne
Hester and Nip Tuck Sweep 3* Grand Prix at 2016 CDIO Compiegne
2016 CDIO Compiegne, a 5* Dressage Extravaganza with Classes Across the Levels