2016 Bundeschampionate Qualifier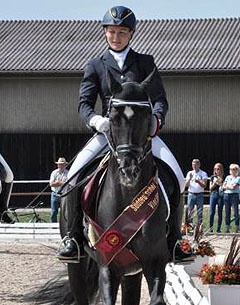 The 5-year old Feriado and the 6-year old Sir Diego R became the winners of the Bundeschampionate qualification classes held at the regional show in Aulendorf in the Baden-Wurttemberger province on 22 - 23 May 2016. Only 13 pairs showed up for this small qualification event.
The 5-year old division was judged by Gerd Sickinger and Johann Speth and they named Nicole Casper and the Bavarian stallion Feriado (by Fabregas x Riccione) the winners. The pair scored 8.1 for victory and edged out Fritz Fleischmann on the Hanoverian stallion De L'Amour (by Don Henrico x Walt Disney I). This duo landed second place with 8.0
Judges Gerd Sickinger and Ralph Stitz assessed the 6-year old division in which the horse perform an M-level dressage horse test.  David Rockstroh's chestnyt stallion Sir Diego R became the winner. Under Mara Müller the German Sport Horse stallion (by Sommertraum x Wolkentanz II) scored 8.0 to win the trophy.  Nicole Casper and the Oldenburg stallion Zalando (by Zack x Sunny Boy) were the runners-up with 7.8. Aulendorf was Zalando's first competition of the season.
Result - 2016 Bundeschampionate Qualifier - Aulendorf
5-year olds
1. Feriado (by Fabregas x Riccione) - Casper,Nicole  - 8.1
2. De l'amour (by Don Henrico x Walt Disney I) - Fleischmann,Fritz  - 8.0
3. Fleur (by Fidertanz x Paradiesvogel) - CPlaten,Julia-Katharina  - 7.7
3. Baron Bellini (by Belissimo M x Landioso) - Ritzel,Ramona  -  7.7
5. Valmont (by Valentino M x Granulit) - Schaudt,Jasmin  - 7.6    
6. Lady Darcy (by Lord Leopold x Likoto xx) - CGiersch,Joachim  -  7.5    
7. Fabelhaft (by Fürstenball x Royal Dance) - CCarras,Stephanie  - 6.7   
6-year olds
1. Sir Diego R (by Sommertraum x Wolkentanz II) - Müller,Mara  - 8.0
2. Zalando (by Zack x Sunny-Boy) - Casper,Nicole  - 7.8
3. Sorrento Snörri (by San Amour x Feinbrand) - Lang,Meike  - 7.7 
4. Edelstain (by Edward x Fürst Heinrich) - Häufele,Katharina  - 7.4 
4. Falcao K (by First Dance x His Highness) - Fleischmann,Fritz  - 7.4
6. Kaiserstolz (by Kronprinz x Pik Junior) - Lott,Melanie  - 7.2
Related Link
Eurodressage Coverage of the 2016 Bundeschampionate