2016 CDI Moscow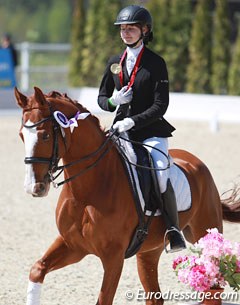 Belarussian Maria Sudzhenka and Russian Kristina Shvetsova became the winning junior stars at the second week of competition at the 2016 CDI Moscow which was staged at the brand new equestrian centre Maxima Park on the outskirts of Russia's capital on 11 - 15 May 2016. Sudzhenka won the individual test ahead of Russian local Kristina Shevetsova, with Kristina rising up in the Kur to edge out Maria who placed third with fellow Russian youngster Denis Aksenov taking second place.
The 16-year old Maria Sudzhenka and her 9-year old Trekener horse Priysk (by Stih out of Preria) scored a winning 67.053 % in the individual test and finished third in the Kur with 69.175%. Maria was pleased because even though her horse was slightly nervous, he was able to produce two very solid tests.
"My horse Priysk got nervous during the performance but fortunately he did his best to still produce a good result," Maria told Eurodressage.
With the event held at the Horse Racing Centre at Maxima Park, Maria felt welcomed at the well-developed infrastructure which offers great conditions for dressage.
"It has everything you need for the horses concerning accommodation and stabling. It is a good place for both training and competitions," Maria explained.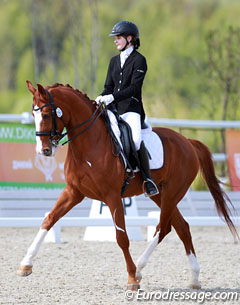 Sudzhenka is currently training at the National Olympic training center of the Republic of Belarus, where she is coached by Murat Victoria Evgenievna, Evschyk Svetlana Vladimirovna and Zhukova Irina Vladimirovna.
"Our work with the horse consists of daily exercise, and the training is based on performance improvement," said Maria. "My plans for the next few months are to participation in the international competitions in Achleiten (Austria) and Hagen (Germany) and I would like to take part in the European Championship in Spain."
Also undertaking her final year of school, Maria must pass the exams if she is to attend University.
"I hope to attend university, while also training more to achieve better results. I also have a young horse in training. His name is Diver, and he is a 5-year old."
Second in the Individual with 66.684%, Kristina Shvetsova and her black 10-year old Hanoverian Deutsch Graf (by Dressage Royal x Dream of Glory) took victory in the kur with a very tidy 71.225%. The rider was particularly happy as they had only had a few days recovery after the Russian Championship.
"I felt very happy and proud of my horse," said Kristina. "We both felt tired after the championship, but during the Freestyle I tried to show our best and my horse behaved really well. In the morning before the show I came to his box and he was sleeping and didn't seem like he wanted to perform, but I promised him that the freestyle was going to be the last competition," she quipped.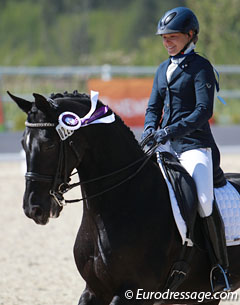 A very sociable horse who likes contact with people, Deutsch Graf was previously competed by Kristina's coach Yulia Printseva. In 2016 Kristina took over the ride and the junior acknowledged that she really appreciates Yulia's help and everything she does for her and for their team.
"She has been training me since my childhood and my success and my victories couldn't be achieved without her," said Kristina. "She not only says what is good and what is bad, she gives me an inspiration and motivation to achieve the highest results. I always do my best to make her feel proud for all the work she had done.  We train in one of the Ttate Equestrian Center's called Gbou Dod Sdusshor. We had been working on my horses ability to work uphill. Deutch Graf is very flexible but sometimes he needs to bring his forehand higher and get more supple from the hind legs."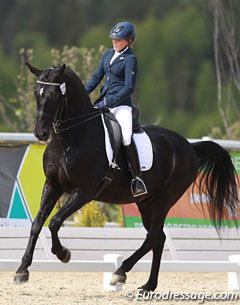 Shvetsova will be taking Deutsch Graf to the 2016 CDI-J St. Petersburg on 27 - 29 May to obtain more qualification scores for a spot on the Russian team for the 2016 European Junior Riders Championships in Oliva Nova this summer.
In her last year of school, Kristina will complete her exams in June and hopes to enter the Academy of State Service. In the future she want to work for the Russian National Sport Federation.
Shvetsova confirmed that she loved competing her horse at Maxima Park.
"It is the perfect place for international competitions and one of a kind in Russia. It's a pleasure for riders and horses to compete in such conditions, conditions that match those in Europe," said Shvetsova.
by Sarah Warne - Photos © Astrid Appels
Related Links
Scores 2016 CDI Moscow