2016 Bundeschampionate Qualifier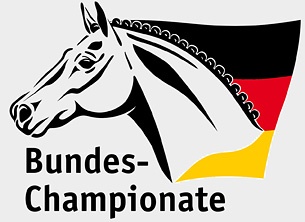 The 6-year old Oldenburg stallion Sir Olli became the winner of the Bundeschampionate qualification class held at the regional show in Haftenkamp, Germany, on Saturday 14 May 2016. Only six year olds were able to obtain a ticket for Warendorf at this selection event.
Laura Klein and the bay stallion Sir Olli (by Sir Donnerhall x Florestan) won the M-level dressage horse division with a total of 8.1. Her bay stallion scored 8.5 for walk and trot, 8 for canter, 7.5 for submission and 8.0 for general impression.
Three combinations tied in second place with a score of 7.7. Andrea Timpe steered Ricarda Wottawa's Oldenburg gelding Friesen Ball (by Furstenball x Sandro Hit) to 8.5 in xwalk and 7.5 in trot, canter, submission and general impression. Frederic Wandres and Hof Kasselmann's Hanoverian mare Friedegund (by Floriscount x Fabriano) earned 8.5 for walk, 8 for trot and 7.5 for canter. They also got 7 for submission and 7.5 for general impression. Jan Dirk Giesselmann and his father's Hanoverian gelding Burberry (by Belissimo M x De Niro) received 7 for walk, 8.5 for trot, 7.5 for canter and submission and 8 for general impression.
Results - 2016 Bundeschampionate Qualifier - Haftenkamp
6-year olds
1. Laura Klein  - Sir Olli  (by Sir Donnerhall I / Florestan) - 8.1
2. Andrea Timpe  - Friesen Ball (by Furstenball / Sandro Hit) - 7.7
2. Frederic Wandres  - Friedegund (by Floriscount / Fabriano) - 7.7
2. Jan-Dirk Gießelmann  - Burberry (by Belissimo M / De Niro) - 7.7
5. Kira Wulferding  -Bonifatia (by Bonifatius / Fabriano) - 7.6
5. Thomas Schulze  - Fame W (by Furstenball / Lauries Crusador xx) - 7.6
7. Gitte Hinrichs  - Sidekick (by Sandro Hit / Crazy Classic) - 7.5
8. Jan-Dirk Gießelmann  - Santiano (by San Amour / Donnerhall ) - 7.3
8. Andrea Timpe  - Don Carismo  (by Don Crusador / Carismo) - 7.3
10. Iris Hannöver  - Petite etoile (by San Amour / Donnerschwee) - 7.2
10. Kira Laura Soddemann  - Rockabilly (by Rock Forever I / Ehrentusch) - 7.2
12. Hermann Burger  - Boney M (by Bonifatius / Don Vino) - 7.1
12. Annika Korte  - Daimler (by De Niro / Laurentio) -  7.1
12. David Taylor  - Prince Royal (by Kronprinz / Rohdiamant) - 7.1
15. David Leßnig  - Amonitas (by Ampere x Rotspon) - 7
15. Steffen Frahm  - Lando (by Londontime / Florencio) - 7
15. Saskia Lieben-Seutter  - Quadiro (by Quattro B / De Niro)  - 7 
18. Yvonne Reiser  - Balisto V (by Balesteros / Amerigo Vespucci xx) - 6.9
18. Juan Manuel Vidal-Testal  - Benicia (by Barclay / Lauries) - 6.9
18. Marita Pundsack  - QC Final Destination  (by Fidertanz / Royal Diamond) - 6.9
21. Mareike Mimberg  - Bocelli L (by Belissimo M / F³rst Heinrich) - 6.8
22. Andrea Senkel  - Fior da Lisa  (by Furst Romancier / Hochadel) - 6.7 
Related Link
Eurodressage Coverage of the 2016 Bundeschampionate