Danish Warmblood Breeding News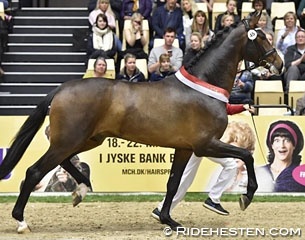 Twelve 3-year old colts received a positive verdict at the 2016 Danish Warmblood Stallion Licensing in Herning, Denmark, on 19 March 2016 and will move on to the 10-day Stallion performance testing next week to obtain licensed status.
The 2016 Danish warmblood stallion licensing was dominated by foreign bred stallions. This year's licensing also heralded a new era in which the monopoly position of Blue Hors stud in Randbol, Denmark, was taken over by horse dealer and Grand Prix dressage rider Andreas Helgstrand.
Out of the twelve 3-year olds only four were Danish bred, the rest was bred in Germany and The Netherlands. Eight of those twelve are (co-)owned by Helgstrand dressage!
Three stallions received the premium label: the Hanoverian stallion auction price highlight Revolution (sold for 1.2 million euro to Helgstrand) and the two Furstenball offsprings Frontline and Strandagergårds Faustino. No licensing champion was named.
The approved stallions are:
3-year olds
Falstaff (by Ampere x Stedinger) - Owned by: Helgstrand Dressage - Bred by: Gerd Janssen
Baron (by Benicio x Sir Donnerhall I) - Owned by: Helgstrand Dressage  - Bred by : Albrecht Middelkampf
Freischütz (by Foundation x Del
Martino) - Owned by: Helgstrand Dressage - Bred by : Wieghaus-Vorwerk
Frontline (by Fürstenball x Zack) - Owned and Bred by: Vivi & Christian Vang Lauridsen
Strandagergårds Faustino (by Fürstenball x Sam-Sam) - Owned and bred by: Jens Jørgen Abildskov
For Romance II (by Fürst
Romancier x Sir Donnerhall I) - Owned by: HP Horses/Paul Schockemöhle - Bred by : Gestüt Lewitz
Revolution (by Rocky Lee x Rouletto) - Owned by: Helgstrand Dressage, Hanni Toosbuy Kasprzak, Søren Grønborg - Bred by : Yasemin Yanik
Tørveslettens Spartacus (by Sezuan x Quaterback) - Owned and bred by: Stutteri Tørvesletten
& Helgstrand Dressage
Heiline's Zanzier (by Zack x De Niro) - Owned by: Elahe Ramezani & Helgstrand Dressage - Bred by : Stald Heiline
Znicker (by Zack x De Niro) - Owned by: Blue Hors - Bred by : Hans Rode
Ierland (by Dream Boy x Jazz) - Owned by: Helgstrand Dressage - Bred by : Stoeterij Broere
It's Me (by Fürst Romancier x Johnson) - Owned by: Helgstrand Dressage - Bred by:

Jeuring & G. Bekker
4-year old stallions:
Romeo (by Romanov x Wolkentanz) - Owned by: Kirstin Andresen  - Bred by: Johann Martens
Hove's Terminator (by Temptation x Akinos) - Owned and bred by: Poul Hove & Gitte Søgaard
Photo © Ridehesten
Related Links
Rocky Lee Son Claims the Spotlight at 2015 Hanoverian Stallion Licensing
Igor, Champion of the 2016 KWPN Stallion Licensing
Sixteen Colts Approved at 2015 Danish Warmblood Stallion Licensing
Eleven Older Dressage Stallions Approved at 2015 Danish Warmblood Licensing
Galaxy Win T, Champion of the 2014 Danish Warmblood Stallion Licensing
Zee Me Blue, Champion of the 2013 Danish Warmblood Stallion Licensing
Zorba Hojris, Champion of the 2012 Danish Warmblood Stallion Licensing
ERA Dancing Hit, Champion of the 2011 Danish Warmblood Stallion Licensing
Soreldo, Champion of the 2010 Danish Warmblood Stallion Licensing
L'Espoir, Champion of the 2009 Danish Warmblood Stallion Licensing
Blue Hors Doolittle, Champion of the 2008 Danish Stallion Licensing
Develino, Champion of the 2007 Danish Warmblood Stallion Licensing
Schufro Hit and Krake, 2006 Danish Warmblood Licensing Champions
Valløs de Baron, Champion of the 2005 Danish Warmblood Stallion Licensing
Blue Hors Leredo, Champion of 2004 Danish Warmblood Stallion Licensing