Polish Dressage News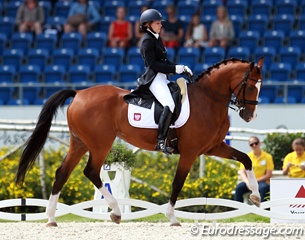 The Polish Grand Prix team horse Stella Pack Ganda has been sold to Korean dressage rider Dong Seon Kim at the beginning of January 2016  to succeed in his number one horse Bukowski's footsteps.
Under Polish Anna Lukasik, the 13-year old Polish warmblood mare Ganda (by Celtik SP x Gluckspilz) represented Poland at the 2014 World Equestrian Games in Caen, France, and 2015 European Championships in Aachen, Germany. They were the 2015 Polish Grand Prix Champions.
Ganda is bred by Polish Grand Prix rider Katarzyna Milczarek and was acquired by Lukasik when the mare was 6,5 years old and only half a year under saddle.
"She did not leave a staggering first impression in her stall," Lukasik reminisced on first seeing the horse. "She's quite specifically built, certainly not like a typical dressage horse, but under saddle she presented her well and was good to ride. She was very hot and willing to go forward, which I liked very much."
Dong Seon Kim made his first, international public appearance on the horse at the 2016 CDI Doha, but as the competition is a 5* event and Kim still misses his two 64% Minimum Eligibility Scores, he had to compete at the 5*-invitational as a guinea pig.
The 26-year old Dong Seon "Peter" Kim combines dressage with working in his father's company, the Hanhwa Group, a business conglomerate with holdings stretching from explosives to retail and financial services. Kim has competed at the 2006, 2010 and 2014 Asian Games. Aboard the now 17-year old Bukowski (by Briar) he represented Korea at the 2014 World Equestrian Games in Caen.
Photo © Astrid Appels
Related Links
Anders Dahl's Bukowski Sold to Korea
Gawecki and Lukasik Win 2015 Polish Dressage Championships
Polish Team Selected for 2015 European Dressage Championships
Scores: 2014 World Equestrian Games
Japan Pips South Africa by the Narrowest of Margins at Olympic Team Quaifier at 2015 CDI Perl
Hwang Young Shik Wins Individual Gold at 2010 Asian Games