2016 Dutch Indoor Dressage Championships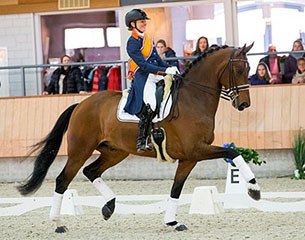 The 2016 Dutch Indoor Dressage Championships in Ermelo, The Netherlands, on 26 - 28 February 2016 produced Marlies van Baalen as small tour champion and Stephanie Kooijman as Under 25 champion. Marlies van Baalen made it two for two as she also grabbed the big tour championship title.
Marlies van Baalen and the 8-year old Dion Johnson DVB (by Johnson) were unbeatable at small tour level, winning the Prix St Georges with 73.38% and the Kur to Music with 75.750%. The silver medal wento to Thamar Zweistra on the Dutch bred Hexagon's Denzel (by Zidane), while Saskia Maertens ended up with bronze for her two rides on Legend of Loxley (by Lord Loxley).
"It went so well in e. It felt like it was a piece of cake for Dion Johnson. I'm very proud of him," said Van Baalen. "Yesterday he was still a bit tense but today (in the kur) he went so well. After the selection trials we trained hard at home and I went to Nicole Werner for lessons. I last competed him at the CDI Drachten and presented him at the KWPN stallion show with sire Johnson, so he's got some experience."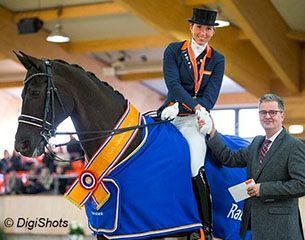 For the first time an indoor championship was being held for the Under 25 riders. Former Dutch young riders' star Stephanie Kooijman took a while to get her horse Winston settled at Grand Prix level. She switched trainers, started her own business and as of 2016 seems to be finding her groove at that level. She won both rounds with her OO Seven offspring and scored 71.54% and 70.97% for the title and the gold medal. 2014 European Young Riders' Champion Anne Meulendijks grabbed the silver on Avanti (by United), the bronze went to title favourite Maxime van der Vlist on Baily.
"I'm so happy," said Kooijman. "It's always such a thriller. You work for it but I didn't expect it. Winston has a very easy character, so it's all about motivating him and keeping him fit. The first day it went well, especially in piaffe and passage, and today it also worked. I had three big mistakes in the first test, and only one in the second. I'm training with Alex van Silfhout and Ad Groenendijk. We're training harder now, with more fervour. I didn't put the European Under 25 Championships as a goal, but now I will."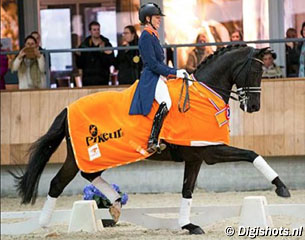 At Grand Prix level it was Marlies van Baalen who reigned supreme on Ratzinger (by Ricardos).  The pair was second in both rounds with 72.03% and 72.083% and due to their consistency they topped the overall ranking for gold. The winner of the first round, Madeleine Witte-Vrees on Cennin (by Vivaldi), finished with silver. They got 72.03% in round one, but in the kur her young Grand Prix horse was a bit afraid of the music as it was his very first freestyle ever. They scored 69.833% (4th). The winner of the kur, Lynne Maas on Zamora (by Krack) C), had worked her way up from a fourth place in the Grand Prix (67.97%) to victory in the kur with 73.083%. Their average put them in the bronze medal position.
"I'm so incredibly happy," said Marlies van Baalen after collecting her second winner's sash. "I'm very happy with the piaffe and the trot. Only the tempi changes didn't work today. That was the difference with the CDI Drachten a few weeks ago, where we won with 76%. I just couldn't get rid off some tension.  I'll keep practising. I've never won two titles, this is just bizarre. I don't think this has ever happened before. Two years ago I won the Big Tour Indoor Championship with Miciano and last year I was second with Zigeuner."
The ZZ-Zwaar fourth level (M/S) division was won by Arthur van Rooij on the Dutch bred bay gelding Cupido (by Johnson). They scored 73.43% and 76,042% in both rounds.
Photos © Digishots
Results - 2016 Dutch Indoor Dressage Championships - Ermelo
Small Tour - Round 1 (top 10)
1. Marlies van Baalen - Dion Johnson -  73,38
2. Thamar Zweistra -  Hexagons Denzel - 71,40 
3. Madeleine Witte-Vrees  - Charmeur - 70,83
4. Saskia Maertens  - Legend Of Loxley - 68,29
5. Veronique Roerink  -  Calibre - 68,16 
6. Mara de Vries - Amos - 68,11
7. Lisanne Zoutendijk  - Watteau -  67,94
8. Geert-jan Raateland  - Crespo -   67,89
9. Nicky Snijder- Zalsa & Jazz - 67,63 
10. Sylvia Naagen-Pigmans - Bijoux-strona -   67,50
Small Tour - FINALS Kur (top 10)
1. Marlies van Baalen - Dion Johnson - 75,750 
2. Thamar Zweistra  - Hexagons Denzel - 70,958 
3. Saskia Maertens - Legend Of Loxley  - 70,458
4. Geert-jan Raateland  - Crespo -   69,917
5. Lisanne Zoutendijk - Watteau  - 69,625
6. Nicky Snijder - Kalshoven's Zalsa & Jazz  - 69,042 
7. Mara de Vries -  Amos - 68,833
8. Veronique Roerink -  Calibre  - 66,667
9. Sylvia Naagen-Pigmans  -  Bijoux-strona  -  65,083
10. Madeleine Witte-Vrees - Charmeur  -   64,208
Under 25 - Round 1
1. Stephanie Kooyman - Winston -  71,54 
2. Maxime van der Vlist  -  Bailey -  70,83 
3. Anne Meulendijks - Avanti - 70,57
4. Kyra Klinkers - Whoopydoo -  67,15
5. Chaneequa Dam  - Ureka  -  66,32
6. Kyra Klinkers  - Tara  -   65,88 
7. Melanie Mouthaan -  Wilke-c Van De Wijdewormer -  63,73
8. Melanie Mouthaan - Varnoldi  - 61,14
9. Teddy Wiedeler  - Bexli - 60,18  
 Elisabeth Geluk - Samaranch  - DNS
Under 25 - FINALS Kur
1. Stephanie Kooyman - Winston  -  70,97
2. Anne Meulendijks -Avanti -  70,89 
3. Chaneequa Dam - Ureka  -  66,94 
4. Kyra Klinkers  - Whoopydoo -  64,50
5. Melanie Mouthaan -  Wilke-c Van De Wijdewormer - 63,88
6. Teddy Wiedeler  - Bexli -  59,84    254,5    254    263,5
Maxime van der Vlist - Bailey - DNS
Big Tour - Round 1 (top 10)
1. Madeleine Witte-Vrees - Cennin -   72,03 
2. Marlies van Baalen -  Ratzinger -  70,47 
3. Thamar Zweistra - Hexagon's Zodinde -  68,00 
4. Lynne Maas - Zamora - 67,97
5. Lynne Maas - Uranium W  - 67,20
6. Theo Hanzon -  Zoë - 66,70
7. Linda van der Hauw-Jansma - Tiadette LN - 66,30
8. Stephanie de Frel  - Zanyo - 66,03
9. Margo Timmermans -  Catch Me  -  66,00
10. Mirelle van Kemenade-Witlox - Dreamcatcher  -  65,67
Big Tour - FINALS Kur

1. Lynne Maas - Zamora - 73,083
2. Marlies van Baalen - Ratzinger  -  72,083
3. Thamar Zweistra -  Hexagon's Zodinde  - 70,083
4. Madeleine Witte-Vrees -  Cennin  - 69,833
5. Theo Hanzon -  Zoë -  69,708
6. Margo Timmermans - Catch Me  -  68,625
7. Femke Beljon  - Popeye -  68,292
8. Linda van der Hauw-Jansma - Tiadette LN -  67,875
9. Stephanie de Frel -  Zanyo - 66,667
Mirelle van Kemenade-Witlox - Dreamcatcher - DNS
Related Links
Van Liere and Van Silfhout Win 2015 Dutch Indoor Dressage Championships
Heijkoop and Van Baalen Win the 2014 Dutch Indoor Dressage Championships
Gal and Maas Win the 2013 Dutch Indoor Dressage Championships
Witte-Vrees and Maas Dominate 2012 Dutch Indoor Dressage Championships
Minderhoud and Maas Grab the Titles at the 2011 Dutch Indoor Dressage Championships
Krooswijk, Witte-Vrees and Haazen, 2010 Dutch Indoor Dressage Champions
Edward Gal and Totilas Win 2009 Dutch Indoor Dressage Championships
Maas and Van Grunsven, 2008 Dutch Indoor Champions
Hanzon and Cornelissen In the Blue at 2007 Dutch Indoor Championships
Schulkens, Beckers, Vrees and Van Lieren, 2005 Dutch Indoor Champions
Schulkens, Haazen, Hanzon and Callaghan 2003 Dutch Indoor Champions