2016 New Zealand Dressage Championships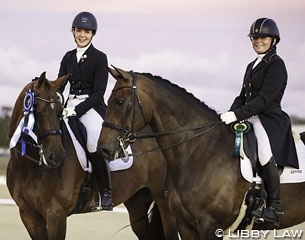 Besting a field of eight riders to earn the title of 2016 Ne Zealand Young Rider champion, Molly Lumb scored her first major career highlight at the 2016 Nationals held at Manfield Park in Feilding, New Zealand, on 3 - 7 February 2016. Lucarne Dolley and Devils Chocolate snatched the reserve champion's title.
Lumb and her schoolmaster, the 17-year old Grand Prix horse KH Arvan (by Anamour) were second in the team with 66.096%, but strengthened during the competition to take out the Individual and the Kur tests with 67.211% and 68.850%. The youngster was particularly excited with her performance given the big atmosphere.
"The atmosphere was awesome, especially on the Saturday night for the musical ride," Molly told Eurodressage.  "The highlight of the show for me was riding the Kur and taking out the national young rider championship. KH Arvan felt better and better in each test that we rode together, but I still have a lot to work on!"
A very laid back partner in competition, KH Arvan is her coach Vanessa Way's former Grand Prix horse with which she aimed at scoring a berth for the 2012 London Olympics. The attempt failed, and KH Arvan returned to New Zealand to come the 2014 National Grand Prix Champion. Now he can now bring success and joy to Lumb. Molly knows how lucky she is to learn from an experienced Grand Pirx master and says that the horse always tries his heart out to please her.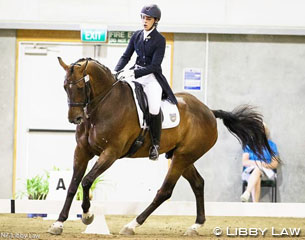 "He has a few little quirks, one being that he likes to be centre of attention and doesn't put up with being left by himself, but being able to train and compete on him is a dream come true.  The learning just doesn't stop!"
Molly addsed that he is not the easiest ride which is good as he makes her really earn what she wants  and only gives her what she puts in.
"I train with Vanessa Way, who trained Arvan to Grand Prix, and is the most supportive and fun coach around," Molly explained. "I wouldn't be here riding him if it wasn't for her and her husband Brooke!"

Lumb is grateful to her amazing parents, Stephen and Nicky Lumb, as well as sponsors Arlington Equestrian, who enabled her to make this huge steps in her sportive career.
"My future plans are to train my young horse up behind Arvan and keep on riding and competing in dressage! At the moment I am also studying NCEA level 3 by correspondence while I am a full time working pupil for Vanessa Way," she stated.
by Sarah Warne - Photos © Libby Law
Related Links
Scores: 2016 CDI Feilding
Dolley and Brougham Take First Steps Towards Securing 2016 New Zealand Dressage Champion's Title
John Thompson Wins the 2016 New Zealand Grand Prix Championships
Vanessa Way Wins the 2014 New Zealand Dressage Championships
Kate Welten Retains Title at 2013 New Zealand Young Riders Championships