2016 CDI-W Wellington - GDF 5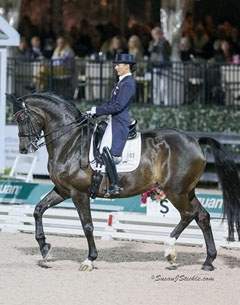 The stands were filled with eager spectators at the Global Dressage Festival as competitors from around the world took to the ring for the Grand Prix Freestyle CDI 5*. Mikala Gundersen (DEN) and My Lady impressed the judging panel to earn a 79.075% for their first major win in Welington this season.
Fellow Dane Lars Petersen and Mariett followed in second place with a 76.600%, while Steffen Peters and Legolas 92 finished in third place with a 76.425%.
Gundersen and My Lady were one of the most winning combinations on the Wellington circuit in 2015 and their victory tonight marked their first CDI 5* win since 2013, when the duo took home first place in the CDI 5* Grand Prix Special.
"Lady was really good. She was very good yesterday, but I planned to push a little bit more today and see if I could put her up a little bit higher in the neck," Gundersen said. "I had that in the warm-up and then when I came in, when my music was supposed to start it didn't, so I went to circle. Then the music started, and I tried to finish my circle, but Lady was like 'No, no. Wrong way,' and went for the centerline. Once I hit the centerline, she went into the passage, and I knew that we were good."The pair thrives in consistency, and they are usually expected to finish atop their respective classes. Gundersen noted that Lady is reliable in big atmospheres such as the freestyle, even though she is an incredibly sensitive horse, because she is so well-versed in their choreography and enjoys performing for a crowd.
"Every time I go down the centerline it's a new feeling. This is a very sensitive horse, and it's not like we push a button and then get to go to a Grand Prix," she elaborated. "It's always different, and we are always trying to make it better. Since she's so sensitive, I don't always know what I have, but I had a good feeling and she was on it tonight. She wanted to do well."The stands were overflowing at AGDF tonight, as the facility was filled with spectators who journeyed from around the state to watch the only FEI CDI 5* competition.
"I heard the crowd at the end, and I really felt it on the way out. I thought to myself that that was the biggest applause we've ever had. I know the music is fun and it gets people out of their seats. I think that going last with that music was a little bit like, 'Okay, lets finish this party.'"
Fellow Danish teammate Lars Petersen and the veteran mare Mariett performed for the second time this season at AGDF and collected second place honors, as the 18-year-old mare looked poised and energized in the ring.

"I was pretty pleased with our test. We showed the last CDI and then this competition here, but other than that we haven't shown since April of last year," noted Petersen. "I've had a little bit of a hard time finding a rhythm I must admit. Our Grand Prix test was not so good, but today I felt like we had a bit better rhythm. To me we just felt a little rusty still."One of the top combinations, Steffen Peters and Legolas 92 battled through a few mistakes in their test to ultimately receive a score of 76.425%. While the test looked fluid, Peters felt the tension that ultimately detracted from their score.
"Today was very tough. I was sitting not on just one stick of dynamite tonight, but it was a whole case underneath of me," said Peters of the 2002 Westphalian gelding. "That's just the case with this horse. It can go absolutely brilliantly like he did two weeks ago when he is relaxed. I felt today in the warm-up that he was pretty keyed up. Of course, it's disappointing, but we've dug ourselves out of this spot before and we'll try to do the same in the future."
He continued, "The crowd, the atmosphere, the music. He can react to that. We have had those situations many times before and this was not the last time that he's going to act up before going in the ring. That's just his nature."Judge at C, Thomas Lang (AUT) commented on the strong showing of the evening's competition and referenced that AGDF has created a new epicenter for the sport of dressage during the winter months.
"I think that it is very marvelous for the riders to compete here and for the judges. It's great because of the atmosphere here and the audience is really looking and hoping for these pairs. I think it's very good for the sport to have a show like this," he said. "There are so many people here and so many shows; it is that the whole world is looking to Wellington from January to March and really now this is the center of the dressage world for those three months."
Marienau and Stefano Capture CDI 3* Freestyle Win
The second day of competition in the CDI 3* was graced with beautiful weather, as sunny skies and a pleasant breeze welcomed riders down the centerline. Competitors in the Grand Prix Freestyle CDI 3* hailed from seven countries and demonstrated musicality and technical skill in their performances.
The class was won with a 74.300% by Beatrice Marienau (USA) riding Stefano 8, her own KWPN  (Gribaldi x Gracia) gelding. She was stunned by their success in the freestyle, but has steadily worked on improving the pair's marks in the arena throughout the year.
"It's still unreal to me. I think it takes a little bit to understand what happened here; it's amazing. He was really hot already in the warm-up today and I have to figure out how to channel that energy. He was very strong and the last couple of freestyles, I had a few problems in the beginning," she explained. "I was able to just take his energy and really dance within that. Through the whole test I knew that he was very strong, but also knew that's what makes him extremely special. That's when he looks big and looks impressive. I tried to let him do his job and just stay out of his way.
"Traveling from California to compete at AGDF this season, Marienau appreciated the larger group of riders and the impressive audience attendance, which offered her and Stefano 8 the chance to compete under pressure while working on pushing their scores above the 70% mark. Stefano is a typically hot horse, and the freestyle offered Marienau a chance to improve on their Grand Prix performance with set choreography that helps to channel his energy. Their freestyle makes excellent use of major extensions into passage, making the best use of his natural enthusiasm in the ring. Marienau was very positive about the ways in which their freestyle helped her show off Stefano's best qualities.
With an upbeat musical selection, Marienau finds herself getting excited before the pair begins to prepare for their routine and laughed that sometimes she may even be found practicing the routines in front of Stefano's stall."When we were getting ready and before I went in, I stood in front of his stall and everyone was laughing because I danced through my freestyle myself! I just love the music. It's just fun and I like to dance to it myself.
"Besides the fact that it really fits him well, what I like about it is that it has that snap and that's how he is. He has that. I tried once a little bit more magical, floaty music, but it doesn't fit him and he doesn't stand out," she commented.
As for the rest of the season, Marienau hopes to continue to increase her scores and looks forward to spending some of the summer in Europe getting her feet wet on the international circuit.
"My expectations really were to get more show experience, but obviously there are more riders here and the audience out there so it was important for me to get that different environment and see how I do with that kind of pressure," said Marienau. "I wanted to try and increase our scores to high 60's and maybe scratch 70, and that's why I was so excited with this score."
Shelly Francis and Patricia Stempel's Hanoverian (De Niro x Annabelle) gelding Danilo took second place in today's competition with a technically excellent and musically compelling performance that earned a 74.175%.Francis was pleased with Danilo's test, which she views as part of his development to become a top Grand Prix horse. He is emerging as a solid competitor for Francis, who has brought him along through the levels herself.
She said, "I was quite happy with him because he was a bit more lively today and (had) a couple of little sticky spots in the beginning. He got a little less energetic in the last piaffes, but overall he really went nice with the music and it's a progression upward. Every week we're getting a little bit better and (we will) see how far we go."
She took a risk with her musical choice, which is entirely a capella. She explained, "I chose that music for him with Marlene Whitaker because he is very sound sensitive, and this was the only music we could turn up really loud without bothering him."
Arlene Page and her Danish Warmblood (Michellino x Alberte Lindebjerg) mare Alina took third place in today's competition with a 71.150%. She was exceptionally proud of her mare, who gave her another great performance.
"Let's face it, my mare is 18. Every time I go down the centerline is a highlight," she said. "Every time she finishes that test ripping down the centerline it shows me that she still wants to be out here doing this. Every day I get to ride her is a great day as far as I'm concerned.
"Several weeks ago the pair had a super freestyle that included a piaffe-passage tour she considers among her career best, but several mistakes kept them from being in the top three.  Today's freestyle was technically consistent and demonstrated a mature partnership reflective of their experience together. Page explained that since Alina is an older horse, she uses an intermittent approach to warming her up, especially once the mare has done one class already in the week of competition.
"We had a couple of little mishaps in our changes last week and tonight I was happy that our changes came off the pirouettes really, really easily and right with the music. She was a little bit, maybe a click, off my music and a tiny bit ahead, but what can I say, I'm happy any day that mare wants to go like that and it's a good day for me," she continued.
Text by Carly Weilminster, edited by Eurodressage
Photos © Sue Stickle
Related Links
Scores 2016 CDI Wellington
Laura Graves Supreme in 5* Grand Prix at 2016 CDI Wellington