American Dressage News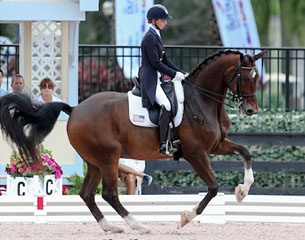 2015 American Grand Prix champion Laura Graves has been awarded the 2016 Carol Lavell Advanced Dressage Prize in the amount of $25,000 by The Dressage Foundation.
She was selected because she displays the characteristics and qualities of being a talented, committed, qualified rider whose plans are to reach and excel at the elite, international standards of high performance dressage.
Laura Graves is based in Orlando, FL, where she trains and competes with her Dutch Warmblood, Verdades, or "Diddy." Laura's goals for 2016 include qualifying for the World Cup Finals in Sweden and to be selected to represent the U.S. in the 2016 Olympic Games. She plans to utilize the month of March to train intensively with Debbie McDonald. After the World Cup, she plans to join the American team in Europe and compete at two European CDIOs in Rotterdam and Aachen.
"I am beyond honored to be the recipient of this grant from The Dressage Foundation," said Laura. "I thank the Foundation, the selection committee and of course Carol Lavell for their trust and support. This grant will allow me the freedom to focus on everything Diddy needs as we move into our first Olympic year. Having constant and consistent focus on our training, both here in the U.S. and when we travel overseas, will make a difference. It can be tenths of a percentage that decide medals and I don't plan on letting any points slip away. Thank you!"
The Carol Lavell Advanced Dressage Prize Fund was established in 2009 in special remembrance of Carol's mother, May Cadwgan, and in honor of her father, Gordon Cadwgan. Since that time, the Prize Fund has made ten awards totaling $250,000 in support of U.S. High Performance teams.
Photo © Sue Stickle
Related Links
Olivia Lagoy-Weltz Awarded $25,000 Carol Lavell Advanced Dressage Prize
Eight Recipients for 2014 Carol Lavell Gifted Memorial Fund for Adult Amateur Riders
Brian Hafner and Kathleen Raine, Recipients of Carol Lavell Advanced Dressage Prize
Heather Mason Awarded $25,000 Carol Lavell Advanced Dressage Prize
Courtney King-Dye Awarded the $25,000 Carol Lavell Advanced Dressage Prize
Shawna Harding Awarded $25,000 "Carol Lavell Advanced Dressage Prize'" Training Grant
Laura Graves Wins the 2015 U.S. Grand Prix Championship
Laura Graves Honoured with William C. Steinkraus Trophy