French Dressage News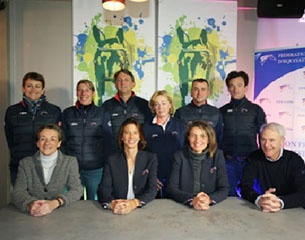 The French A-squad team riders, eligible for French Olympic team nomination, had their first National Training Seminar in Le Mans, France, on 18 - 22 January 2016. The technical staff considered the seminar a great success.
For the past four years, the French equestrian federation (FFE) has been working hard to allow a greater number of riders ready the highest level in the equestrian sport. It achieves this by organizing numerous national show circuits as well as by creating squads that receive professional guidance along the way.
At the beginning of the 2016 Olympic year the FFE hosted its first national training seminar for the dressage A-squad riders at the Pole Européen du Cheval in Le Mans on 18 - 22 January 2016. An open day for the press to attend was held on 19 January. The newly elected federal head of dressage, Marina Caplain Saint André was present at the event, alongside Sophie Dubourg (FFE Technical Director), Emmannuelle Schramm (Dressage Technical Director), Jan Bemelmans (Team Trainer).
The A-squad riders participating were Marc Boblet, Stéphanie Brieussel, Nicole Favereau, Ludovic Henry, Arnaud Serre, Karen Tebar and Pierre Volla.
"Together we created a programme to allow every combination to reach its best level at the Olympic Games. This first seminar is very important. It gives the group a chance to meet before the competitions start. It's primordial that there is cohesion at the heart of the group. We are all solidary and focused on the same objective," said Emmannuelle Schramm.
Team trainer Jan Bemelmans faced much criticism last year with his team selection for the 2015 European Championships. He proved detractors wrong as the French riders made history by qualifying an entire team for the 2016 Olympics, the first time in twenty years.
"Success is a team effort. We are close together and need to trust one another. That is what enabled us to win the qualification for Rio last year at the Europeans," Bemelmans explained. "We had a lot of pressure around us. Now we meet again at the beginning of the year and continue to move forward. The horses and riders will begin competing in March. The programme will be adapted to the individual needs so that the biggest amount of combinations will find their best form in August. I'm aware of the size of my task for selecting a team and I'm ready, together with the entire technical team, to make choices so we go to Brazil with the strongest combinations of the moment. Furtheremore, the more combinations we'll have peaking, the more difficult the choice will be."
French Olympic team selection will be done by a "selection committiee", including the president or a representative of the FFE, the Technical Director and the team trainer. Afterwards the proposed team will be presented to the Selection committee of the French Olympic Committee.  The team will be announced the latst on 18 July 2016.
Photos © FFE/PSV
Related Links
French Grand Prix Squad Riders Invited to Team Training Seminar in Le Mans
French Team Selection for 2015 European Dressage Championships Not Without Controversy