Swiss Dressage News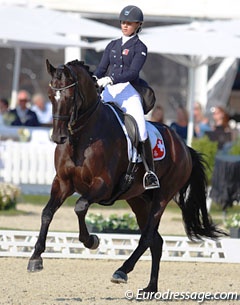 The Swiss Equestrian Federation has named Jessica Neuhauser the 2015 Swiss Under 25 Grand prix Champion as Estelle Wettstein was stripped of the title following a positive doping test on her horse Friedrich der Grosse.
Estelle Wettstein and her 11-year old Oldenburg bred Friedrich der Grosse (by Florencio x Freiherr) won the 2015 Swiss Under 25 Championships, held in Turbenthal on 11 - 13 September 2015. Her horse was tested for doping and medication at the event. The rider received the results of the test two weeks after the championships.
The black gelding was positive to the same substances for which Swiss Olympian Steve Guerdat's two horses tested positive in May 2015. Guerdat's horses were positive for the banned substances codeine and oripavine, and the controlled medication substance morphine. Guerdat was cleared of wrongdoing by the FEI tribunal as he was able to prove sufficiently that it was caused by a poppy seed contamination of the horses' feed.
After the Guerdat case the Swiss equestrian federation sent out a message in August 2015 recommending all riders to be cautious with their horse feeds. Wettstein switched feed, cleaned all the stalls and feeding troughs. However, at the 2015 Swiss Championships mid September Friedrich der Grosse still tested positive. Wettstein also won the 2015 Swiss Young Riders title with Darlington C the same weekend.
Following the positive doping test, the tribunal committee of the Swiss Equestrian Federation stripped Wettstein of her title and suspended her for one month from 7 December 2015 till 7 January 2016. The Swiss Equestrian Federation never issued a press release on Wettstein's positive case, nor the verdict of the tribunal.
Photo © Astrid Appels
Related Links
Korsch, Winnewisser, Wettstein, Aerne-Caliezi Win 2015 Swiss Dressage Championships
Isabell Werth to Coach Swiss Youth Riders at 2016 National Winter Training Seminar
Estelle Wettstein Victorious on Three Horses in Torrential Downpour at 2015 CDIO Saumur