2015 CDI Frankfurt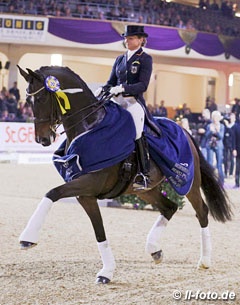 Dorothee Schneider and the 8-year old Hanoverian gelding Santiago became the winners of the 2015 Nurnberger Burgpokal Finals, which are the German Championships for Developing Prix St Georges Horses. The event takes place annually at the CDI Frankfurt and this year the Finals were contested on Saturday morning 19 December 2015.
Schneider and Alexander Stolzke's bay gelding Santiago (by Stedinger x Dacaprio) were a league of his own and outclassed the competition. The panel of judges, consisting of Evi Eisenhardt, Peter Holler, Dietrich Plewa, Dieter Schüle and Katrina Wüst, unanimously placed Schneider first with a whopping 78.902%
Since the inception of the Burgpokal in 1992 Schneider has been able to qualify no less than 10 horses for the finals, an impressive feat considering the competition and high quality breeding standard in Germany. Her victory on Santiago was her first
"I'm knocked out of my socks. Santiago was super concentrated yesterday and today. He gave it his all and this gave me so much confidence that I didn't get nervous today," Schneider commented. "I've been riding Santiago for a year now and he's a very big horse. I've been focusing on developing a consistnt balance and to always have him in front of me."
Matthias Bouten also impressed the judges with strong riding on two horses that captured the remaining two podium places! Aboard Marianne Jerich's 9-year old Westfalian mare Fraulein Auguste (by Florencio x Worldly) he became the runner-up with a 75.317% score. On Jerich's 8-year old Hanoverian stallion Dante Deluxe (by Danone x Rouletto) he slotted in third with 73.634%.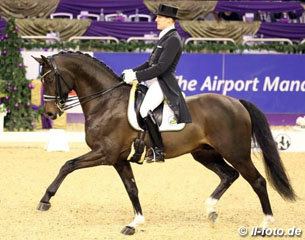 Christoph Hess provided public commentary after each ride and stated that Fraulein Auguste is "a horse that clearly has fun in moving and she was presented in a fantastic way by her rider." The pirouettes and high degree of collection were praised. "She  is an absolute dream horse who won't put a foot wrong," Bouten commented. Matthias, who is the former assistant trainer of Isabell Werth, won the equitation award at the end of the class for best presentation of his horses.
German team trainer Monica Theodorescu saw all the Nurnberger Burgpokal horses compete in Frankfurt. She rightfully remarked that all finalists were high quality horses professionally trained which makes all the difference for the rising level at the Finals. "Every test has its own story. When you have candidates scoring 72% and there are more coming who are better, the scores have to go up. If you look at the placed horses, you need to realize that they are all trained and presented by professional riders," said Monica.
Photos © LL-foto
Related Links
Scores 2015 CDI Frankfurt
Photo Report: Santiago On Form to Win Nurnberger Warm Up Class at 2015 CDI Frankfurt