2015 U.S. Dressage Championships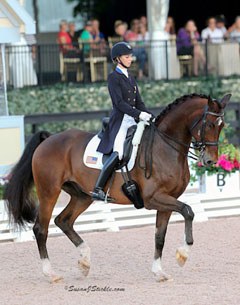 Laura Graves and her Dutch warmblood Verdades are sitting atop the leaderboard after the first round out of three in the hotly contested Grand Prix Championship at the 2015 U.S. Dressage Championships held in Wellington, Florida, on 9 - 13 December 2015. With
a full field that includes some of the nation's top combinations, the
Grand Prix division witnessed a group of 17 riders perform the Grand Prix
Test for the first 45% of their championship score.
Graves and her 13-year old Verdades (by Florett As) competed in five international shows this 2015 competition year, including the 2015 World Cup Finals in Las Vegas and 2015 Pan American Games in Toronto. The Geneva, Florida based Graves is Steffen Peters' biggest rival for the title and she took an early lead in the Nationals with a Grand Prix test that, despite a few bobbles, earned a 76.460% from the ground jury of Linda Zang, Peter Holler, Christof Umbach, Gary Rockwell, and Hans-Christian Matthiesen.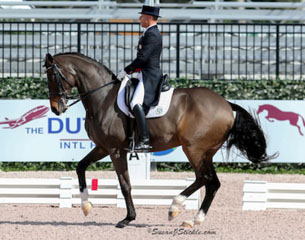 "It was our first time back in the ring [since the Pan American Games in July] and I was expecting to have to knock some rust off and as it turns out I was the one with the rust," said Graves. "He did everything I asked, I am now having to keep up with him. He felt fresh and just the way I like him, I just didn't quite keep up. I was really happy with our zig-zag; he has incredible ability to cover ground sideways. All of our canter work was really solid – I think we picked up a lot of points there."
The 2014 Grand Prix National Champion, Steffen Peters (San Diego, Calif.), placed both Four Winds Farms' horses in the top three – finishing second on Legolas (by Laomedon x Florestan II) on a score of 74.220% and third with Rosamunde (by Rock Forever x Fidermark) on a score of 72.620%.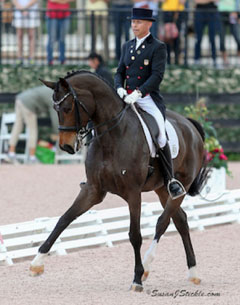 Peters expressed disappointment in both his tests, noting "In both [the tests] I just did not ride very well. Both horses felt great in the warm-up and they were quite solid in the changes, I think with Legolas I was a bit too forward in the two-tempis and with Rosamunde I was a bit too forward in the one-tempis. We are going to try our best tomorrow and put today aside," Peters stated.
The U.S. Grand Prix Championships continues on Thursday 10 December with the Grand Prix Special.
Photos © Sue Stickle
Related Links
Scores 2015 U.S. Dressage Championships
Twenty-Four Riders Confirmed Their Entry for 2015 U.S. Dressage Championships
Qualified Combinations for the 2015 U.S. Dressage Championships