American Dressage News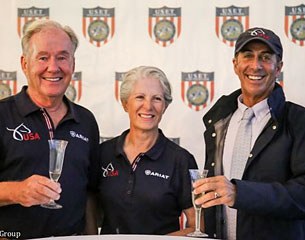 The Dressage Challenge, created by Fritz and Claudine Kundrun and the United States Equestrian Team Foundation, has reached 61 percent of its goal of raising $1,500,000 for the High Performance Dressage program.
Concluding on December 31, 2015, the Dressage Challenge, which offers a one-for-two match to donations, will provide vital support to athletes preparing to represent the United States on the international stage at competitions such at the 2016 Olympic Games and 2018 World Equestrian Games.
Launched at the end of March by the Kundruns, longtime horse owners and supporters of U.S. dressage, the Dressage Challenge will match $1 for every $2 in gift commitments made by December 31, 2015, up to a total of $500,000. With more than $920,000 already donated, this landmark fundraising effort is well on its way to reaching its goal of $1,500,000, but the match will end in just over a month. By making your commitment today, you will help developing and elite athletes in the United States achieve their dreams.
Raising $1,500,000, will allow the U.S. High Performance Dressage to continue to build upon its recent successes and create a world-class program that will put the U.S. on top of the podium at international championships. Gifts are all tax-deductible. Commitments of $25,000 or more made by December 31 are eligible for the Challenge and may be paid over a multi-year period.
Building a world class program that will put the United States dressage team on the podium will take the commitment and support of many people in our wonderful dressage community," said Robert Dover, Chef d' Equipe of the U.S. Dressage Team. "The Dressage Challenge with its matching funds presents a unique and important opportunity for our dressage programs. I want to extend my sincere thanks to all those that have already made commitments to the Dressage Challenge and hope that many more will consider joining them in the coming month and help us achieve excellence."
Just a few weeks remain, and the Dressage Challenge offers a special opportunity for donors to see their contribution go the extra mile. This Challenge will require extraordinary commitment and the support of those in the equestrian community who love the sport and desire to see our athletes, both equine and human, compete and win at the highest levels of international competition.
Related Links
USET Foundation Announces Launch of "The Dressage Challenge"
Ride to Rio Raises Ove $80,000 for U.S. High Performance Dressage Programs
American Grand Prix Horses Make Their Mark at 2015 Season Opener in Florida