American Dressage News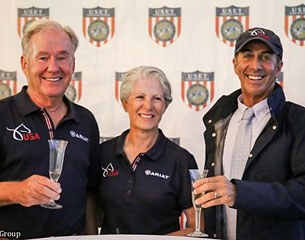 The United States Equestrian Team Foundation (USET) has established a new fund titled The Dressage Challenge" in support U.S. High Performance Dressage Riders. Fritz and Claudine Kundrun are the main donators for the fund.
The Dressage Challenge is an exciting new fundraising effort launched by the USET Foundation specifically for U.S. High Performance Dressage Programs. The Kundruns, longtime horse owners and supporters of U.S. dressage, have made a significant contribution to initiate The Challenge: they will match $1 for every $2 in gift commitments made by Dec. 31, 2015, up to a total of $500,000.
The goal of The Dressage Challenge is to raise $1,500,000 over the next four years to support a world-class program that will put the U.S. on top of the podium at international championships. Gifts are all tax-deductible. Commitments of $25,000 or more made by Dec. 31 are eligible for The Challenge and may be paid over a multi-year period.
"This is a very exciting opportunity that has the potential to take the United States High Performance Dressage Program to the next level," said USET Foundation Executive Director Bonnie Jenkins. "We are so grateful to the Kundruns for their vision and most generous commitment in helping achieve this goal."
 
The Kundruns are long-time supporters of U.S. Dressage having sponsored Sue Blinks on Flim Flam in the late 1990s and early 2000s. Now they are sponsoring Grand Prix rider Allison Brock on their Hanoverian stallion Rosevelt.  The Kundruns also own the very popular KWPN breeding stallion Ampere who is standing at stud in Sweden.
"I think proof of our interest in being financially supportive was this afternoon: when you see someone like Laura [Graves] come into the arena with her horse, it's all worth it," Fritz Kundrun said. "We wanted to give a chance to gifted people with a passion and help the United States get a little more recognition for the sport."
Related Links
American Grand Prix Horses Make Their Mark at 2015 Season Opener in Florida
American Owned Roosevelt Qualifies for the 2007 World Championships for Young Dressage Horses in Verden
Ampere, Most Popular Breeding Stallion in Sweden in 2011
Flim Flam Passed Away