2015 Australian Dressage Championships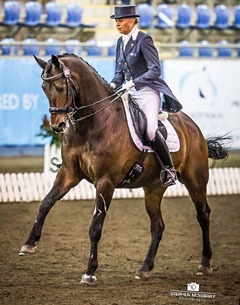 Olympian Mary Hanna won the Grand Prix Freestyle CDI-W at the 2015 Australian Dressage Championships, putting her in a position to win a seventh Australian Grand Prix Championship.  In winning Saturday's main event, Hanna and her horse Umbro came very close to eclipsing the Australian Grand Prix Freestyle record of 75.950% which they set earlier in the year at the Dressage with Altitude Festival.  
Hanna's test received a score of 75.50% and set the bar high for the final three competitors of the evening – New Zealand's Julie Brougham riding Vom Feinsten, Sue Hearn riding Remmington and winner of Friday's Grand Prix, Brett Parbery and DP Weltmieser.
Parbery's score of 74.70% came close and secured him second position on the night which has set up a thrilling finale between he and Hanna with both riders carrying equal points into Sunday's Grand Prix Special. Broughman was third in the Freestyle after scoring 72.10%.
The Australian Grand Prix Champion for 2015 will be revealed on Sunday following the completion of the Grand Prix Special. The Grand Prix Champion is the combination which achieves the best two scores in either the Grand Prix and Grand Prix Freestyle or the Grand Prix and Grand Prix Special (using the Championship point score system). Parbery received 30 points for winning the Grand Prix and 29 points for finishing second in the Freestyle; Hanna received 29 points for finishing second in the Grand Prix and 30 points for winning the Freesty

Earlier in the day Parbery partnered with Longvue Florencio and won the Intermediate Freestyle with a score of 75.450%, ensuring this horse's undefeated record at this event. Lisa Martin and First Famous were second with 73.550%
Elloise Devlin and Brimstone Anakiwa were convincing winners of the IRT Young Rider Individual Test CDI-Y winning the class with a score of 70.447%. Courtney Barbera and Half Moon Delicato were next best with a score of 66.237%.
Photo © Stephen Mowbray
Related Links
Scores 2015 CDI-W Sydney
Parbery Continues Winning Streak at 2015 Australian Dressage Championships
Parbery and Ryan Take First Titles at 2015 Australian Dressage Championships