2015 CDI-W Kaposvar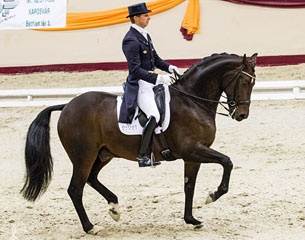 Hoping to qualify all three of his top Grand Prix horses for the World Cup, Swedish Olympian Patrik Kittel began his World Cup quest by taking out the World Cup qualifier at the 2015 CDI-W Kaposvar in Hungary on 16 - 18 October 2015. Riding the Oatley family's 9-year old Delaunay (by Dr Doolittle) he won the Grand Prix and Kur.
Delaunay (by Dr Doolittle x Feinbrand) scored 75.120% in the Grand Prix and a 78.478% in Grand Prix kur to Music. Kittel was very happy with those very strong scores.
"Of course it's nice to win, but I was particularly happy that this horse tries so hard, he is a real gentleman in the ring," Patrik told Eurodressage.  "During the CDI-W Delaunay felt in great from; very positive and confident, and really with me all the way!"
Patrik's aim is to qualify all three horses for the 2016 World Cup Final in his home country Sweden, so that he may choose which horse he will ride.
"We chose this CDI as it was also a good experience for this horse."
Owned by his parents-in-law, Sandy and Carol Oatley, Delaunay is the second horse besides Toy Story which the Oatley family has given in support of him. Delaunay was originally bought for Lyndal but the horse has matched better with Patrik so far. The German based couple are supported by Sandy and Carol in their goal to get better at their chosen sport, dressage.
"This horse is very very hot. You don't see it but you can really feel it riding him. On the other hand he is the coolest horse to be around, kind, sweet and really wanting to do well. That is why we nicknamed him Dude."
When asked which is his number one horse, Patrik replied that he has many good horses and doesn't really think in terms of a number one.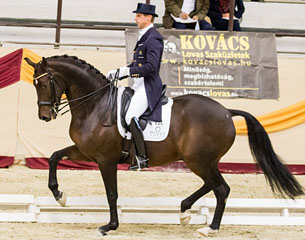 "I just want to ride and do as well as I can with all of my horses, regardless of what horse I am on," he said. Patrik is currently campaigning Scandic, Deja, Toy Story and Delaunay at international Grand Prix level.
Patrik added that Delaunay is a bit big for Lyndal, so Patrik took him over. The plan, however, was always that Lyndal would try riding him again later on, and see if they can fit nicely together.
"Then we might share him and just see what happens. Both Lyndal and myself are really easy going, no stress. We just want to see what is best for both over time," he explained.

Kittel has planned to ride Delaunay in two more Grand Prix classes and then make some more decisions. Patrik explained that Carol and Sandy were very nice in letting him in on part of the passport so that the horse could go for Sweden or if he goes well for Lyndal, then perhaps for Australia.
"However, horses are horses and you never know what might happen. He is still young so we don't stress him at all, we just take it day by day. First, he will get some well earned rest in the field, before I will compete with him in Amsterdam, after which Lyndal will try him at a small show. After that, all is written in the stars."
by Sarah Warne - Photos © Petra Kerschbaum
Related Links
Scores 2015 CDI-W Kaposvar
Patrik Kittel Launches New Website and Looks Forward to 2016
Patrik Kittel and Deja Ace 2015 CDI Compiegne 4* Big Tour
Eurodressage Coverage of the 2015-2015 World Cup circuit