2015 Belgian Young Horse Championships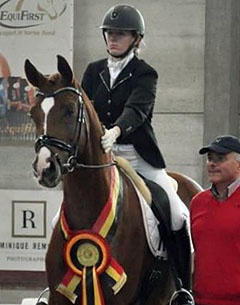 The 4-year old Basali, the 5-year old Die Wette, and the 6-year old Dolce N became the overall winners of the 2015 Belgian Young Horse Championships held in Gesves, Belgium, on 9 - 11 October 2015. The horses in each age class had to perform in three rounds of which the combined scores counted for the overall ranking.
In the 4-year old division Flore de Winne topped the overall leader board on Basali, a German bred Belissimo M x Weltmeyer offspring, with a finals test score of 80.000 points. Anke Moordtgat steered Dutch warmblood Dublin (by Dayano x Jazz) to a silver medal position after scoring 79.800 points in the last round. Larissa Pauluis and Ghivago (by Zhivago x Ferro) grabbed the bronze with their 73.800 points in the finals.
Anouk Teeuwen and the Oldenburg bred Die Wette (by San Amour x De Niro) were the undefeated winners in the 5-year old category and they won the finals test with 81.600 points. The pair edged out Domien Michiels on the Belgian warmblood Kokoschka van de Burggrave (by Rubiquil x Krack C) for silver. Kokoschka finished third in the finals' round with 76.800 points though and was bested by Eefje Appelmans on Serious HTC, who were unable to grab a podium place in the end. Kevin Laevens and his Verden qualificant, Belgian warmblood Kozinsky van den Dries (by Quaterback x Clavecimbel), were lucky to land the bronze medal with their overall score after finishing last in the Finals round with 63.200 points.
In the 6-year old division the gold medal and national title went to Nick van Laere aboard the SBS registered Dolce N (by Florencio x Welt Hit II).  They won the finals with 84.600 and a big lead ahead of the silver medal pair, Tom Heylen on his Verden ride Jar of Ballmore (by Gribaldi). They were third in the finals round (81.400 points), but second overall. Anke Moordtgat landed the bronze aboard the Dutch warmblood Estee Lauder (by Santano x Rossini) after placing second with 81.400 points in the Finals.
Related Links
Quaterdance, El Capone, Double Dutch Win 2014 Belgian Young Horse Championships
El Capone, Dolcherie and Sir Donovan Win 2013 Belgian Young Horse Championships
Roberto Cavalli, Zunora, First Junior Win 2009 Belgian Young Horse Championships
Weltmann, Saros and Rosantica, 2000 Belgian Young Horse Champions
Sentio, Rockefeller and Quavarotti win 1999 Young Dressage Horse Circuit