British Dressage News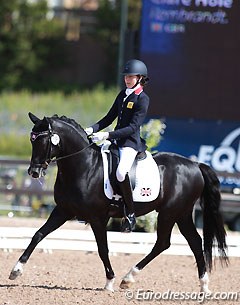 British pony selectors have annpunced the new intake of Pony Prime and Progress Squads following the viewing day held at Vale View EC on Saturday 5 Setpember 2015.
British Dressage, the dressage department of the British equestrian Federation, has created a British pony A- and B-team which they name prime and progress squads. Squad members are selected for dedicated training sessions hosting in 2015 and 2016.
The members of the 2015-2016 pony squads are:
British Pony Prime Squad
Ottilie Bardsley with  Ciske
Clare Hole with Rembrandt DDH
Pippa Kearns with Hesselteich's Desert Rose
Lara Kuropatwa with Mister Snowman
Charlotte McDowall with BKS Grand Design
Sophie Taylor with Carlsson
Prime Squad Reserves
Emma Bond with Rober
Ollie Booth with Classic's Charmeur
Sophie Williams with Ferrari
British Pony Progress Squad
Emma Bond with Glenharrin Lloyd
Lilah Gibbs with PAV Non Plus Ultra
Clare Hole with Bernwode Broadway
Anna Johannson with Heiligenbergs Pushed Again
Anya Kolleth with Machno Countryman
Isobel Lickley with Gigolo
Jessica McConkey with Holsteins Derwisch
Emma Neil with Sheepcote Romeo
Vicky Povey with Machno Rembrant
Molly Smockum-Owen with Dumbledore D
Thallia Turner with Pamporis
Olivia Whitelaw with Tywlands Tiffin
Progress Squad reserves
Clare Bennett with BKS Brandini
Bonneville Bourne with Twyford Salamander
Mia Ketcher with Corlanau High Flyer
Victoria Ogden-Pickering with Hendi's Cudelia
Aimee Parry with Yarty Welsh Jack
Jessica Sanderson with Little Byrom Patchwork
Olivia Whitelaw with Cyden Oosting Amgio
Related Links
Kuropatwa, Jesty, Lucas Win 2015 British Youth Riders Championships
Peter Storr Steps Down as British Pony Team Trainer
Phoebe Peters Secures Team Gold for Great Britain at 2015 European Pony Championships
British Team Selection for 2015 European Pony Championships