2015 Belgian Dressage Championships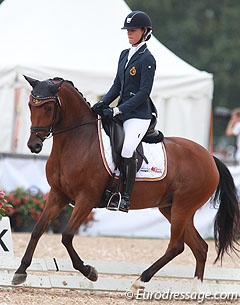 Pony rider Dente de Schepper, junior rider Numa Verberne, young rider Sanne Kielenstijn and Grand Prix rider Jeroen Devroe became the gold medalists and new title holders at the 2015 Belgian Dressage Championships held at the Flanders Dressage Event in Hulsterlo on 30 July - 2 August 2015.
Dente De Schepper and Isabel Cool's 7-year old Welsh bred Orchid's Syria (by Kanshebber x Watershof Pretendent) scored 71,436% in the team test,  67,976% in the individual, and 73,325% in the kur for the gold medal. Dente felt her pony went well during the competition.
"In the team test she was a little bit stressed but in the individual test Syria was quite calm. however I made some mistakes," Dente told Eurodressage.  "In the final freestyle we both were really relaxed and I enjoyed my freestyle  a lot and was very proud of Syria. There was a lot of wind during the competition but the sun was also shining."
Dente says that while sometimes her pony gets stressed and tense in competition it is because of her young age. She will never do something bad to buck you off.
"She has an exceptional trot and the canter and is really 'wow' when you see her move," said Dente. "My pony knows everything so well and is so willing to do it that she sometimes reacts too much. This has taught me to ride with subtle aids, and helped me to grow as a rider."
As Dente is now 16 it's time for her to go on to the big horses and say goodbye to pony Syria. "I will miss her so much, I have been riding her since she was 4 years old. I hope she gets a lovely home with her new owners," she added.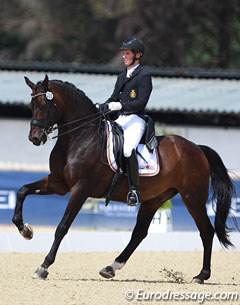 The Belgian Junior Champion for 2015 is Numa Verberne on his 17-year old gelding Riverdance (by Wolkentanz), who scored 68,297% in the team test, 70,000% in the Individual, and 74,550% in the Kur, to take the title over Laura Luyten and Dark Chocolate.
"Hulsterlo is a beautiful location and the event is very well organized," Numa explained. "I think it was even better than a year ago. There were not only good competitors, but also a super "sports" mentality. The attitude between the riders was very positive and supportive. All my Belgian friend/competitors participated and did a great job."
Numa explained that on the first day when he warmed up his horse before the show he felt that Riverdance was really in top form. On the day itself it was a little more difficult.
"On that first competition day it wasn't my day either so the test could be much better, there were a lot of little stupid mistakes," Numa admitted. "The day after he was much better and I was a lot more focused, and we kept that focus throughout the rest of the competition."
Trained by Sophie Baetens-van Lent, Verberne is aware that each victory is not an easy one. The gold medal place is never given away easily.
"That is what is nice about the sport. You still have to earn it and you still have to do a great job. This year was special because I won last year and to do it a second time is not easy," he sated. "I didn't want to expect anything but of course I hoped to win. Now we both need a short break because it was a long season. After that we will start full of energy and enthusiasm for next season. Next year I would like to combine both junior and young rider levels, but overall my aim is to keep on learning and developing. Hopefully we can go for our fourth European championship and keep our Belgian Championship title."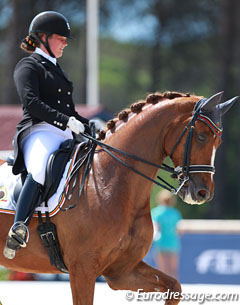 Young Rider queen Sanne Kielenstijn and the 10-year old Air Miles (by Turbo Magic x OO Seven) came home with a 69,737% in the team test, a 71,079% in the Individual, and a 74,225 for the Kur. They finished just one point ahead of European Championship team mate Charlotte Defalque on Botticelli.
"In the team and Individual test everything ran really smoothy, and as we went into the Kur test there was just 1% between me and Charlotte," Sanne reminisced. "This made the Kur very exciting!"
Sanne told Eurodressage that luckily her music fitted perfectly and she was able to ride a flawless freestyle to music.
"For me it was the first time in the Belgian championship and I thought it was a super fun competition to be a part of. I did not expect to be named Belgian Champion, but I knew it was not impossible," Kielenstijn admitted.
Set to make her final year in Young Riders in 2016, Sanne then hopes to qualify again for the European and defend her National title.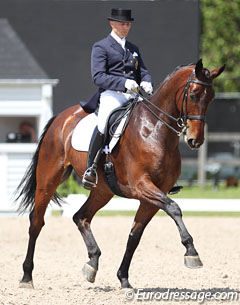 Jeroen Devroe became the Grand Prix Champion with 71,900%, 72,588% and 74,825%. Devroe and the 11-year old Belgian warmblood Eres DL (by Sir Lui x Balzflug) loved the atmosphere during the championships, and feel that the whole of the Belgian Dressage world were present in Stal Hulsterlo.

"Eres DL felt good the first day but I didn't take any risk in the Grand Prix," Devroe explained.  "In the Grand Prix Special I rode him with much more expression and in the freestyle he felt a little bit tired. He is a horse with his own mind, but overall I was very happy with him."
Not expecting to win, Jeroen thought it would be difficult just to get on to the podium. He confirmed that he will use this success as he heads into Aachen for the 2015 European Championships.
"My goal every time is riding a personal best," Devroe stated.
Archive photos © Astrid Appels
Results - 2015 Belgian Dressage Championships - Hulsterlo
Pony Riders
1. De Schepper Dente - Orchid's Syria - 71,436 - 67,976 - 73,325 ---- 212,737
2. Buelens Kayleigh - Berlioz - 69,179 - 70,049 - 71,700 ---- 210,928
3. Peytier Inne - Icarus van de Bulksehoeve - 65,359 - 69,902 - 74,075 ---- 209,336
4. Van Nespen Marieke  - Schermeer S Hof Aladin - 65,487 - 66,244 - 69,625 ---- 201,356
5. Meyssen Tahnee - Matcho D van Prinsenhof's - 65,513 -65,707 - 69,950 ---- 201,170
6. Rynders Yana - Enzo Leco - 65,923 - 66,537 - 68,400 ---- 200,860
7. Wouters Tess - Hendi's Bolero - 64,667 - 64,756 - 66,400 ---- 195,823
8. Lammens Lauranne - Mandor van de Groenheuvel - 62,103 - 63,341 - 68,150 ---- 193,594
9. Desmedt Maité - Mastwood Minnie M - 60,513 - 63,537 - 65,975 ---- 190,025
10. Sanders Nathalie - Amalia s Balou - 60,795 - 60,61 - 65,45 ---- 186,855
11. Coolen Jay - Boy - 61,154 - 59,195 - 61,125 ---- 181,474
12. Meyssen Tahnee - Dollarboy S-g - 60,026 - 62,976 - 64,475 ---- 187,477
Hendrikx Suraya - De Rechri - 66,154 - 67,951 - DNS ---- 134,105
Junior Riders
1. Verberne Numa - Riverdance - 68,297 - 70,000 - 74,550 --- 212,847
2. Luyten Laura - Dark Chocolate - 68,892 - 67,158 - 73,175 --- 209,225
3. Beck Delphine - Zelion B - 66,486 - 65,421 - 71,875 --- 203,782
4. De Graeve Laura - Sandro s Diamond - 66,054 - 64,474 - 68,975 --- 199,503
5. Bertels Charlotte - Valentino Van De Bosweg - 62,541 - 64,316 - 67,700 --- 194,557
6. De Coker Cyriel - Jeske van Oudenhove - 61,919 - 62,526 - 66,500 --- 190,945
7. Mommaerts Ayko - Zinedine V - 63,000 - 60,526 - 66,775 --- 190,301
8. Zwaenepoel Tessa - Dreamcatcher - 63,216 - 61,000 - 65,900 --- 190,116
9. Thyssen Mauro - Clever - 63,243 - 60,237 - 65,700 --- 189,180
Julie Koninx scratched after the individual test, Antonia Arl scratched after the team test
Young Riders
1. Kielenstyn Sanne - Air Miles PB - 69,737 - 71,079 - 74,225 --- 215,041
2. Defalque Charlotte - Botticelli - 69,974 - 71,921 - 72,525 --- 214,420
3. Brison Soraya - Giorgio Armani - 67,684 - 68,026 - 72,150 --- 207,860
4. Fairchild Alexa - Sunrise - 65,237 - 68,500 - 73,350 --- 207,087
5. Roussel Nastassja - Armageddon - 69,289 - 66,526 - 70,425 --- 206,240
6. Van Zwol Danique - Zeldzaam -65,763 - 64,868 - 67,150 --- 197,781
7. De Baerdemaeker Julie - Awel van de Kwikaard - 65,447 - 65,974 - 66,075 --- 197,496
8. Van Dyck Dries - Weltmiro Jh Z - 63,421 - 66,263 - 67,500 --- 197,184
9. Janssens Axelle - Precious Black Van De Heernis - 63,658 - 63,026 - 66,625 --- 193,309
10. Mrvik Jana - Sting - 61,553 - 62,500 - 65,675  --- 189,728
Grand Prix Riders
1. Devroe Jeroen - Eres DL - 71,900 - 72,588 - 74,825 --- 219,313
2. Verwimp Jorinde - Tiamo - 70,880 - 71,333 - 74,850 --- 217,063
3. Vanommeslaghe Laurence - Avec Plaisir - 71,160 - 70,078 - 71,925 --- 213,163
4. Van Orshaegen Mario - Wilco V - 67,960 - 67,922 - 73,650 --- 209,532
5. Meiresonne Delphine - Wipsy Vh Heihof - 68,520 - 68,608 - 72,200 --- 209,328
6. Vanhove Carlo - Aquino - 65,840 - 64,039 - 66,350 --- 196,229
7. Goethals Leslie - Victor Epona - 63,680 - 64,608 - 64,550 --- 192,838
8. Hannes Jeroen - Bellagio - 65,000 - 60,373 - 63,750 --- 189,123
9. Van Oekel Daphne - Gibraltar Alegria - 60,640 - 59,980 - 63,025 --- 183,645
Claudia Dorpmans (Tin Tin) and Claudia Fassaert (Donnerfee) scratched for the Kur
Related Links
Antonia Arl Succeeds Sister and Wins 2014 Belgian Pony Championships
Verberne, Verwimp and Vanommeslaghe Win 2014 Belgian Dressage Championships
Arl, Defalque, Verwimp, Missiaen Win 2013 Belgian Dressage Championships
Arl, Verwimp, Waelkens, Devroe Win 2012 Belgian Dressage Championships
Jeroen Devroe Prevails at 2011 Belgian Dressage Championships
Jeroen Devroe Captures Sixth Belgian Grand Prix Champion's Title
Goris, Mommen, D'Hoore and Devroe 2009 Belgian Champions
Van Olst, Mommen, Vandenberghe Win 2008 Belgian Youth Riders Championships
Stefan van Ingelgem, 2008 Belgian Dressage Champion
Van Olst, Mommen, De Souter, De Deken and Devroe, 2007 Belgian Dressage Champions
Arlette Holsters and Faible Win 1998 Belgian Dressage Championships
Meiresonne, Pauluis, Smits, 1997 Belgian Youth Riders Champions