2015 World Championships for Young Dressage Horses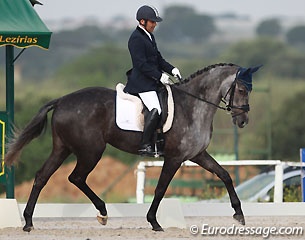 With the master list of participants for the 2015 World Young Horse Championships in Verden, Germany, next week taking shape, the final horses selected to compete there have been announced. Countries such as the Czech Republic, Estonia, Great Britain, Hungary, Lithuania, Morocco, Norway, Portugal, Russia, Spain, Switzerland, Ukraine have now revealed their representatives.
For the Czech Republic two combinations are competing: Eva Jancarikova on the 5-year old Hanoverian stallion Schermen (by Workington x Weltmeyer) and Hana Vasaryova on the 5-year old Oldenburg gelding Silky Moves (by Starnberg x Furst Heinrich).
Maiken Lepiste is the sole Estonian contestant, but she is riding two 5-year olds, the KWPN mare Famous Reina (by Rousseau x Olivi) and the Dutch mare FunFun HB (by Delatio x Montecristo). Dalia Katinaite-Pranckeviciene will be riding the 5-year old Oldenburg gelding Furst Frederik (by Furst Romancier x Don Frederico) for Lithuania.
Finland is sending three pairs: Melinda Ignatius on the 5-year old Finnish warmblood gelding Riverbank Farbenfroh (Furst Fugger x Diamond Hit), Julia Tallberg on the 6-year old Swedish bred Highland Park(by Figaro R x Sunshine Prince) and Anna von Wendt on the 6-year old Hanoverian gelding Schubert (by Sandro Hit x De Niro).
Great Britain has two representatives in Verden: Vicky Thompson-Winfield on the 6-year old Westfalian gelding Botero (by Biasini x Rosenkavalier) and Emma Woolley on the 6-year old KWPN stallion Eldorado (by Special D x Damiro).
Hungarian Robert Acs has three horses to ride. The 5-year old Hanoverian Quentin GH (by Quaterback x Sandro Hit) and the Oldenburg gelding Sir Stanley W (by Stedinger x Florencio) and the 6-year old Olenburg bred Qatar (by Quaterback x Stedinger).
Moroccon FEI level rider Naoufal Hassani is bringing his 6-year old Oldenburg stallion Quazotti (by Quaterback x Stedinger) to Verden. Russian Olga Sergeenkova is competing on the 6-year old Etoile.
Norwegian Silje Bakken is competing in the 5-year old division with the Danish warmblood Vadestedet's Daylight (by De Noir x Akinos), while Elise Klaesson will bring the 5-year old Danish bred Sandbaeks Rio El (by Skovens Rafael x De Noir).
Portugal will be represented by two combinations: Frederico Mexia de Almeida on the 5-year old Danish bred JJ Day Lights Jackpot (by Johnson x Show Star) and Hugo Pereira Custodio on the 5-year old Dutch warmblood mare Fiolijn (by Jazz x Democraat).
Spain will have three riders in Verden. Severo Jurado Lopez qualified Franklin via a Wild Card requested by the Dutch federation and on Fiontini via the Danish warmblood selection system. Jose Antonio Garcia Mena will bring the 6-year old German bred Belconi (by Belissimo M) and Claudio Castilla Ruiz on the 5-year old Dutch bred Forte MG (by Rousseau).
Switzerland has only one rider in Verden, Andrea Engeler on the 5-year old Hanoverian gelding Sanciscus (by Sancisco x De Niro) and the same goes for Ukraine who is represented by Paulina Rejves on the 5-year old German Sport Horse Qui Champ (by Quaterback x Sandro Hit).
Related Link
Eurodressage Coverage of the 2015 World Young Horse Championships