2015 Pan American Games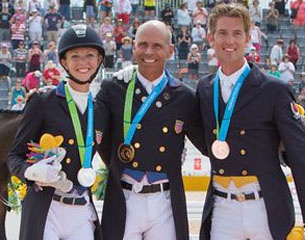 America's Steffen Peters and Laura Graves today added individual gold and silver to the team title secured on Sunday at the Pan-American Games 2015 in Toronto, Canada where the host nation's Chris von Martels scooped individual bronze on Tuesday afternoon 14 July 2015.
The result is a sensational fifth consecutive Pan-American team victory for the Americans, bringing their tally to eight team and nine individual Dressage titles in the 64-year history of the event, and earning a team berth at the Rio 2016 Olympic Games.
And it was a back-to-back double of individual gold for Peters who, although he didn't surpass the Pan-American Games record score of 80.132 which he set at Guadalajara in Mexico four years ago with Weltino's Magic, came close when posting 80.075 for today's individual win with Legolas.
Team competition
The Americans took the lead from the outset of the team competition and held on for gold, but the host Canadians chased them all the way to the line to claim silver, while Brazil just pipped Mexico for the bronze. Results were combined from two days of mixed Small and Big Tour competition that began with Prix St George and Grand Prix last Saturday (11 July), and only teams with Grand Prix combinations were eligible for the single Olympic berth on offer so only USA, Canada, Mexico and Brazil were in that race.
US stalwart, Steffen Peters, posted the biggest Grand Prix score of the day with Legolas at 77.240, and when added to Laura Graves' 75.080 with Verdades, and Kimberly Herslow's 75.184 in the Prix St George the first-day US tally was 230.504. Three scores from each team were taken into account, so Sabine Schut-Kery and Sanceo's 71.790 in the the Prix St George was the team discard.
However the Canadians were hot on their heels when Brittany Fraser and All In scored 76.105 and Chris Von Martels and Zilverstar posted 75.026. Of the Canadian Big Tour pairs it was Belinda Trussell and Anton who scored highest with 74.949, Megan Lane and Caravella awarded 72.400 for the discard. And going into Sunday's decider Canada trailed the USA by just 4.433 points while the three-member Mexican side of Jesus Palacios (Wizard Banamex), Jose Padilla (Donnersberg) and Bernadette Pujals (Heslegaards Rolex) lay only 0.203 points ahead of Brazil's Joao Paulo Dos Santos (Veleiro do Top), Sarah Waddell (Donelly 3), Joao Victor Marcari Oliva (Xama dos Pinhais) and Leandro Aparecido da Silva (D Caprio).
Plenty of pressure
There was plenty of pressure as the action got underway on Sunday in the Intermediare 1 and FEI Grand Prix Special, but the Americans stood firm, bolstered by personal-best scores from both Graves in the Special and Herslow in the Intermediare 1, and backed up by Peters' 72.667 while Schut-Kery posted 73.533. Their final tally of 460.506 moved them just over 5.5 points ahead of the Canadians to secure the gold at the end of the day, while the Brazilians leap-frogged the Mexicans for the bronze.
US Chef d'Equipe, Robert Dover, said his team's great result "showed that our Small Tour horses are beautifully trained and our Big Tour combinations showed why they are ranked seventh and eighth in the world right now. What could be better for a Chef d'Equipe than to bring a a team and have them earn personal bests at a very important moment. Having earned qualification for the Olympic Games, it allows us to now focus and put our energy into preparing for Rio (2016 Olympic Games)."
Graves, whose meteoric rise to prominence only began in the lead-up to last summer's Alltech FEI World Equestrian Games™ 2014 in Normandy where she sensationally finished tenth individually with Verdades, was delighted with her personal-best 77.177 in the Grand Prix Special. "He was amazing out there, really on again today!" she said of her horse. "He loves Toronto!" Graves and Verdades and Peters and Legolas were key players in the US team that lined up fourth in Normandy behind the three European powerhouses of Germany, Great Britain and The Netherlands who earned the three Olympic berths on offer there.
Paid tribute
Steffen Peters paid tribute to the silver medallists. "The Canadians did a wonderful job. They rode extremely well and gave us quite the run - it wasn't easy!" he said.
Canada's Belinda Trussell, an Olympian and three-time competitor at the FEI World Equestrian Games™ who was lining out in her first Pan American Games said, after scoring 76.578 in the Grand Prix Special, "I think, for Canada, that this Games has pushed us to a new level. To be coming away (from the team event) with nothing below 70 per cent, and highlights of 76 per cent, has never been done. It's really exciting for Canada. We are so pumped as a nation, and pumped to go forward to the next Games. We are international contenders - there is huge excitement!" she added.
Individual medals
And the excitement continued on 14 July 2015 when a total of 21 horse-and-rider combinations lined out to contest the individual medals. Of these, 17 performed Intermediare 1, while the final four Big Tour partnerships performed the Freestyle.
With just six left to go, von Martels and Zilverstar rocketed to the top of the leaderboard with a percentage score of 79.500 for his Intermediare test. Judge at M, Great Britain's Stephen Clarke, awarded 81.500 and at judge at H, America's Lilo Fore, awarded 80.750, and all five Ground Jury members put the Canadian temporarily into first place.
The 32-year-old rider from Ontario held on to the advantage until overtaken by Peters and Legolas who posted the first, and only, over-80 per cent score when third-last into the arena. Fore, Clarke and Ground Jury President Elizabeth McMullan chose this pair for the no. 1 spot this time around, setting the new target at 80.075. And when, last to go, 27-year-old Graves and Verdades collected 79.825 they scooped silver and pinned von Martels and Zilverstar back to bronze. It was an extremely close-fought affair, with only 0.575 separating the three medal-winners.
After Sunday's Grand Prix Special, Peters admitted to having some issues in the execution of his test, but today he put all that behind him and came out once again with all guns blazing. "I'm still on cloud nine!" he said, shortly after the prizegiving. 
A good job
"On Sunday Legolas did a good job but I didn't do my best riding job, so I wanted to prove today that Legolas deserves to be one of top horses in the world. I gave it every bit of my strength and he produced a wonderful clean test. And on top of that he allowed me to be within a tenth of a second to the music so we had high artistic scores" he explained.
"This season we have had a few ups and downs, so to finish so strong in the last test of the season - I can hardly describe how I feel right now!" he added. Asked about team-mate Laura Graves' close silver-medal finish, Peters continued, "I knew before the competition today that it would be awfully close. I saw her doing a beautiful clean test, so the tension to last second today was quite something. I have to admit I got very emotional when Legolas was called out the winner!"
And the 50-year-old rider was quick to refer back to his US team-mates and the success they have achieved over the last few days. "Let's not forget that every single rider, including the fourth horse contributed to the team gold medal. There was a combination of drop scores, so everyone did their job, and it is a fantastic group of people - all good-hearted athletes. It's quite something to win with wonderful friends you almost have to call family!" he said.
Facts and Figures:
Victory in the team competition has secured a qualifying spot for the USA at the 2016 Olympic Games in Rio de Janeiro, Brazil.

This was another record-breaking performance from the Americans who already held the record for four consecutive team victories, and have now increased that to five.

16 nations were represented in Dressage at the 17th Pan-American Games while 10 countries fielded teams.

The Ground Jury consisted of: Hans Matthiesen DEN, Stephen Clarke GBR, Maribel Alonso MEX, Elizabeth McMullen CAN (President) and Lilo Fore USA.

A total of 21 horse-and-rider combinations competed for the individual medals.

The list of teams so far qualified in Dressage for the Rio 2016 Olympic Games now includes, Brazil (automatic qualification), Germany, Great Britain, The Netherlands (placings at Alltech FEI World Equestiran Games™ 2014 in Normandy), Australia (best ranked team from Olympic Group F or G at the Alltech FEI World Equestrian Games 2014 in Normandy), and USA (single qualifier from Pan-American Games 2015 in Toronto, Canada).
The next major Olympic qualification opportunity is at the forthcoming FEI European Championships in Aachen, Germany, 11-23 August 2015, where 3 further places are on offer.

History: Argentina staged the very first Pan American Games from 25 February to 9 March 1951 in its capital, Buenos Aires. A total of 22 countries took part, with four - Argentina, Brazil, Chile and Mexico - competing in the three equestrian events. Just three riders from Argentina and Chile lined out in the Dressage discipline, with Chile taking team gold as well as individual gold and bronze. Individual champion was Jose Larrain with Rappel. At this 17th Pan American Games 64 years later, Argentina finished fifth, behind Mexico, in the Dressage team event on a score of 201.016.
by Louise Parkes for the FEI
Related Links
Scores 2015 Pan American Games
Eurodressage Coverage of the 2015 Pan American Games