Portuguese Dressage News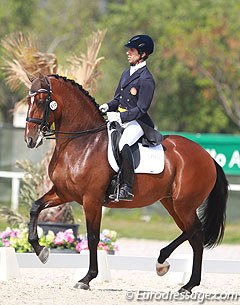 Portuguese Grand Prix rider Gonçalo Carvalho has been convicted to an administrative sanction as his horse Batuta tested positive to the NSAID Meloxicam at the 2015 CDI Vidauban on 11 - 15 March 2015.
Carvalho accepted this sanction on 2 July 2015. The administrative sanction is part of the FEI's fast track system for controlled medication cases.
Meloxicam is a non-steroidal anti-inflammatory drug (NSAID) and used for the treatment of arthritis and osteoarthritis. It reduces pain, swelling, and stiffness of the joints. The detection time is estimated with 72 hours (3 days) after a daily oral administration. Common trade names include Metacam, Mobic, Mobicox, Movalis, Movatec, Novo-Meloxicam, Parocin, Petcam, PHL-Meloxicam, PMS-Meloxicam, and Tenaron.
Riders want to use meloxicam on their horses at shows are required to inform the FEI veterinarian with the the dates and quantities in which the drug was administered. They will notify the President of the Jury and he has the last word.
Batuta arrived on the Vidauban show grounds a few days before the first week of competition (5-8 March). She injured herself on transport and got a swollen hock. The official show vet (Dr. Cedric Fissolo) prescribed a treatement with Meloxicam until 8 March 2015. The detection time for Meloxicam is 3 days according to the FEI.
"We didn't compete the first week because he told us not compete because it (would lead to) a positive testing that week," Carvalho told Eurodressage. "The second week he told was ok." Carvalho added that there is disagreement amongst veterinarians about the detection time of Meloxicam and that it can be 8 days instead of the listed three days. He didn't know that at the time.
Since January 2005, first time offenders whose horses have tested positive to prohibited substances graded 3 to 5, may opt to accept
administrative sanctions, or decide to pursue the regular FEI judicial
process.
As Carvalho is a first time offernder his penalty will be restricted to this "administrative sanction" which entails disqualification from that particular show and a fine. The amount of the fine has not been disclosed.
Photo © Astrid Appels
Related Links
Goncalo Carvalho's Batuta Tested Positive to Controlled Medication
Goncalo Carvalho Wins 5* Grand Prix Special at 2015 CDI Vidauban
Goncalo Carvalho Gets Ride on Batuta