2015 CDI Prangins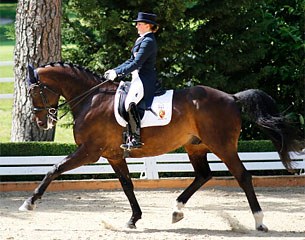 The 2015 international youth riders competition in Prangins, Switzerland, celebrated a successful inauguration on 12 - 14 June 2015. Even though the field of competitors was still very small - only nine riders in total contested a Young Riders and Under 25 division -- a positive trend was set for hosting a new CDI in Prangins next year. Austrian Diana Porsche swept the board and ruled in both categories.
Show president Anna Lamm and owner of the venue Ted Jonker commented that, "the Freestyle day was a fabulous finish to a very sunny and inspirational weekend filled with future dressage stars. Diana Porsche in particular demonstrated a true talent for the high level movements winning both the YR and U25 classes but the standard was high for all competitors here. Each performance was truly inspirational and we all feel even more passionate about dressage following these performances. We are grateful to all competitors for coming and showing use what this fabulous sport is all about and look forward to seeing them again at our future shows."
Austria's Diana Porsche was unbeatable with her 12-year-old Oldenburger gelding Di Sandro. The talented combination won the U25 Intermediaire II, Grand Prix and Grand Prix Freestyle. Their performances were nearly faultless and the judges unanimously placed her first. Porsche trains with German Grand Prix rider Dieter Laugks in Munich, Germany.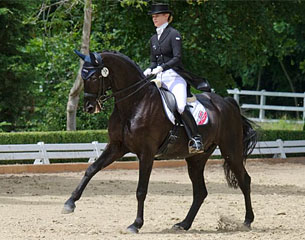 Holland's Melanie Mouthaan and Britain's Emily Harris both had some little mistakes and switched placings in the classes. Emily Harris finished runner-up in the Intermediaire II and in the Grand Prix Freestyle. Harris rode the 14-year-old Oldenburger stallion Don Diabolo (by Don Cardinale x Rubinstein I). Melanie Mouthaan showed that also Friesians can compete at high level in dressage. The combinations demonstrated experience and control. 
The CDI Prangins has been made possible due to the partnerships with the renowned companies such as Chopard and Banque Barings Brothers Sturdza SA. The wonderful ambiance and the fantastic hospitality of Ted and Frank Jonker and the team of volunteers played an important role in this success of the show.
FEI Dressage Director Trond Asmyr was enthusiastic and impressed with the organisation and venue which is located close to the FEI-headquarters in Lausanne. "This is actually the only international dressage show in Switzerland, so we will further support this show and its development," said Asmyr.
Photos © Kathelijne Reijse Saillet
Related Link
Scores 2015 CDI Prangins