2015 Danish Dressage Championships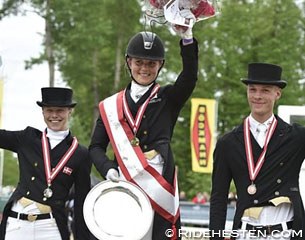 Denmark's number one Grand Prix rider Anna Kasprzak proved to be untouchable at the 2015 Danish Dressage Championships in Broholm, Denmark, on 12 - 14 June 2015 and easily rode to the national title and gold medal. The final round of the Championships, the kur to music, proved to be dramatic with the second place candidate Mikala Gundersen losing her podium spot due to a pirouette error. The silver went to Agnete Kirk Thinggaard, the bronze to Daniel Bachmann Andersen.
Kasprzak and her 16-year old Finnish warmblood Donnperignon (by Donnerhall x Mozart) scored 74,360 in the Grand Prix, 75,667% in the Special and 77,700% in the Kur to Music to finish in a strong first place with a total of 227,727 points.
"It's great to stand here again as Danish champion," said Kasprzak, who also won the senior nationals in 2013 and the nder 25 nationals on Honnerups Driver in 2014.  Anna's top horse Donnperignon has not been out since the World Equestrian Games in Caen in August 2014 and Kasprzak only began intensive training for the Nationals three weeks ago. Before that the liver chestnut was kept fit with plenty of work in the aqua trainer as well as light work under saddle.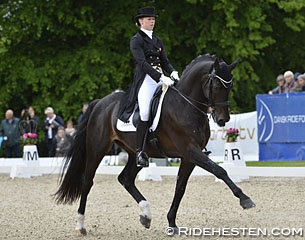 Firmly in second place and heading for silver were American based duo Mikala Gundersen and Janne Rumbough's Danish mare My Lady (by Michellino), but it all went awry in the kur to music Finals. The pair had scored 71,020% in the Grand Prix and 72,255% in the Special but in the Kur to Music they dropped to 14th place with 64.675% after making a big error. Gundersen made a mistake in the double pirouette and added another one to that, not clearly enough showing that there were two different pirouettes. The judges assessed the movement as a triple pirouette, which is not allowed, and scored the movement with a zero. They ended up sixth overall in the ranking.
"The trainer in me surfaced and I wanted to make a proper pirouette," Gundersen explained. "If I had kept my head cool, I could have handled not getting such high points for my pirouette. It cost me a medal, which is incredibly unfortunate."
Agnete Kirk Thinggaard rose to the expectations and landed on the silver medal position with her 12-year old Hungarian warmblood Jojo AZ (by Ginus x Justboy). This shooting star duo scored 70,900% in the Grand Prix, they got 69,961% in the Special in which JoJo appeared a bit tired, and  resurfaced in second place with 76,100% in the Kur to finish on a total of 216,961 points.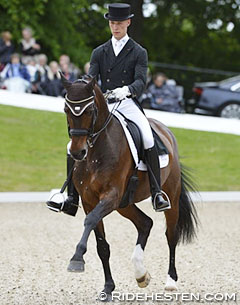 "I'm so happy," said Agnete, who only warmed up JoJo twenty minutes for his Kur ride to keep him fresh. Kirk Thinggaard is trained by Michael Stevn.
Blue Hors' stud resident trainer Daniel Bachmann Andersen finished in bronze medal position aboard the 13-year old Oldenburg mare Loxana (by Diamond Hit x Argentinus). The duo was second in the Grand Prix with 71,320%, but made a big mistake in the Special to get 70,196%. With 74,175% in the Kur to Music they totalled 215,691 points. It was only the second time Daniel competed Loxana in a freestyle. In Broholm  the mare was a bit tired and could not achieve the same freestyle score as she got at the CDI Odense one month ago (78.650%). 
"But we must also remember the positive points and I'm glad she has progressed so much," Bachmann added.
Photos © Ridehesten
Related Links
Scores 2015 Danish Dressage Championships
Lone Bang Larsen Wins 2014 Danish Dressage Championships
Anna Kasprzak Toasts Triple Victory and Wins 2013 Danish Dressage Championships
Scores: 2012 Danish Dressage Championships